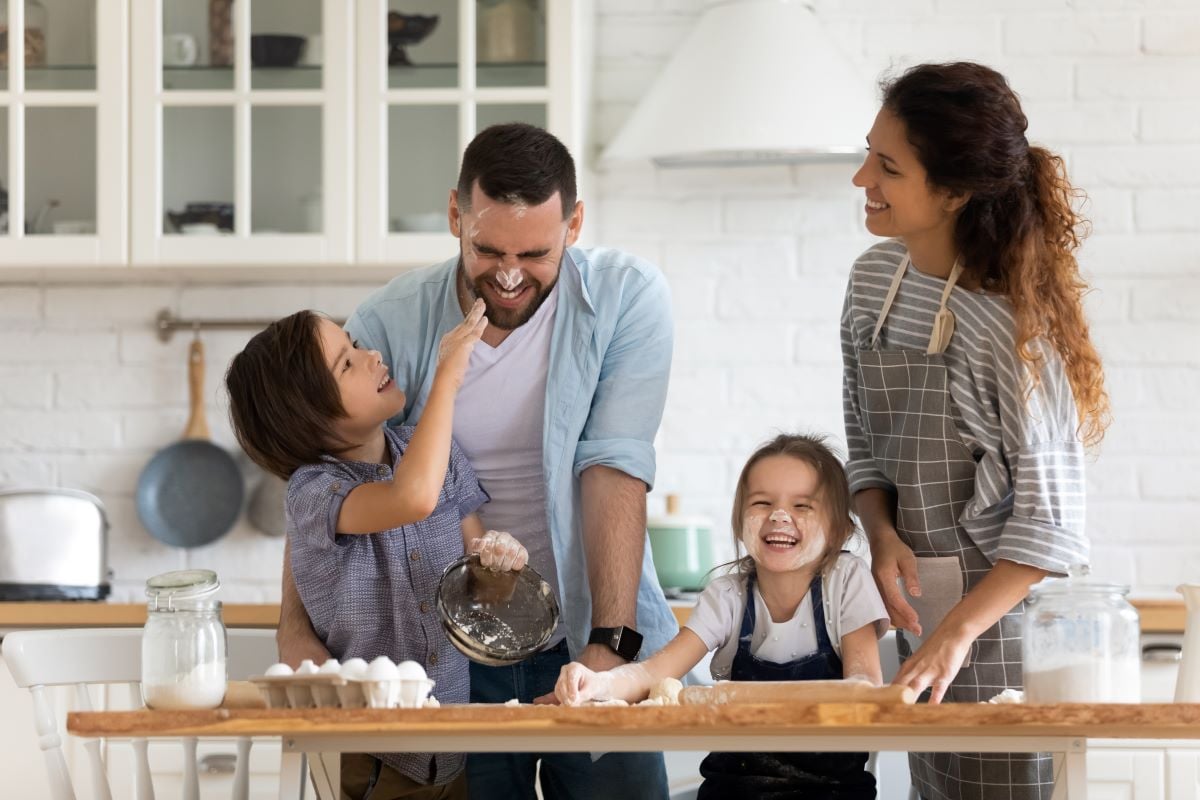 House fires are more common than one might think. In 2019, there were an estimated 354,400 residential (home) fires, according to the U.S. Fire Administration (USFA). Of those, an estimated 1,900 were fatal.
It is important for you and your family to know the top causes of home fires and what can be done to prevent them. It is also important that you and your family know what to do should a home fire start.
Top 4 Most Common Causes of House Fires
According to USFA data, the leading 4 causes of house fires in 2019 were:
Cooking (50.2%)

Heating (9.3%)

Unintentional or careless actions (7.7%)

Electrical malfunction (6.8%)
In this article, we discuss each of these 4 top causes of house fires and share some prevention tips to help ensure the safety of you and your family.
Fires Caused By Cooking
Kitchen fires commonly occur when cooking food is left unattended. Kitchen fires also occur when combustible materials, such as paper towels or napkins, are left next to or on top of stoves, toasters, and other hot appliances.
Even though cooking fires are by far the most common cause of house fires, they are easily preventable.
First, always keep an eye on food cooking on a stove or in an oven. Be especially careful when cooking oily or greasy food at high temperatures since this type of cooking is highly susceptible to dangerous splattering.
Second, make sure to keep items that can catch fire far away from hot appliances. Keep the cooking area tidy and clear of flammable materials.
Third, keep ABC- or BC- rated fire extinguishers close by so that a fire can be put out immediately should one start. Be sure to maintain and replace the fire extinguishers according to the instructions provided by the manufacturer.
Fires Caused By Heating
The second leading cause of residential fires is portable heaters and other heating equipment. From 2014 through 2018, local fire departments responded to an estimated average of 48,530 fires involving heating equipment, according to a report issued in January 2021 by the National Fire Protection Association (NFPA).
To prevent fires from being caused by portable heaters and other heating equipment:
Keep materials that can burn a minimum of 3 feet away from the heat source

Clean fireplaces and chimneys at least once a year

Turn portable heaters off when sleeping
Heaters that burn fuel such as natural gas create an additional risk of carbon monoxide (CO) poisoning. Houses should have both smoke detectors and carbon monoxide detectors installed. They are not the same.
Fires Caused By Unintentional or Careless Actions
In 2019, fires caused by unintentional or careless actions resulted in over $1.5 billion in property damage.
Fires caused by unintentional or careless actions include:
Dropping a lit cigarette

Throwing away a burning match

Knocking over a burning candle
Ideally, cigarettes should not be smoked inside of the home. If they are smoked inside of the home, they should always be fully extinguished by dipping them in water, for example. Cigarette ashes should be discarded in a proper container placed away from flammable items.
Similarly, it is advisable to wet match heads right after use, to ensure they can no longer set objects on fire.
Candles should always be out of the reach of children and pets and be placed on heat-resistant surfaces away from walls and combustible materials.
Fires Caused By Electrical Malfunction
Electrical fires can start from:
Faulty outlets and plugs

Damaged or old wiring

Using incorrect bulbs in light fixtures
Power outlets that no longer hold plugs securely in place should be changed out immediately by a professional electrician. Loose power plugs are susceptible to sparking and overheating which can quickly result in a deadly fire.
It is not uncommon for older houses to have wiring that is not up to the standards of today. Such wiring should be professionally replaced. If a burning smell is ever noticed when a power switch is turned on or an appliance is plugged in, wiring inside of walls might be damaged and also in need of replacement.
Despite the highest levels of care and responsibility, house fires can still happen. You and your family should always keep an updated evacuation plan, just in case a fire starts and grows out of control.
Learn More About Preventing House Fires
If you and your family want to learn more about how house fires can be prevented, and want to know the equipment available to extinguish fires in the home, contact Koorsen Fire & Security.