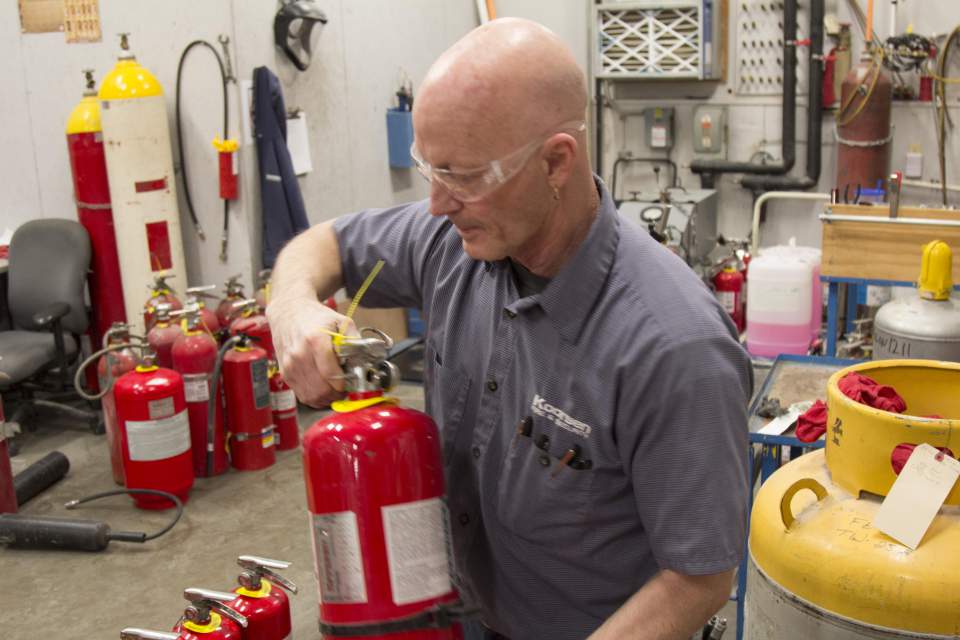 This year here at Koorsen, we want to give our customers and community a better look at what we are all about. So, to that end, we are excited to introduce a new blog series: A Day in the Life of a Koorsen Employee.
We look forward to sharing an inside scoop on the daily inner workings and values of our company with you!
Meet Mr. Bob Havlin: Shop Technician & Fire Extinguisher Training Instructor
This month, we are excited to introduce you to one of our Indianapolis shop technicians and fire extinguisher training instructors, Mr. Bob Havlin.
Bob came to Koorsen nearly four years ago after a successful career as a firefighter. During his time as a firefighter, he developed what some deem a quirky yet sincere passion for fire extinguishers of all shapes and sizes.
Naturally, he has been a perfect fit for our Koorsen team and has become a phenomenal and favorite training instructor and expert shop technician.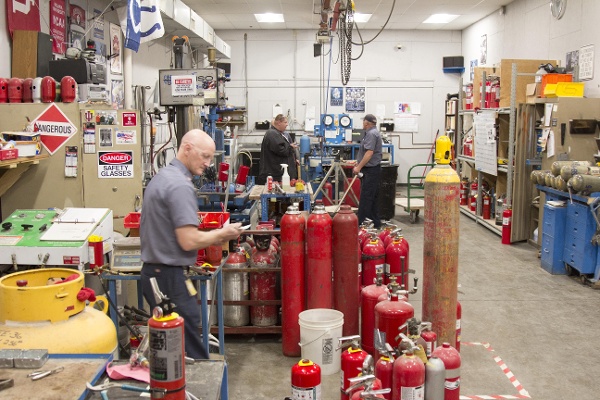 Shop Technician
As one of our shop techs, Bob's days are always full.
Monday through Friday he and the shop team stay busy servicing clients' fire extinguishers. This includes inspecting, recharging, performing required six-year maintenance protocol, hydrostatic testing, and condemning as each has need.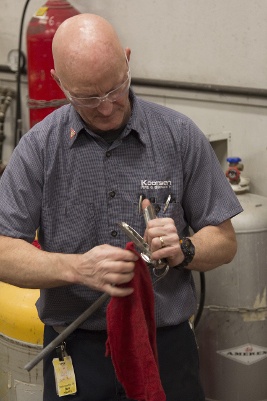 Koorsen's shop also services, repairs and maintains CO2 cylinders for large soda.
Because Koorsen has so many and such a variety of extinguishers to service, Bob explains that, "Our days are broken down into high pressure and low pressure. This is in reference to what type of cylinders we will be working on. Generally, we work on high pressure cylinders on Mondays and Tuesday, and low-pressure cylinders on Wednesday, Thursday and Friday."
Bob and his teammates in the shop are also responsible for maintaining and servicing equipment for the service technicians out on the field, as well as for assisting any walk-in customers (yes, they do have those, too). On an average day, Bob and his team aim to complete a minimum of 56 hydrostatic tests and as many of their six-year maintenance checks as possible.
But that's just an average day. Often, they are busier than "average," such as this past month when they serviced over 2,000 fire extinguishers, averaging over 100 a day. That's almost twice as many as their "average" day goal.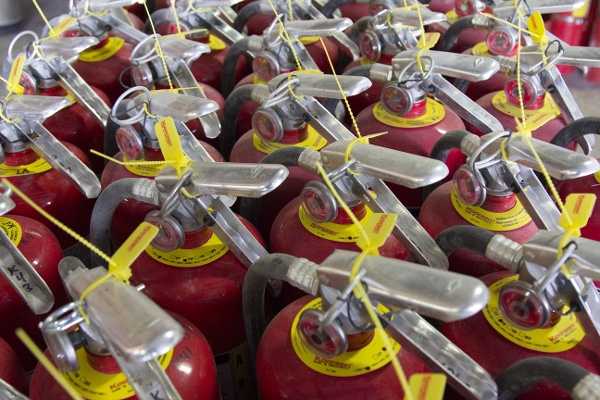 To ensure that they can get their large work-load accomplished efficiently and on time, the crew starts their morning early. Two of Bob's teammates open up the shop by 6:00 a.m. each morning to ensure that the serviced extinguishers are ready to go and loaded onto the service trucks before the daily service routes begin. The rest of the team arrives not much later with everyone settling in for the day well before 8:00.
Business owners, company representatives, homeowners and even paintball enthusiasts all frequent the shop for various needs, such as extinguisher inspection and tagging, CO2 cylinder hydrostatic testing and more.
With all that Bob and his team have going on, it's easy to believe him when he says, "it is not difficult to stay busy in the shop."
Fire Extinguisher Training Instructor
At Koorsen, we are proud to offer the best, multi-faceted, hands on fire extinguisher training, and Bob is a huge part of that. He brings his passionate fascination of fire extinguishers to the table along with a fantastic understanding of what dynamic and effective adult education looks like.
"The best instructors are seasoned, knowledgeable, compassionate and passionate about their subject matter." – Bob Havlin, Fire Extinguisher Training Instructor
Bob prides himself on reading each group and catering his presentation style to mirror his audience. He believes in making training "educational AND entertaining" and emphasizes active education to ensure higher retention for the trainees.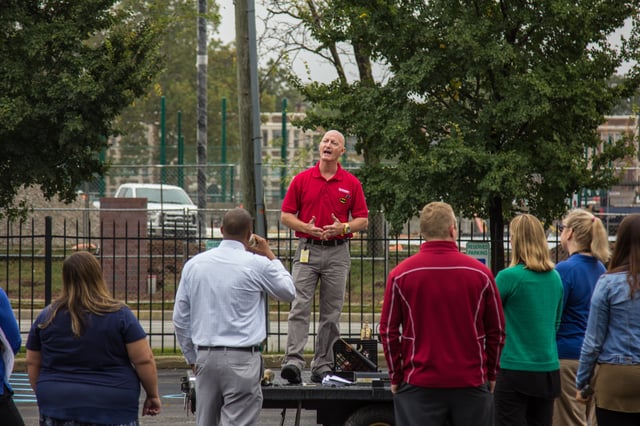 With the incredible resources that Bob has access to through Koorsen, he has no trouble practicing what he preaches. Whether through live burns, the Ansul fire simulator, or the BullEx fire training system (a digital fire system), companies wanting their employees to get a real-life training experience can get that with Bob.
For Bob, perhaps the most beneficial and important version of the fire extinguisher training is the live-burn training session. This allows trainees to gain practical hands-on experience, but not until he has first taught them how a fire extinguisher actually works, the importance of using the correct class of extinguisher with the matching class of fire, and proper extinguishment methods. Bob provides a lot of information in this class that, according to his experience, a lot of people, including fire fighters, "just don't know," and it's information that could save a life.
Considering that using the incorrect type of fire extinguisher on a fire could result in either a failure to work or worse, an increase in "the risk to yourself, the occupants, the facility, or your home or business," understanding the different classes of extinguisher and fires and how extinguishers work is critical.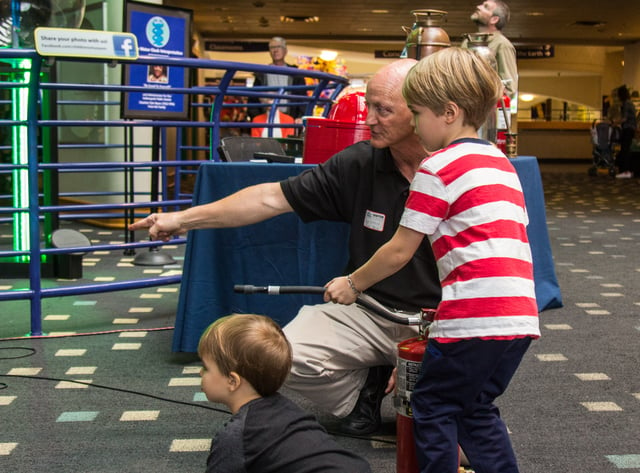 But after the lecture comes the application. By getting to actually apply what they have learned through live-burns on a controlled training ground, trainees can drill home what they have learned as well as see the newly-learned principles in action for themselves. They also get familiar with actually fighting a fire so that should they ever need to in a real-life setting, they will be more confident and accurate in their response.
To Bob, this is the most rewarding part – seeing trainees apply their new knowledge and really get it, knowing that it could make a very real difference for them and their workplace or home in the future.
While OSHA requires business owners to provide fire extinguisher training to their employees, to Bob, fire training is an obvious plan for and safeguard of your future. As far as he sees it, "The only reason you wouldn't want fire extinguisher training is because you have no plans for the future."
While a lot of fun, Bob does admit the schedule can be grueling. Because Koorsen offers a variety of training experiences, he can have entire months filled up with each type of training back to back, requiring the maximum amount of set-up, tear-down and prep time.
There are also burn permits he must request for certain types of training, and the disposal and reloading of extinguishers, which trainees actually get to discharge for hands on practice.
It's a lot of work, but Bob thrives in his role of training instructor, relying on his passion, creativity and personable approach to help trainees enjoy their learning experience and have a good time.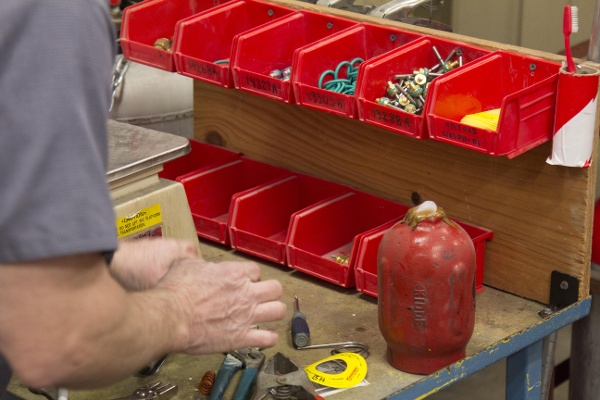 Bob's Best Advice for Customers
We asked Bob some questions about what he thought customers needed to know. Check out his advice:
In the Shop:
Q: What questions should clients ask you, but don't?
A: "Is this the appropriate fire extinguisher for my home or business?"
Bob explains that "it is VERY important to have the correct extinguishing agent for your home or business because using the wrong extinguishing agent on a fire will endanger the occupants and the one engaged in the fire fight. Having the wrong extinguisher…would give you a false sense of security. If someone uses an extinguisher that is not capable of extinguishing a specific class of fire, the fire has potential to get out of control…[or] make matters worse by using the wrong extinguisher on a fire by increasing the risk…"
Q: What should customers know before buying or making a decision?
A: "This is a code driven industry with strict rules and regulations that Koorsen must adhere to in order to ensure the safety of our customers. Something as simple as putting a tag on a fire extinguisher is much more complicated than it appears.
The customer can't order fire extinguisher tags online and install them themselves, and they can't go down to the corner drug store to get a fire extinguisher cylinder filled…they have to rely on a competent life safety company and they should know that Koorsen is that competent life safety company.
Koorsen is capable of identifying hazards in businesses and has the authority to provide prompt corrective measures to minimize or eliminate the hazards. Customers should take a lot of comfort in knowing that."
As a Training Instructor:
Q: What questions should clients ask you, but don't?
A: "What would happen if I used the wrong type of extinguisher on a fire?"
As Bob previously explained, using the wrong type of extinguisher on a fire could fail to extinguish the fire or possibly even make it worse, endangering the one fighting the fire and the entire building and its occupants.
For instance, Bob explains that "Using water on a grease fire or flammable liquid fire is extremely dangerous…Water alone will not extinguish a flammable liquid fire because grease and flammable liquids are less dense than water and do not mix, so the fire will spread as if you just applied more fuel to the fire!"
Q: What should clients know before buying or making a decision?
A: "Customers should know that fire extinguisher training is required by Occupational Safety & Health Administration (OSHA) for any facility that has a fire extinguisher in their facility." Furthermore, with regard to extinguisher training, Bob asserts that it is a key way that business owners protect their employees, livelihood, and investment.
The way he sees it, "The only reason you wouldn't want fire extinguisher training is because you have no plans for the future. Everybody has plans for the future. So plan on making it to the future by investing in fire extinguisher training!"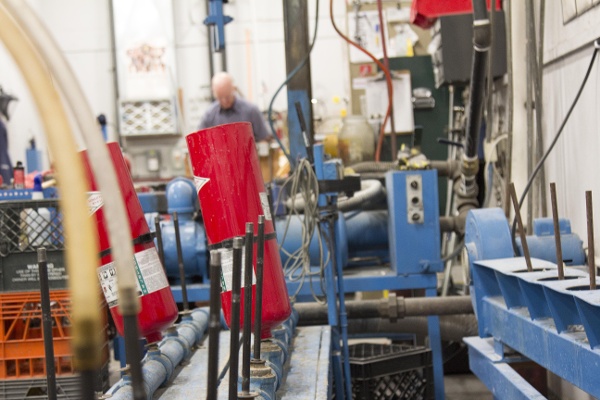 Bob's Best Advice for Professionals?
We also asked Bob if he had any tips for fellow professionals or those interested in entering the industry.
Shop Technician:
Q: What is your best advice for someone else in your position?
A: "In the shop there are a variety of procedures or activities going on at once. It would best serve you to become as knowledgeable as you can on as many of these procedures or activities as you can. Never turn down an opportunity to learn more about this industry."
Q: What do people who are trying to enter your profession need to know?
A: "You can make a decent living and you do not need a college degree. You can be trained, and Koorsen offers a significant amount of training. And I find it rewarding."
Training Instructor:
Q: What is your best advice for someone else in your position?
A: "You should continue to educate yourself on all aspects of fire extinguishers AND the five classes of fire. Do your best to make the training educational AND entertaining. Active education is retained at a higher percentage than passive education. People retain more information when they are engaged and participate…so make your presentation dynamic! They will remember it and they will remember YOU!"
Q: What do people who are trying to enter your profession need to know?
A: "The best instructors are seasoned, knowledgeable, compassionate and passionate about their subject matter.
There is a certain amount of respect associated with being an adult educator but it has to be earned, it is not a given. So every class I present I try to judge the audience and cater my presentation style to mirror my audience. I have gravely misjudged this on more than one occasion, and respect goes right out the window! It is extinguished quicker than a birthday candle doused in ten gallons of Halon! Know your audience and cater to them; don't make them cater to you."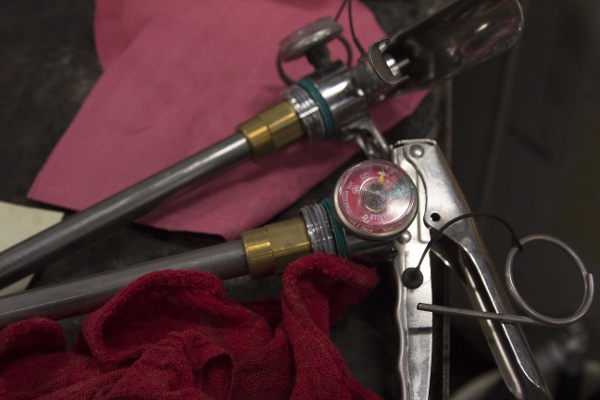 Bob's Thoughts on Working for Koorsen
We asked Bob what he enjoyed most about working at Koorsen and what advantage there was to working with Koorsen rather than the competition. Here is what he had to say:

"We truly do have a very unique and diverse staff that are willing to work together to provide a great training experience for our customers. Our goal is to have our customers walk away knowing they made the right decision by choosing Koorsen.

What do I enjoy most about working at Koorsen? We are the industry leader. Other people know this and we have earned that position…If you want the best fire extinguisher training in the whole United States, you will find it here with me and Koorsen. The competition can't hold a candle to the quality of fire extinguisher training we provide."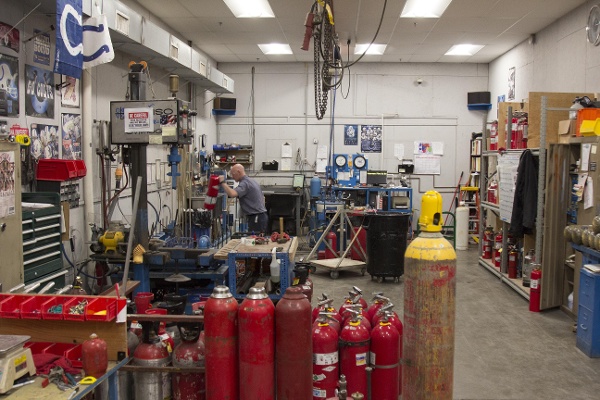 Contact Koorsen Today for all Your Fire Extinguisher Needs
Is your staff properly trained on how to use a fire extinguisher? If you're interested in fire extinguisher training from Bob or one of our other expert trainers, contact us below for more information about our training classes.
If you are in need of new fire extinguishers for your home or office or need one or many of your current extinguishers refilled, inspected, tagged and/or tested, you can call us now or contact us below. A Koorsen fire extinguisher expert will be happy to help you with all your fire extinguishers needs.