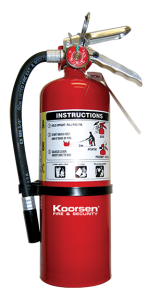 Just having a fire extinguisher in your building is not enough. 30% of portable fire extinguishers in the workplace are not in good working order. Fire extinguisher inspections are the difference between actual safety and protection, and an illusion of safety.
Koorsen's fire extinguisher service and expertise has you covered from the beginning. With Koorsen, we offer all types and brands of fire extinguishers. Our fire protection specialists review your facility to match type, size and placement of fire extinguishers to your needs and to national protection standards. These same fire protection specialists ensure each extinguisher is in good working order, inspect your facility for potential hazards and address any risks with a full report after each inspection.
What can you expect from each fire extinguisher inspection? And why is each inspection necessary?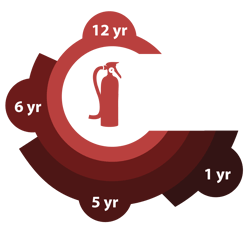 Monthly Inspection
During the monthly inspection, the fire protection specialist will address each of the following questions:
Are the units in the proper location?
Are the units in clear view and properly accessible?
Are the units in clean condition?
By the naked eye, do the units appear to be operable?
Have the monthly inspection tags been properly signed?
Annual Inspection
The NFPA requires annual maintenance on all portable fire extinguishers at your facility. The purpose of this annual external examination is to:
Catch signs of physical damage or any corrosion that may be present.
Determine if the nozzle has been blocked.
Ensure that the operation instructions are still on the unit, facing forward and able to be clearly read.
Check that the HMIS is present.
Fix any issues that are discovered.
Finally, in the long term, there is also the 5-Year Hydrostatic Test, 6-Year Maintenance and 12-Year Hydrostatic Test.
Koorsen's rigorous 12-point inspection also provides an added layer of protection.

Visually inspect extinguisher.
Check the test and maintenance dates.
Weigh extinguisher (CO2).
Visually inspect pressure gauge (when applicable).
Remove safety pull pin.
Install new tamper seal (some units may require additional inspection procedures).
Remove discharge hose and inspect valve assembly.
Check CO2 hoses for continuity (when applicable).
Clean extinguisher.
Attach a new certification tag.
Complete Fire and Safety Report.
Ensure customer understands completed work.
Koorsen is there to provide all inspection and maintenance – and, now, to train employees on using a fire extinguisher. Koorsen's fire extinguisher training program brings a unique, customized experience to your workplace, so in the case of an emergency employees are prepared to react.
Contract Koorsen to schedule your regular maintenance and inspection, sign up for a fire extinguisher training program or learn more about the Koorsen fire and security products and services.