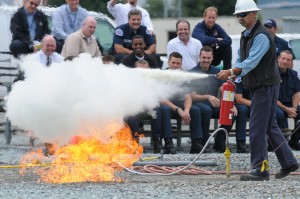 Nobody imagines fumbling with a fire extinguisher in an emergency, but without any training or hands-on experience, that's a likely scenario—especially given the stress and nerves that go along with such a high-pressure situation.
Fire extinguisher training—a service we offer any business and can include in our Koorsen Advantage Plan service agreements—gives employees invaluable instruction about using fire extinguishers and then gives them the experience they need to stay calm and act effectively in the event of a fire.
"Most people don't realize that a typical fire extinguisher has between 5 to 15 seconds of discharge time," said Koorsen Vice President of Service Management Billy Findley. "That's not a lot of time to extinguish the fire, so it is imperative that the person using the extinguisher knows how to use it effectively and efficiently."
Koorsen Fire & Security has three different fire extinguisher training programs, each designed to meet the unique needs of our customers and to keep them up to code with OSHA's requirements. All three programs include classroom training in which students learn about the different classifications of fire and the agents needed to extinguish each type. Once the classroom portion is complete, students experience one of the three hands-on training programs outlined below.
Live Burn: The live burn training consists of a 6ft x 6ft burn pan with a vertical wall that is ignited by accelerants to create a large, three-dimensional fire. The students each get a turn extinguishing the fire with real fire extinguishers, learning the crucial techniques needed to extinguish a fire of considerable size. This training is the most effective hands-on training available, as it teaches students how to put out a fire while experiencing the heat and smoke emitted from fires of considerable size. The live burn training is absolutely necessary for those customers that experience fires on a routine basis.
Bullex Fire Training: Ideal for companies that want their employees to experience putting out real fires but don't have adequate space to set up a large live burn, the Bullex fire is contained in a piece of equipment that Koorsen's trained professionals ignite. The fire stays relatively small (roughly 3ft x 3ft) and emits a clean burn that's safe for the environment and requires virtually no cleanup. The students then use fire extinguishers filled with water to extinguish the flame.
Ansul Fire Simulator: The next best thing to putting out a live fire. This simulator is a computer-generated program that displays a burning fire on a large projection screen. Students then use a fire extinguisher with LED sensors on it to "extinguish" the flames on the screen. The program allows for various levels of difficulty and extinguishes the flames only when the appropriate technique is used. The fire simulator is a great option for those customers who do not have the space or permissions to light an actual fire.
"Using a fire extinguisher is something that people just don't think about until they need it," said Findley. "If they get training, they get the chance to actually use the extinguisher, and then they don't forget it. Using an extinguisher in a controlled environment is a much better experience than trying to figure it out when you need it. You don't want to be reading the instruction label on a fire extinguisher in an emergency, when seconds matter."
Find out more about our fire extinguisher training and see students in action by checking out our video below. To learn more about fire extinguisher training for your staff, contact us today.
###
Koorsen Fire & Security was founded in 1946 and is a third-generation, family owned business. Over the years, Koorsen has become one of the largest and most respected fire and security companies in the United States with over 20 locations and nearly 700 associates. Koorsen Fire & Security is well-known for having the best training in the industry, and is insured and certified to design, install, program, service and repair virtually all fire and security products for any size business. Contact us to schedule your free on-site hazard analysis.