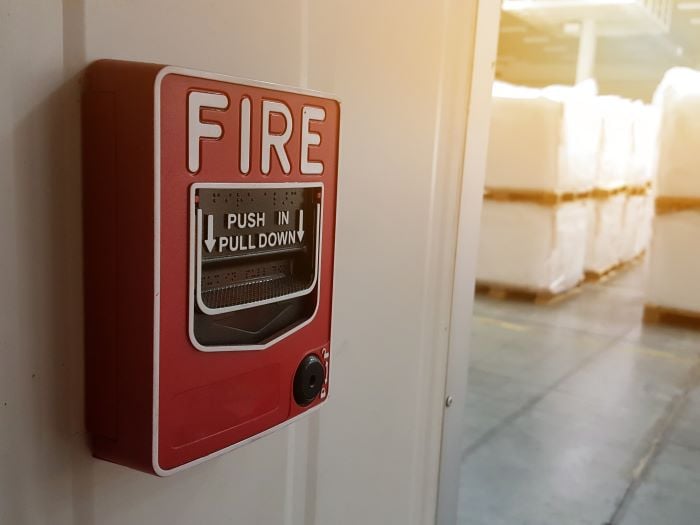 Most people think of fire alarm systems as being developed to keep people safe from emergencies. With alarms to alert us to possible danger, people can protect themselves from fire, smoke, or other hazardous situations.
It's not often that fire alarm systems are considered on a daily basis, but once emergency strikes, they can turn the tide of a disaster and even save lives.
But how does a fire detection system work? We'll discuss the different fire alarm systems and discuss their pros and cons for business owners.
Fire Alarm Components
To better understand a fire alarm system, it's best to break it down to the basics. Most fire alarms will have these main components.
Control Panel
This component is the hub that monitors your detectors, summarizes the building's fire security, and controls outputs.
Initiation Devices
These devices will activate in case of a problem. They can be either a manual pull station or an automatic smoke detector.
Primary and Secondary Power Supplies
These will power your fire alarm systems. The backup power will kick in to keep your system active should your primary source fail.
Notification Systems
Notification devices are the things that will let people know there's an emergency. The system could be anything from flashing lights to a blaring sound or loudspeaker with an announcement.
Conventional Fire Alarms
A conventional fire alarm system requires the installation of physical cabling to connect multiple call points and detectors. The signals picked up from the detectors are then wired back to the control panel.
The alarms and smoke detectors are arranged by zone to make it easier to locate the problem that triggered the signal. The more zones a building has, the higher the chances are of quickly pinpointing the alarm trigger.
Addressable Fire Alarms
Addressable alarms offer similar protection to conventional alarms, but with the added benefit of not needing to rely on zones, giving you more clarity over the issue in question.
These systems are similar to the conventional systems, except every detector is given a unique address and description. The control panel can then determine the exact detector that sets off the alarm.
Intelligent Fire Alarms
In an intelligent fire alarm system, every detector has its own computer capable of notifying the control panel if it needs attention, whether the issue is a routine cleaning or an actual fire. These alarm systems are much more complex than the conventional or addressable ones, and they're much more likely to help prevent a false alarm.
Wireless Fire Alarms
Wireless alarms use radio communications to connect the sensors with the control panel. Their benefits are similar to the intelligent fire alarm, and they have the added advantage of not needing extra cabling.
Custom Fire Security for Your Business
Now that you know how different fire alarm systems could keep your business safe, it's time to take the next step. Call the experts at Koorsen Fire & Security, and you'll have access to the most impressive and comprehensive fire alarm systems on the market.