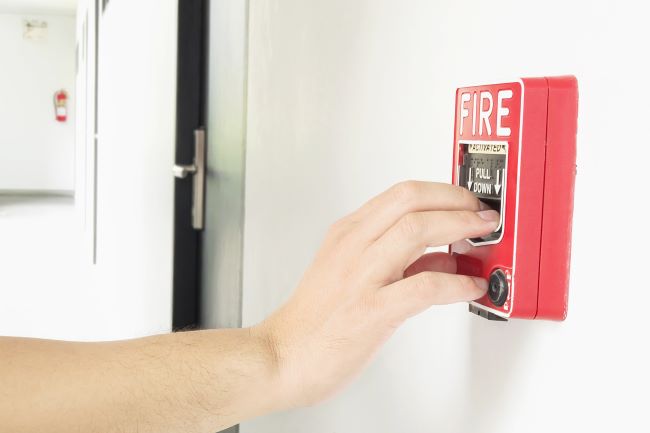 Manually actuated alarm-initiating devices – commonly called fire alarm pull stations – are easy to take for granted. If you ever notice, you will find them on the walls of almost every building you enter. And, while their basic design hasn't changed much in the last 50 years or so, they remain an important component of modern fire protection systems. This post gives some much-deserved attention to these devices with information on their role in keeping us safe and the requirements that must be met to ensure they fulfill that role in the event of a fire.
HOW FIRE ALARM PULL STATIONS WORK
A fire alarm pull station is one of two types of initiating devices used in a typical fire alarm system. There are automatic initiation devices such as smoke detectors and heat sensors that work without human intervention to activate alarms while pull stations provide the ability for a person to trigger the alarm manually.
Manual pull stations generally fall into two main types, single-action and dual-action. With a single-action alarm box, a person can activate the alarm by simply pulling the handle down. Dual-action alarm boxes require the user to perform two actions to activate the alarm – such as lifting up on the handle before pulling it down or having to break a glass panel to access it. On all types, pulling down the handle completes the circuit and locks the handle in the activated position, which sends a notification to the fire alarm control panel to trigger the alarms.
Once a manual pull has been activated, it must be restored to its ready position. This typically requires a special tool or key, which is used to open the alarm station. Opening the alarm station allows the handle to revert to its original ready position. Once in its ready position, the station is closed, which allows the alarm to be reset from the fire alarm control panel.
WHEN AND WHERE ARE PULL STATIONS REQUIRED?
Regardless of its occupancy classification, almost every building will require manual pull stations in addition to other, automatic initiation devices. Pull stations provide an important failsafe in the event of a malfunction in one or more of the automatic initiation devices. The requirement for multiple safeguards comes from the National Fire Protection Association (NFPA) 101 Life Safety Code, which states that life safety should "not depend solely on any single safeguard" and that "additional safeguard(s) shall be provided for life safety in case any single safeguard is rendered ineffective."
NFPA 101 requires at least one manual pull station for any fire alarm system that uses automatic fire detection devices such as smoke detectors and heat sensors or water flow detection devices such as sprinklers. How many of them are required depends on how large the area to be protected is and how many exits it has. These requirements are provided in NFPA 72 National Fire Alarm and Signaling Code, which guides the design and installation of fire alarm systems, including fire alarm pull stations.
NFPA 72 refers to fire alarm pull stations as "manual fire alarm boxes." The code requires that the travel distance to the nearest pull station on a given floor must be no more than 200 feet. So, the larger the building and the longer its hallways, the more pull stations will be required. Likewise, the more exits there are in a building, the more pull stations will be required. NFPA 72 requires a pull station within 60 inches of every individual exit, and for groups of doors that are more than 40 feet wide away from each other, there must be a pull station on both sides of the grouping.
The placement of fire alarm pull stations is critical to ensuring they provide the protection intended. The requirements for their placement is intended to ensure that occupants leaving any area of the building can quickly and easily find and pull the alarm to warn others of the emergency on their way out. In keeping with this idea, they must be securely mounted on the wall where they are "conspicuous, unobstructed, and accessible." This means that they must be installed in such a way that people with or without disabilities can access them.
INSPECTION AND TESTING REQUIREMENTS
According to NFPA 72, visual inspections of manual fire alarm boxes are required when they are first installed and every six months after that. Visual inspections are intended to identify any obstructions and conditions that indicate servicing may be needed, such as open or broken covers on dual-action alarms. Visual inspections may be conducted by the building owner or designated representative. However, any servicing must be done by a qualified professional.
Prior to testing pull stations, technicians will deactivate the alarms and strobes, which are tested separately, to avoid disturbing the building's occupants. When testing, one technician will pull the alarm handle to activate the pull station while another technician watches the alarm panel to confirm whether or not the notification was received that the pull station was activated. Once this is confirmed, the technician will use a key to reset the pull station.
Manual fire alarm boxes must be tested annually per the manufacturer's instructions. Annual testing is required by NFPA 72 also. This testing is typically done as part of a more comprehensive testing of the fire alarm system, which is also required annually. Note that some insurance companies require more frequent testing. So it is always advisable to check with your insurance company or AHJ if you are not sure about how often to test your system.
If you are unsure about whether your building has enough fire alarm pull stations, whether they are properly placed or in need of service or upgrades, contact Koorsen Fire and Security. Our certified technicians can service and inspect all brands of fire alarm systems and install systems from a range of high-quality manufacturers. Contact Koorsen today to learn more.