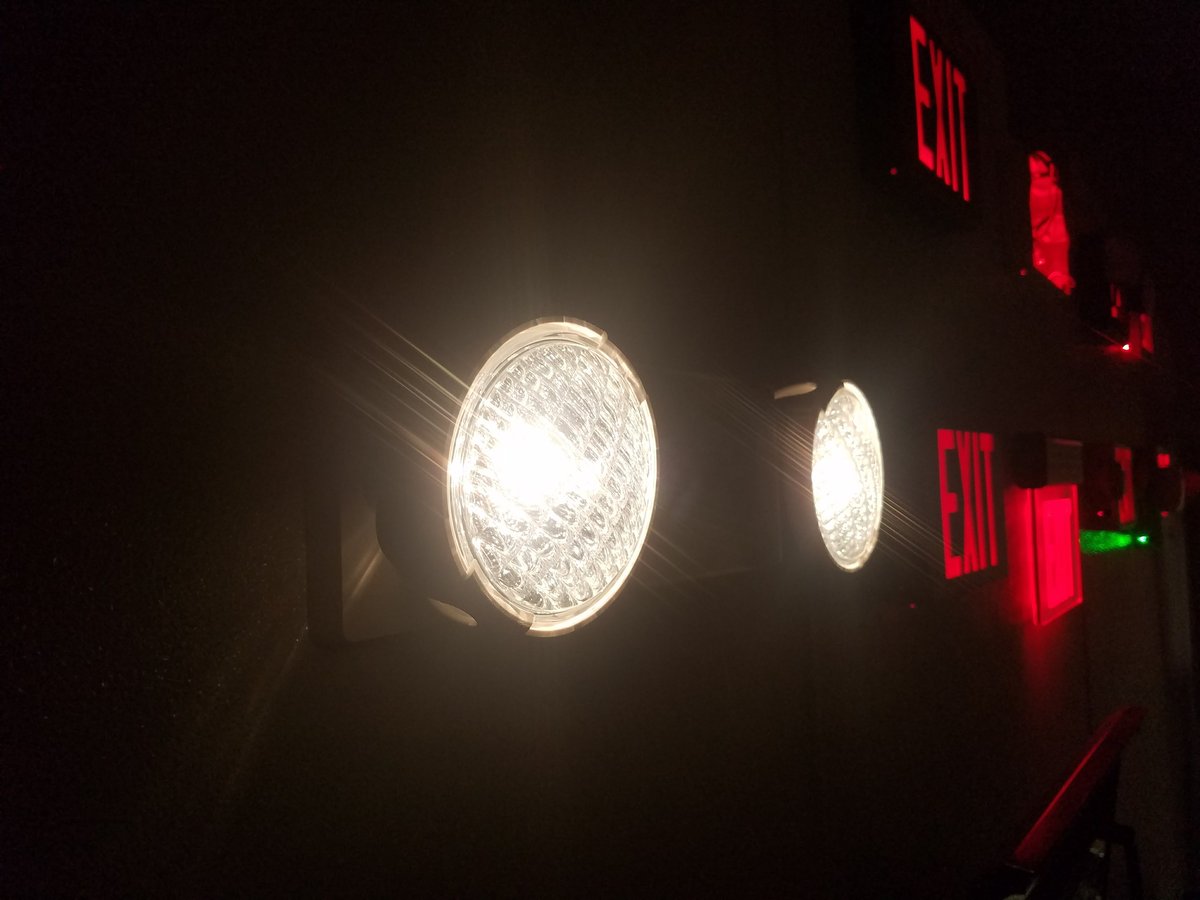 With the recent release of the 2018 Edition of the National Fire Protection Association (NFPA) National Life Safety Code 101, which became effective on September 6, 2017, now is a good time to review your emergency lighting system to ensure that it is still compliant with the newest updates.
The Life Safety Code is updated every three years and provides strategies that use construction, protection and occupancy features of both new and existing buildings and structures to offer greater protection from fire and related hazards for the people that use them.
NOTE: Not all jurisdictions have accepted all requirements set forth in the latest edition of NFPA 101. For specific rules and regulations required by your local authority having jurisdiction (AHJ), contact your local Koorsen Fire & Security branch to ensure you are compliant.
In this article, Koorsen Fire & Security offers a summary of Section 7.9 of the Code, which pertains specifically to emergency lighting to help get people out of a building as quickly and safely as possible in the event of a fire or other emergency. It covers the types of structures that require emergency lighting, the performance requirements for emergency lighting systems, and the requirements for testing to ensure their reliability.
This article also notes revisions made to the Code for the 2018 edition and new requirements in Section 7.9 to help you more easily identify where you might need to make changes to your emergency lighting system to remain in compliance.
7.9 Emergency Lighting
7.9.1 General
This section refers to other Chapters in the Code (Chapters 11-43) to identify most of the specific types of structures that require emergency lighting. However, with only three exceptions to these requirements, it suffices to say that almost all types of structures that are occupied for any part of the day require emergency lighting for all emergency exits and the pathways that lead to them. Here is a summary of the exemptions:
● Locations that are not routinely inhabited by people are exempt.
● Towers designed for no more than three people at a time, such as forest fire observation towers or railroad signal towers are also exempt if they provide an escape ladder.
● Structures that are occupied only during daylight hours may also be exempt if they have windows that provide the required level of illumination for all means of egress and any pathways leading to them and only if approved by the authority having jurisdiction.
Unless your structure meets one of these exemptions, you are required to provide emergency lighting to ensure that occupants can find their way to safety in the event of an emergency.
Emergency lighting is required for all means of egress, including both the exits and the pathways leading to them. This includes stairs designated for emergency exit as well as the aisles, corridors, ramps, escalators and other passageways that lead to an exit. This requirement also extends to exit discharge points, which include stairs, ramps, aisles, walkways, and escalators leading to an area open to the public.
In addition to identifying the types of structures and egress/egress pathways that require emergency lighting, this section also specifically requires emergency lighting for doors equipped with delayed-egress locks and any doors equipped with new sensor-release electrical locking systems. Note that the requirement to provide emergency lighting for "new sensor-release of electrical locking systems" is a change from the 2015 Code, which stated that emergency lighting must be provided at "access-controlled egress doors". This change clarifies that the requirement applies specifically to egress points at which access is controlled electronically as opposed to other means.
7.9.2 Performance of System
This section specifies the requirements for how bright emergency lighting must be and how long it must be provided in the event of failure of normal lighting. In the first 1.5 hours after a failure, emergency lighting must provide an average of one foot-candle and no less than 0.1 foot candle at any point along the path of egress.
After 1.5 hours, the illumination level may decline. However, because the Code requires a maximum-to-minimum illumination ratio of no more than 40 to 1, the illumination may only decline to an average 0.06 foot-candle, no less.
The Code requires that emergency lighting be provided automatically in the event of a power failure resulting from power outages, blown fuses or circuit breakers, or manual acts that result in an interruption in normal lighting.
Given this requirement, emergency power supply systems (EPSS) – the systems that power your emergency lighting system – are also addressed in this section, mostly by reference to other NFPA codes. Citing NFPA 110, it states that new EPSS must be Type 10, Class 1.5, Level 1 and refers to NFPA 110 and 111 for the installation, and maintenance of EPSS – emergency generators and their related transfer switches and stored electrical energy systems, respectively.
7.9.3 Periodic Testing of Emergency Lighting Equipment
The Code provides three options for periodic testing of your emergency lighting equipment and another option pertaining to testing of your EPSS. The option you choose for testing your emergency lighting system will depend on the type of system you have – whether it is or is not a battery-operated, self-testing and self-diagnostic system and if it is, whether or not is computer controlled.
Regardless of the type of system you have, it must be tested for a duration of 30 seconds, generally, once every 30 days and annually for a duration of 1.5 hours. Additionally, all emergency lighting must be fully operational throughout the duration of all tests conducted.
Testing for battery-operated, self-testing and/or self-diagnostic systems should include a diagnostic routine. For systems that are not controlled by computer, you must perform visual inspections once every 30 days, and your system must be equipped with a status indicator to alert you to any failure.
Maintaining complete written records of all tests and inspections is critical as you may be required to provide them to the authority having jurisdiction if requested. If using a computer-controlled system, the system should be capable at all times of providing a report of testing history as well as any failures that occur.
The 2018 edition on the Code also added a fourth option specifically for the testing of your EPSS equipment for your emergency lighting system as opposed to the lighting system itself. With this option, the Code refers to NFPA 110 for the testing of emergency generators and related transfer switches and to NFPA 111 for testing stored electrical energy systems that provide an alternate source of electrical power.
Still Have Questions?
Koorsen Fire & Security offers factory-trained technicians who can ensure that your emergency and exit lights are properly placed and function correctly to help keep your employees and customers safe. Contact Koorsen today with any questions you have on NFPA 101 and for the help you need to ensure full compliance of your emergency lighting system.