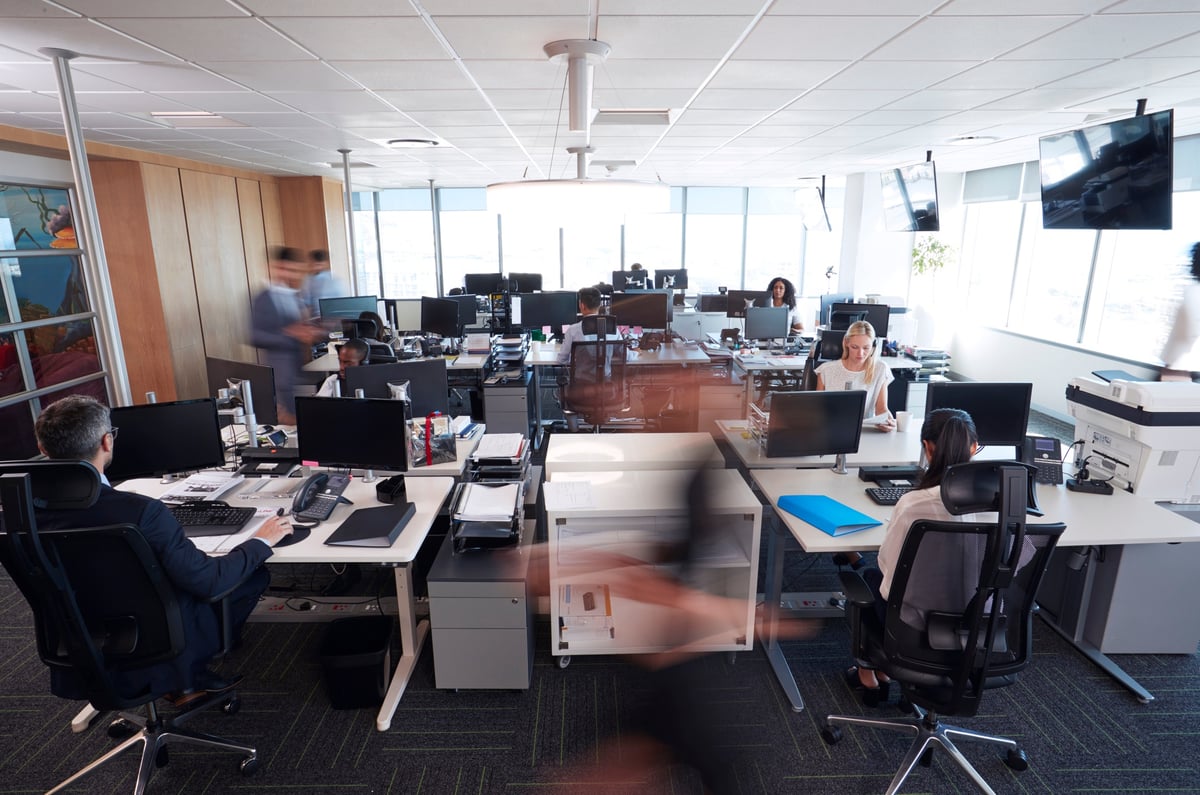 Recognizing that an overloaded electrical outlet under a desk at the office is a fire hazard wouldn't be much of a stretch for anyone. Most businesses have a basic understanding that the equipment and power sources they depend on are possible sources of fire risks. Any workplace can have multiple fire hazards due to heat-generating equipment or tangled power cords, but that's only the beginning. Neglecting to maintain fire prevention systems and safety equipment could allow small risks to grow into potential catastrophes.
Preventing fire hazards in the workplace requires a combination of both awareness and action. The following are the five most common risks when it comes to workplace fire threats, and provide an overview of where potential hazards may be found. By examining these essential areas, a business can design an effective strategy for increasing fire safety.
Un-maintained fire safety equipment

: Installing fire extinguishers and then forgetting about them, assuming you'll be fine in case of an emergency, is nearly as bad as not having one at all. Conducting regular maintenance inspections of workplace fire extinguishers will enable your business to stay current with national, state, and local fire codes and will ensure you can depend on them when necessary. If your business is in need of some fire extinguisher maintenance, Koorsen offers professional fire extinguisher inspections.
Lapsed employee training: It's crucial that every employee knows how to respond when a fire occurs, including everything from emergency evacuation procedures to where fire extinguishers are located, and how to operate them. In order to meet Occupational Safety and Health Administration (OSHA) regulations, it's required that employees undergo training on proper fire extinguisher use annually, and Koorsen's certified team of fire safety experts can lead comprehensive training sessions on how to operate fire extinguishers safely and effectively. Additionally, following an ongoing routine of fire drills and communicating vital emergency information will be essential to a business's fire safety policies.
Neglected building codes and requirements: Different businesses will have different infrastructure needs, and your fire prevention requirements will be dictated by the daily activities at your business. A central component in having an effective fire prevention system will be making sure it conforms to the National Fire Protection Association's codes and standards, which will ensure your system can be relied on in an emergency. Not staying compliant with the NFPA's standards can put property and employees at risk.
Risks from electrical office equipment: Staying plugged in is crucial in today's digital business world, and that means computers, laptops, servers, and other devices will need access to power. If extension cords are tangled up and outlets are overloaded behind heat-emitting equipment, you've got an ideal recipe for a fire outbreak. A comprehensive assessment of power sources will be essential in ensuring that employees are safe from fire hazards. Using surge protectors or having another outlet installed can assist in reducing risks.
Unchecked sprinkler systems: Years (or even decades) may go by without ever actually needing to use your fire sprinkler system, yet leaving it dormant without any maintenance checks can lead to a faulty system that won't operate properly, leaving you with damaged property and equipment. Sprinkler systems are also subject to codes and standards, and scheduling maintenance inspections conducted by a professional organization will be an essential part of fire prevention tactics.
Fire safety in the workplace is an ongoing responsibility that requires a broader plan than just installing smoke alarms; it depends on a thorough understanding of the biggest fire vulnerabilities throughout your place of business and knowing how to respond if an outbreak occurs.
Keeping the above five points in mind will serve as a starting foundation and enable your business to focus on areas that may be overlooked or taken for granted as being safe. By knowing where the potential hazards are, having a plan for mitigating them, and then following a routine of maintenance checks, you can save your business from the damage and downtime a fire could cause.
To learn more about Koorsen's fire prevention services and products, contact a Koorsen associate today.