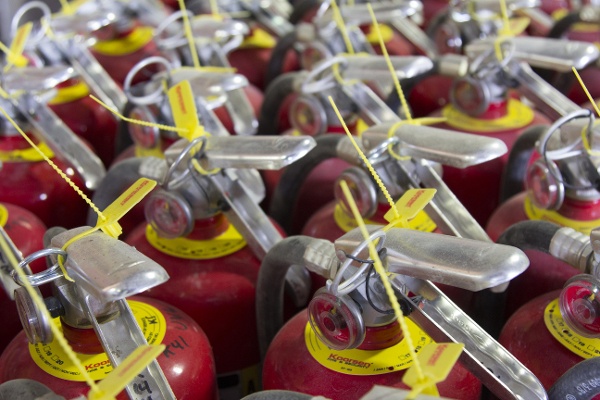 Our business was founded on fire extinguishers, so it'd be impossible for us to take them for granted, but we know not every business owner has the same sense of enthusiasm for them. We can even grant that many business owners barely give fire extinguishers a thought.
We'd like to change that. See below for a few tips that can save your business from the devastation of fire, and let us know if you have any questions.
The PASS method is the one we—and the NFPA—recommend for quick fire-extinguisher guidance:
Pull the safety pin.
Aim the nozzle at the source of the flames (not the flames themselves).
Squeeze the trigger.
Sweep the spray from side to side across the source of the flames.
After you use a fire extinguisher, you need to replace or refill the fire extinguisher. And even if you haven't used your extinguisher, it can become ineffective over time. Working with a reputable fire and life safety company means you can turn over maintenance and inspection concerns—and rest assured that you're up to code and ready for the fire marshal.
Koorsen Fire & Security was founded in 1946 in Indianapolis, Indiana. Today, Koorsen Fire & Security can be found throughout the Midwest and South including Huntsville, Nashville, Louisville, Evansville, Dayton, Ft. Wayne, and Akron. Koorsen is a third-generation, family-owned business with over 1,000 associates. Koorsen has become one of the largest and most respected fire and security companies in the United States. Contact Koorsen today for all of your fire and security needs.