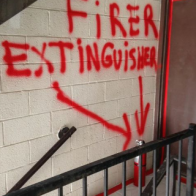 What's wrong with this picture? A few things, actually. But let's start at the very beginning.
A fire extinguisher is an essential part of any building. We're glad to see that someone bothered to bring an extinguisher into this one. We do wonder, however, whether it's the right kind of extinguisher for the situation.
Every building needs to have an ABC fire extinguisher, and depending on nearby hazards, other types of fire extinguishers can be required, as well. (Find out more about classes of fire extinguisher at OSHA.gov.)
We also have to wonder whether that extinguisher has been properly maintained. The required maintenance cycle varies according to type of extinguisher, but most need to be serviced annually. That's an element of preparedness that we find many businesses overlook.
Assuming you have the correct, properly maintained extinguisher, you also need to make sure that
It's easy to access. Setting an extinguisher on the floor doesn't meet the standard. You need to secure it to the wall at a height that's easy to reach and compliant with code regulations. (Height requirements can vary depending on the size and weight of the extinguisher)
It's in a common area. Hallways are a good option for placement, as is any spot that is fairly central and commonly passed. Tucking a fire extinguisher into a closet (or stairwell) puts a door—and, potentially, too much time—between the extinguisher and the person who needs to get to it.
It's well-marked. If you place a fire extinguisher in a recess within the wall or in a fire extinguisher cabinet, you need to make sure that you include signage that makes finding the extinguisher easy.
The last thing you want in an emergency is for anyone to be struggling to locate or operate the fire extinguisher which is why fire extinguisher training is also important. A little training and preparedness can go a long way.