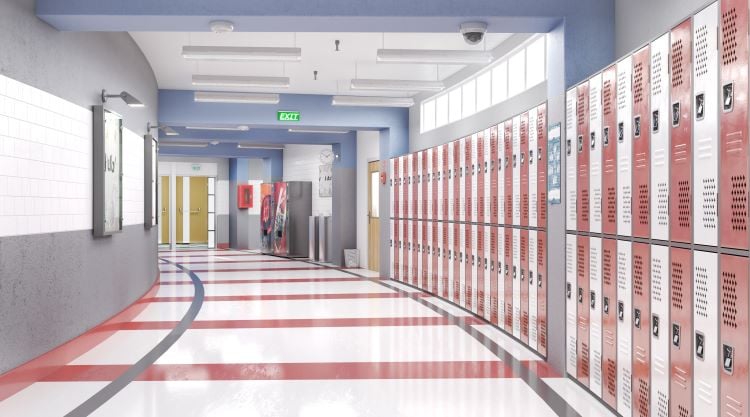 At long last, the world is beginning to see the light at the end of the Covid-19 tunnel. With vaccines now available and wide-scale vaccination efforts underway, schools are looking forward to reopening, welcoming their students back into the classroom full time. But to do that, school officials and teachers have a lot to think about -- including fire safety.
National fire safety organizations, including the U.S. Fire Administration (USFA) and the National Fire Protection Association (NFPA), have expressed concerns that fire safety measures may inadvertently take a back seat amidst the ongoing national discussion about how to reopen schools during the pandemic safely. Both organizations have published information to bring attention to these concerns and provide guidance to schools as they plan their reopening.
This post will summarize the issues that USFA and the NFPA have highlighted and their recommendations for addressing them.
Fire Drills - One of the Most Complex Issues to Resolve
Most states require fire drills at some frequency, which may be once a month or a certain number of drills conducted over the school year. Often, fire drills occur with greater frequency in the first few months of the school year to help establish a good understanding of the procedures early on.
Fire drills are even more important now, as many children will be coming back to new or altered surroundings in their school buildings due to Covid-19. Fire drills will help them become familiar with any changes and navigate them to evacuate safely from the building in an emergency.
One of the concerns related to fire drills is that with so many students physically away from their schools for extended periods, they may not remember all the procedures involved in an evacuation. Add to that the likelihood that schools have modified their classrooms and how they operate in terms of ingress and egress, and the importance of practicing fire drills early upon reopening is evident.
What isn't clear, however, is how to ensure proper social distancing during a fire drill. Unfortunately, what is considered best practices for school emergency drills are in direct contradiction to the social distancing recommendations for COVID-19. While schools are "graded" based on how quickly they can evacuate students, sending them out in single lines with every student at least six feet apart from one another can significantly add to the time it takes to clear a building.
Under the present circumstances, it may help to remember that the purpose of fire drills is to ensure that students know how to evacuate the building in an orderly manner. While mimicking an emergency as closely as possible can help "firm in" those lessons, this may not be possible until we are past the pandemic. In the meantime, schools might consider the following ideas when determining how to resume their required fire drills best:
Stagger the Release of Students
Under normal circumstances, halls would be full of students during a fire drill. During Covid-19, schools could consider the option of staggering the release of students during a fire drill to avoid crowding and allow for proper spacing per social distancing requirements as they exit the building and move to their designated areas. In the event of an actual fire, students could still be evacuated all at the same time. But, performing drills in this way will help to ensure that students know the necessary procedures for evacuation and the fastest route to safety.
If using this approach, it will be important to emphasize to students that they will need to act with urgency during an actual emergency and that their primary objective is to get out of the building safely.
Have Students Wear Face Masks During Drills
Unless they routinely wear their face masks throughout the school day, telling students to don them in preparation for a fire drill will likely eliminate the surprise factor needed to measure evacuation readiness more accurately. However, this approach does offer a balance between ensuring students know the evacuation procedures and adhering to social distancing requirements.
Change Meeting Point Destinations
It may be necessary to change where student groups meet to maintain a safe distance and avoid crowding once students are evacuated and waiting for the drill to be completed.
Modifications in the Building or Classrooms that can Impact Fire Safety
The essential fire and life safety requirements for schools have not changed as a result of the pandemic. However, schools everywhere have had to modify their classrooms and procedures to comply with Covid-19 guidelines and requirements.
For example, to protect against Covid-19 spread, schools may have locked individual rooms and otherwise blocked access to certain areas to limit the number of people in a space. Most schools have had to rearrange their classrooms to provide more social distancing between students. Many are using a variety of materials such as temporary plastic or fabric curtains and plexiglass shields to help prevent the transmission of the virus.
All of these measures are designed to keep students and staff healthy. However, they could also be putting them at risk in an emergency if they are blocking or might otherwise impede access to safe egress and fire safety equipment such as fire extinguishers, or if they prevent fire suppression systems from operating effectively. Below are some important things to check before you reopen your school:
Seating and Desk Arrangements
Are there any desks or other furniture blocking the path of egress from the classroom? This can include secondary access doors, rescue windows, and all exits. If any of these are blocked, you need to clear the access. You also need to check to ensure that all fire alarm pull stations and fire extinguishers are still easily accessible.
Partitions in the Classroom
If you're using partitions to separate students in the classroom, they must meet the applicable interior finish provision of NFPA 101 Life Safety Code, and they must be evaluated by a qualified professional to ensure their design and installation will not impact the effectiveness of your smoke/heat detection system or fire sprinkler systems.
Use Modifications
In some cases, students and staff may be moved to larger rooms to accommodate social distancing better. If these rooms are not designed to be classrooms, this new use must be evaluated by a qualified professional to ensure that the fire protection and life safety systems currently in place will provide adequate protection for students and staff. This evaluation includes ensuring adequate means of egress for the number of people occupying the space, and the door hardware, fire alarm notification devices, and sprinkler system are all adequate and appropriate for the new use.
Storage of Hand Sanitizer
Alcohol-based hand sanitizers are regulated by fire and life safety codes because they are a flammable liquid. Schools will likely want to keep more than the normal supply on hand during this time. If your school is stocking up on hand sanitizer, make sure it is properly stored in relatively small quantities and well away from any potential source of ignition.
Neglected Inspections and Testing
It should not be surprising to find that some schools have inadvertently neglected their required inspections, testing, and maintenance of their building's fire safety systems – especially given the long, unexpected periods of closure and all the challenges involved in figuring out how to continue educating students in a virtual environment. However, all the same requirements still apply, and with schools now reopening, it is essential to ensure these systems are operational and functioning properly before reoccupying the buildings.
Examples of systems that typically require ongoing inspection, testing, and maintenance include water-based fire protection systems, fire alarms, and portable fire extinguishers. School kitchens also have fire safety-related requirements that must be met. These requirements can be found in the following NFPA codes:
Prior to closing in the early stages of the pandemic, many schools put security measures in place to limit people coming in and out of their buildings. Now, as schools begin to reopen, it is important to ensure that inspectors and any contractors you have hired to perform testing and maintenance of your fire and life safety systems have access to your buildings to perform the work necessary to ensure they are functional and compliant with code.
Have Questions?
Koorsen can help. If you are a school official or a school building manager and have questions about whether modifications made in your building or classrooms will increase the risk in the event of a fire – or if you're not up to date on all your inspections, testing and maintenance requirements for your fire protection systems – give us a call today. Our certified technicians can help you ensure your building is safe and ready before welcoming your students and staff back to school.