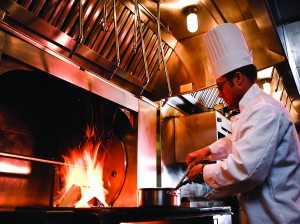 A restaurant's kitchen is a continual hub of activity, as cooks, servers, and bussers handle the rush of responsibilities. With all this action taking place in the midst of fryers, grills, and stoves; restaurant fire protection and safety is an essential priority. A small oversight or mishap can lead to an increased risk of fire.
According to the U.S. Fire Administration, the leading cause of fires in nonresidential (and residential) buildings is from cooking, and their statistics covering 2003 to 2013, show that the number of cooking-related fires has been on the rise from year to year. In order for those numbers to decrease, restaurants across the country will have to adopt new approaches to fire safety and develop a greater awareness of where and how fire vulnerabilities occur.
Essential Fire Prevention Methods
In order to reduce the chance of a fire, a kitchen staff must have a thorough understanding of the potential fire hazards. When an outbreak does occur, they must be prepared to respond quickly, and with the right knowledge and equipment, an occurrence can be handled with minimum damage.
Kitchen fire suppression system: The foundation for fire safety in a restaurant is an effective kitchen fire suppression system. In order to meet National Fire Protection Association standards, the system must comply with the UL 300 standard, and if your kitchen needs an upgrade, being compliant shouldn't be delayed. It's also crucial that a fire suppression system undergo routine inspections by trained professionals, and any change in a kitchen's menu or equipment layout would require a re-inspection. Additionally, a kitchen's ventilation system must also meet the NFPA's standards for overall fire safety.
Staff training: Kitchen staff should also be trained on how the new system will operate and be on the alert for any bad habits that can lead to a fire outbreak. Even experienced veterans need a refresher, and regular training sessions can help keep everyone's fire safety skills sharpened up and ensure staff is mindful of the risks to avoid. Fire extinguisher training for employees is a mandatory requirement of the Occupational Safety and Health Administration (OSHA), and fire drills should also be scheduled on a regular basis.
Fire alarm, fire suppression, emergency exit lights and fire extinguisher maintenance: Just because a kitchen has fire protection equipment in place, doesn't mean you can check these fire safety essentials off your list and forget about them. All fire protection equipment must be inspected and maintained on a regular basis as a requirement of local, state and national fire codes and regulations.
Restaurant Fire Risks to Avoid
A restaurant's kitchen has no shortage of potential fire hazards, and owners and employees should pay close attention to some specific areas:
Electrical wiring and equipment: Even outside the kitchen, electrical cords and power outlets can pose fire risks. Around heat-generating grills and stoves, the chance of fire increases, and any frayed or badly tangled cords would only need a spark or an increase in temperature to be hazardous. Hoods, grills, and fryers get a great deal of use and need to be monitored and cleaned regularly.
Flammable liquids and materials: No kitchen is free from the occasional accident, and spilled cooking oils and grease can very easily lead to an unwanted fire. On a larger scale, a kitchen's exhaust system requires periodic safety and maintenance inspections. Such a system draws a mix of flammable materials into its duct work, which then channels them to roof-mounted exhaust fans. Neglecting these areas will inevitably lead to major fire hazards and potentially ruinous structural damage. The Koorsen Environmental Services Division specializes in grease management for commercial kitchens, offering grease trap cleaning and rooftop grease containment solutions that will greatly reduce fire outbreaks.
Debris removal and general organization: Open trash cans, mislaid trash, or any kind of clutter can lead to fire outbreaks, and keeping trash away from cooking equipment should be part of general cleaning policies. Staying organized and keeping cleaning solutions or paper products away from flame-producing areas should be basic policies. A well-lit kitchen would also mean that small bits of food or grease in easy-to-miss corners can be spotted and won't lead to problems later on.
Outdated and unreliable fire prevention equipment: Any business can end up facing serious property damage as result of poorly functioning fire extinguishers, sprinkler systems, smoke alarms, and kitchen fire suppression systems. All this equipment should be periodically checked and maintained so that they can function effectively when needed, and kitchen personnel should be trained in how to use them.
Combining a well-prepared staff with dependable prevention equipment will go a long way toward reducing the wide range kitchen fire risks. By partnering with Koorsen, our team of fire safety professionals can implement a UL 300–compliant kitchen fire suppression system customized to the demands of your restaurant. As a leader in fire and security solutions, we can also identify potential hazards, help train staff on how to avoid potential outbreaks, and provide comprehensive methods for minimizing fire risks at your business.
To learn more about our fire prevention tactics focused specifically on the restaurant industry, contact a Koorsen professional today.