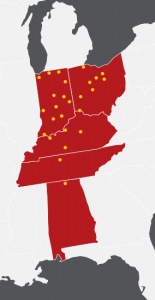 As we begin Q2, 2016 is shaping up to be another monumental year for Koorsen Fire & Security. Koorsen's Columbus, Ohio location was named one of the 2016 Top Places to Work by Columbus CEO magazine. Branch sales manager, Joe Nelson, commented on the recognition:
"This was a very thorough process and evaluation. Each associate in the branch participated in an online evaluation. Results were compiled and reported back to the branch's leadership team. We were very pleased to see strong positive feelings on morale, caring, training, and more. We were thrilled when the aggregate responses put us in the "Top Workplaces" category."
The company as a whole was also recognized by the Association of Capital Growth (ACG) Indiana as a Corporate Value Award recipient for representing the essence of middle-market corporate growth in Indiana. Koorsen ended 2015 with 950 employees, topping the previous year's number of 840. Koorsen has maintained an average employee growth rate of about 15% over the last several years, and has no plans to slow down. They have already hired an additional 95 team members so far in 2016.
After record sales and growth in 2015, Koorsen did not waste any time getting right down to business to ensure the company stayed on pace to double in size in the not-so-distant future. A major component of that plan includes several acquisitions and expansions into new and existing markets. See below for a list of the completed acquisitions and expansions in late 2015 and early 2016, and be on the lookout for more to come in the near future.
SCI Alarm – South Bend, Indiana
Koorsen's VP of Sales, Chris Moore, says, "Koorsen was drawn to SCI because it is a strong family owned business that has been supporting its customers and the South Bend community for over 30 years. This is a perfect fit for Koorsen, who has been servicing its customers and communities since 1946." Read more about the acquisition here.
Koorsen's recent expansion into the Toledo market will allow the company to better serve its customers in the area, as well as expand its reach to take on new customers. District manager, Dave White, will also serve as branch manager over the Toledo office. When asked about the expansion, White replied, "We are very excited to move into the Toledo market. The expansion into Toledo will vastly improve our reach to new customers in that area, as well as allow us to provide better service to our existing customers." Learn more about the Toledo location.
Koorsen is now proudly serving the Cleveland, Ohio market. While Koorsen has served the northern Ohio market for many years, the company is excited to continue to expand its existing presence. The expansion ensures that Koorsen is able to offer even better service and support to current customers, as well as new customers in the Cleveland market. Learn more about the Cleveland location.
Hardgrove Fire Protection – Columbus, Ohio
The acquisition of Hardgrove Fire Protection provided opportunities for growth for both Koorsen Fire & Security and Koorsen Environmental Services. Hardgrove provided its customers fire protection and kitchen exhaust cleaning services, meaning that Koorsen Fire & Security will be taking over all fire protection accounts, while Koorsen Environmental Services will be servicing all kitchen exhausting cleaning accounts. Koorsen is also pleased to announce that all Hardgrove team members have accepted employment with the Koorsen family.
"Each of these acquisitions reflects our dedication to finding business with a good reputation and a particular area of expertise, which leaves us a lot of opportunity for growth," said Koorsen's Executive Vice President Jeff Wyatt.
So much growth means we've been doing a lot of hiring so far in 2016. To date, we have brought on 95 new associates in 2016. And at present we're working to fill another 40+ positions in various branches.
Interested in joining the Koorsen team? Check out our job postings to apply online.