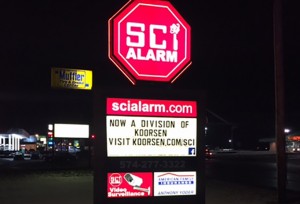 Koorsen Fire & Security is pleased to announce its merger with SCI Alarm of South Bend, Indiana. SCI Alarm is a family-owned business, much like Koorsen, and was founded in 1981. The company has always prided itself on seeking ways to continually grow and providing excellent service to their customers. Koorsen's VP of Sales, Chris Moore, says, "Koorsen was drawn to SCI because it is a strong family owned business that has been supporting its customers and the South Bend community for over 30 years. This is a perfect fit for Koorsen who has been servicing its customers and communities since 1946."
Koorsen Fire & Security is a family-owned business that strives to provide the best level of service available. With nearly 70 years in business and a nationally-acclaimed training center, Koorsen has the knowledge, expertise and bandwidth to design, install, engineer, program, service and repair virtually any fire or security product or system. "Current SCI customers will benefit from the investment in technology, people, training, and customer service that Koorsen will be bringing to the market place," Moore adds.
The combined resources of SCI Alarm and Koorsen Fire and Security assures the continuation of dedication toward providing quality fire protection and security services, and the commitment toward meeting and exceeding industry standards. According to Moore, "The SCI acquisition significantly increases Koorsen Fire and Security's customer base in the South Bend market through a company that has shared vision and passion for service excellence like Koorsen. This acquisition combined with the investment Koorsen will make in people, training, product, and customer service will provide the South Bend market place with a company that can offer 'Total Protection from One Source'".
All current SCI Alarm employees will be joining the staff of Koorsen Fire & Security, and all existing SCI Alarm service agreements and contracts will continue to be honored. Koorsen Fire & Security will be operating out of the existing SCI Alarm building, and all contact numbers will remain the same.
Koorsen's dedication to its customers, extensive line of fire protection and security services and unmatched training enables them to be a true partner in compliance, ensuring customers are safe and up-to-code. This merger combines the strengths from the employees of both companies to provide customers with specialized teams of highly-trained individuals who bring extensive knowledge and experience to every project.