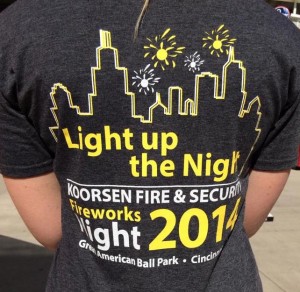 On a perfect June evening at Great American Ball Park, our Cincinnati Reds sponsorship reached its exciting annual peak with Koorsen Fireworks Night.
"It really is such a cool thing to be part of," said Koorsen VP of Sales & Marketing Dave Strietelmeier. "The weather was ideal, and the Reds had a sellout that night. Can't ask for much more."
The fireworks themselves have been an impressive spectacle every year, which the Reds had told us to expect, but the level of the show knocks our socks off anew each time. We know we're not alone in that.
"Walking back to my car with my wife after the game, we were wearing our Koorsen shirts, and we got a lot of high fives from people who'd been there," Strietelmeier said. "People really get excited about it, and I can see why."
Our Cincinnati Reds sponsorship has meant a lot of fun for us alongside the great publicity that the well-loved team offers. We're always delighted to have one of our Koorsen yellow trucks out front before the game and to be handing out sunglasses to baseball fans as they enter the stadium. And we've loved seeing our name up in lights during the game, hearing it throughout the games and on Reds Radio.
We've been in the Cincinnati area for five years now, and our Reds sponsorship has been a wonderful way to get to know customers in the area—and to become better known within the city.
"This sponsorship is really big for us," Strietelmeier said. "Not only do our customers love to be part of Fireworks Night, but we know that Cincinnati loves its homegrown businesses, and we're glad to be able to support a team with a long history in the area. Although we're relatively new to Cincinnati, we've had a long history ourselves. This relationship is a real natural."
###
Koorsen Fire & Security was founded in 1946 and is a third-generation, family owned business. Over the years, Koorsen has become one of the largest and most respected fire and security companies in the United States with over 20 locations and nearly 700 associates. Koorsen Fire & Security is well-known for having the best training in the industry, and is insured and certified to design, install, program, service and repair virtually all fire and security products for any size business. Contact us to schedule your free on-site hazard analysis.