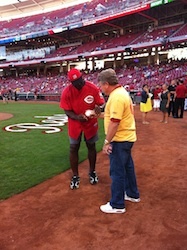 Koorsen Fire & Security has been in operation for over 70 years—a good, long time for a family business but still far shy of the 132 years that the Cincinnati Reds have been around. That kind of solidity is something that's as important to us as it is to the famously loyal Cincinnati-area residents, and so we're excited to be entering into our second season as a corporate sponsor of the Reds.
"We can feel really good about being associated with the Reds," said Koorsen Fire & Security Vice President of Sales and Marketing Dave Strietelmeier. "We're excited to be sponsoring a team we're proud of."
"The team has been a true partner. They really get it in terms of taking care of their customers."
That has meant a lot to the Koorsen team, but to fans the most notable product of our partnership is the sold-out Koorsen Fireworks Night.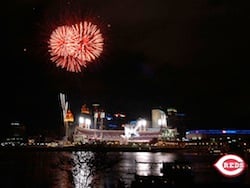 "They had told us how wonderful their fireworks were," Dave recalled. "And they were unbelievable! That night is engraved in my mind. We were wearing Koorsen t-shirts, and we were literally stopped in the street after the game—over and over—by fans thanking us for the fireworks. It was such a thrill."
In Cincinnati, Koorsen stands out with total fire and security protection that never relies on subcontractors and offers customers one point of contact for all questions and services.
"We feel that Koorsen is the most professional fire and security company in the country," Dave said. "It's just a pleasure doing business with an extremely professional hometown team like the Reds."