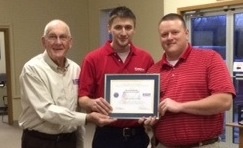 Koorsen Branch Manager Ryan Hardwick didn't plan for recognition when he hired two servicemen at his Terre Haute location, but the Office of the Security of Defense and his newest employee felt he deserved the kudos.
Hardwick interviewed Xavier Nneman, a senior airman of the Air National Guard for a position at the Terre Haute branch in fall 2013. Nneman's professionalism and sincerity made a strong first impression. Hardwick recalls his interviewee having a respectable military mentality: He was organized and regimented, but also polite and well spoken. Hardwick respected him for being quick with answers and knowing his own mind, and he hired Nneman to be a Koorsen fire extinguisher technician.
Coincidentally, Hardwick also hired an Army specialist, Dustin Collins, as a fire alarm technician at about the same time.
Nneman wanted to thank his new boss with a Patriotic Employer nomination. On December 13, Retired Lt. Colonel Clyde Stringer arrived at the Terre Haute branch to present Hardwick with his ESGR Patriotic Employer Award.
Hardwick said he didn't hire either man on his military service alone. It surely didn't hurt their chances, but he ultimately brought them on board because they were just that good.
Nneman and Collins have continued to prove their abilities since training began in December. Both men are ahead of schedule in their standard training processes and will be ready to go out on their own sooner than usual. And Hardwick's mutual respect for his employees has come full circle with a shiny new Patriotic Employer Award.