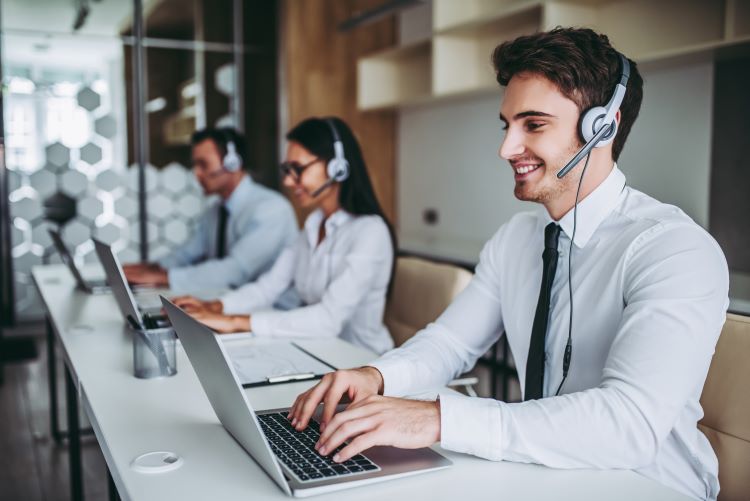 Monitoring services are one of the most important elements of any fire safety or security system. Central Station Monitoring Services provides round-the-clock monitoring of your business from a remote location to offer unparalleled protection. Central Stations are staffed by trained personnel responsible for identifying and verifying the alarm signal and dispatching emergency responders if the alarm is positive. Most Central Station Monitoring companies can also provide a wide variety of other services to protect your business, including installation, inspection, testing, and maintenance for security and fire alarm systems.
However, not all monitoring services provide the same level of protection. When choosing a Central Station Monitoring service, it is critical to choose one that is UL-certified for the type of monitoring you need.
Certifications Matter...a Lot
The first question you should ask of every service provider you consider is whether the company's central station monitoring service is UL-certified. If it is, many of the other things you need to be concerned with -- the building requirements, monitoring equipment, and staffing -- are covered in the certification.
UL certification means that Underwriters Laboratories has evaluated the company's services. This non-profit organization helps companies demonstrate the safety, security, and quality of their services to achieve regulatory compliance.
To get UL Central Station Service Certification, an alarm monitoring facility must demonstrate the ability to provide monitoring services that comply with all the applicable codes and requirements for the types of alarm system used.
Specifically, companies that provide Central Station Monitoring must meet the rigorous requirements in the UL 827 Standard for Central Station Alarm Services. And to maintain their certifications, they must pass a UL audit each year to show ongoing compliance with the UL 827 standard.
There are several changes to UL 827 that will take effect on Dec. 31, 2022. So, depending on when you are reading this, it might also be a good idea to ask if the company is prepared to meet the new requirements to maintain its certification.
UL certification should be the first requirement for choosing a potential service provider because it is the only way you can be fully assured that the company's equipment is always working, the signals from your alarm system are accurately received, and the facility is properly staffed for a swift response.
What Type of UL Certification Should You Look For?
There are three different types of central station certifications that UL offers. So, it is important to inquire as to which UL certification(s) the facility has to ensure that it has the right certification for your needs:
UL-Certified Central Station Fire Alarm Service
This type of certification ensures that the Central Station Monitoring Services provided will meet all the applicable National Fire Protection Association (NFPA) requirements:
NFPA 101

Life Safety Code

requires businesses to have a means of notifying the local fire department in the event of an incident. Central station monitoring is one of the options allowed and is the most common method used today.
NFPA 72

National Fire Alarm and Signaling Code

provide additional requirements for Central Station Monitoring including, signal monitoring, retransmission of signals and associated record-keeping, testing and maintenance, runner services. NFPA 72 also requires an executed contract with the company providing the monitoring services.
Providers with this type of certification can also issue UL security alarm system certificates to their clients to show the authority having jurisdiction (AHJ) that your alarm system complies with the applicable code.
UL-Certified Central Station Security Alarm Service
This type of certification ensures that the service provider has met rigorous standards for its ability to install, maintain, test, inspect and monitor alarm systems. The provider's ability to provide runner services and effectively communicate with the proper authorities is also tested. With this type of monitoring service, the alarm system is jointly operated by the owner and the service provider, with the criteria for arming and disarming the system agreed upon in advance. In addition to the ability to dispatch law enforcement, service providers with this type of certification have runners on duty at all times to investigate any unauthorized entry of protected properties.
UL-Certified Hosted Central Station
Hosted central stations are becoming more common as the initial and ongoing costs to build and maintain a state-of-the-art central station continue to rise. Hosted central stations leverage cloud technologies for some aspects of the monitoring services they provide but must still meet the same UL 827 requirements for redundant telephone lines, power supplies, receivers, and servers. Because their infrastructure costs are lower, hosted central station providers may offer lower costs than those based out of standalone facilities.
Other Types of Certifications
Central station service providers will also have other ways to demonstrate the reliability and quality of the services they offer. FM approval is one way to do that.
FM approvals' certification for central stations is focused specifically on fire protection services and is based on scientific research and testing. To become certified, service providers must meet very high standards for safety and property loss prevention, published in the company's Approval Standard 3011, Approval Standard for Central Station Service for Fire Alarms and Protective Equipment Supervision.
If you are having a new alarm system installed by the same company that will provide central station monitoring services, FM approval will give you confidence in knowing that your building's fire alarm system is installed, tested, monitored, and maintained according to NFPA 72. While UL certification is considered the "gold standard" for central station monitoring stations, FM approval is a good additional certification to have.
Staff Certifications
Reputable companies will ensure that their staff is all well-trained. TMA Certification focuses on ensuring that the people monitoring your business have the training they need to respond appropriately and quickly to every incident.
The Monitoring Association (TMA), formerly known as the Central Station Alarm Association (CSAA), is the trade association that represents the professional monitoring industry. Its "Five Diamond Central Station" program offers two levels of certification training that together cover all aspects of monitoring in a central station monitoring, including an understanding of the technology and false alarm prevention. To maintain their certification, operators must recertify every three years.
If you are having a new alarm system installed, there are other certifications you should look for to ensure that the people designing and installing it are well trained in modern systems and technologies.
NICET Certification

-- The National Institute for Certification in Engineering Technologies (NICET) offers a variety of certifications for technicians and system designers, including

Video Security Systems

and Fire Alarm Systems

ESA Certification

-- ESA is a national training school specializing in preparing technicians, designers, and installers of security and fire alarm systems for licensing that may be required at the state and local level. Professional licensing is not required in every state. So, it is a good idea to ask any provider you are considering whether professional licenses are required in your area and, if so, whether its employees have them.
Manufacturer certifications -- Whether you're installing a new fire safety or security system or looking for monitoring services for your existing system, it is also a good idea to make sure the service you select is certified by the manufacturer of the system you are using.
Certifications are a good way to ensure the service provider you are considering employs people who stay abreast of new technologies, codes that govern installation and maintenance of the systems they are working with, as well as industry best practices.
Experience Matters, Too
The decision about who will provide the central station monitoring you need is not a trivial one. You will have to enter into a contract to secure these services, which is why it is important to choose the right company -- one that will be able to provide all the services you need now and in the future.
You want to look for a company with extensive experience designing, building, and maintaining commercial security systems and fire protection systems, as you may want to integrate your systems if they are not already.
Knowing how long the company has been in business and operating in the local market is important, too, as it ensures a thorough understanding of state and local codes. Also, the longer a company has been serving the local market, the more likely it is to have good relationships with local law enforcement and the fire department. At the very least, any company you consider should be able to demonstrate a proven track record. Ask for industry-specific references and referrals.
When you are ready to look for a central station monitoring service, we hope you will put Koorsen Fire & Security at the top of your list. Our services are UL-listed, our staff is certified, and with more than 75 years of experience working with businesses to keep their assets and people safe, we're confident we can meet your every need. Contact us today to learn more!