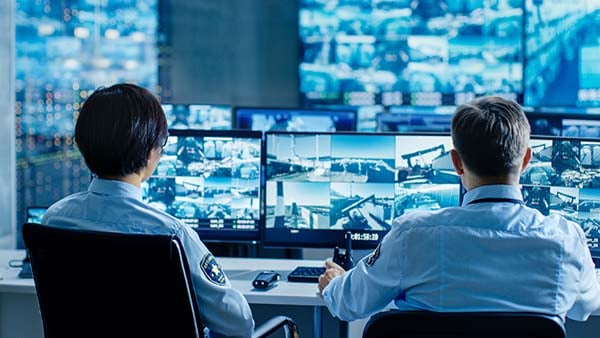 Today's alarm system technologies are constantly evolving to provide greater security for homes and businesses of all sizes. For example, video verification, part of an advanced video surveillance system, can now be used to replace the traditional alarm function with intelligent real-time alerts that include live streaming video or recently recorded clips. In addition to providing the ability to arm and disarm alarms with a mobile device, manufacturers are beginning to integrate additional features such as panic buttons and alarm triggers into their mobile apps to allow users to alert their monitoring station of potential emergencies from their smartphone.
Despite these advancements, though, one thing will never change. No matter how good your technology is, your security system is only as good as the monitoring company keeping watch over it.
Central station monitoring services are a core component of any comprehensive security system and keep watch over your home or business 24/7 and 365 days a year. With central station monitoring, you can have "eyes" at every ingress and egress point around your home or building to identify intruders attempting to enter and to ensure that if they succeed, they will not get far before police are on their way.
What is Central Station Monitoring?
Central Station Monitoring services provide offsite, round-the-clock monitoring of your alarm systems by trained personnel. These services can include installation, inspection, testing, and maintenance for security and fire alarm systems and must use trained personnel for the monitoring who are responsible for identifying and verifying the alarm signal and dispatching emergency responders if the alarm is positive. If the verification is negative, the monitoring agent will restore the system to its normal active state. Some Central Station Monitoring services provide a runner service as well, which means that a person from the monitoring company will physically go to the protected premises to investigate anytime an alarm is triggered or a supervisory or trouble signal is received.
Central Station Monitoring uses a variety of communications pathways, which can include telephone and mobile communications or specific radio frequencies. When incoming signals are received, they are processed by digital alarm receivers and analyzed by special software used in Central Stations to convert the signals for the monitoring staff to interpret.
Depending on the types of alarms you have, Central Monitoring Stations can cover a wide range of signals, including:
Fire alarms signals from manual or automatic fire alarm systems and sprinkler systems
Signals from initiating devices (e.g., sprinkler water-flow switches, pull stations, or smoke, heat or flame detectors designed to indicate when a fire occurs)
Supervisory signals that indicate when one of the system's devices is out of its normal condition
Hold-up or panic button signals used in security systems to allow a user to report an emergency such as an armed robbery
Intrusion system signals, which indicate a possible unauthorized intrusion into a building or area of a building
Abort/Cancel signals, which indicate a request by an authorized alarm user to cancel a response by the police
Exit alarms, which are a feature on newer systems designed to help minimize false alarms by delaying the exit alarm signal for a short amount of time (as opposed to immediately upon exit) to allow the user to correct the alarm if triggered accidentally
Opening and closing signals, which are triggered whenever the alarm system is turned on or off by a valid user
Process supervision and condition monitoring, which indicates when environmental or equipment conditions that pose an immediate threat to the owner's building or premises are occurring
Alarm signals from carbon monoxide detectors, which indicate when a dangerous level of carbon monoxide gas is present
Important Considerations when Choosing Central Station Monitoring Services
Central Station Monitoring services are a required component for fire alarm systems in a number of business settings. While not required for security systems in homes and businesses, these services provide an extra layer of security that unmonitored systems simply cannot provide. If you are looking for the peace of mind in knowing that there is someone out there keeping an eye on the security of your home or business 24/7, Central Station Monitoring services are the way to find it.
There are some important things to consider when choosing a monitoring company. Three of the most important considerations are 1) the redundancy built into the company's monitoring system and operations, 2) the automation technologies it uses, and 3) how well-staffed its monitoring stations are and the level of training it provides its monitoring staff.
Redundancy
Redundancy must be built into all aspects of the Central Monitoring Station's system so that if any component fails, there is another to back it up. For example, Central Monitoring Stations should have redundant power sources so that they can still provide continuous monitoring in the event of power outages or natural disasters. Redundant signal paths help to ensure that no alarm signal is lost should a failure of one of the communications components fail.
Having two or more physical stations in different locations connected via the Internet also provides a type of redundancy that is particularly important when it comes to natural disasters. With more than one location, if one station is at risk, customers connected to that station can be seamlessly switched to another one without any disruption in service.
Automation Software
Automation software helps to ensure that alarms are handled consistently by providing the correct scripts and procedures for central station monitoring staff to follow based on the specific type of signal received.
The company you choose to provide Central Station Monitoring services should be able to work with you to develop a customized action plan based on different signal types and situations your business might expect and then program this information into its automation software.
Automation software is important to ensure consistency and efficiency in response. Time is of the essence in an emergency – you want a monitoring company that uses automation software to ensure that monitoring staff are equipped with the information they need to make decisions quickly.
Automation software also helps to ensure that the right services are dispatched when needed. For example, with much of the key information programmed into the system, there's little chance that the wrong fire or police department will be called because the correct number is dialed automatically.
Trained Staff
Arguably the most important component of Central Station Monitoring Services are its people – those that are watching your system to ensure that no signal goes unnoticed and everyone receives the correct response. This requires robust training and, with new and rapidly evolving security and fire safety technologies on the market, their training must be ongoing.
Discernment and good judgment cannot be automated. Even with automation software and a customized action plan, having well-trained monitoring staff is critical to ensure that incoming signals are properly interpreted.
Having trained personnel on the other end of the line can improve safety in the event of an emergency, too. With residential monitoring services, monitoring staff can communicate with the people in the home to instruct them on the actions they need to take based on the situation to help ensure their safety until first responders arrive.
Monitoring staff can also communicate directly with homeowners via smartphone or a built-in intercom system to help homeowners restore their system if it has been disarmed, tell them when they can expect a technician to arrive, and provide system information to the technician before he/she gets there.
When choosing a provider for your Central Station Monitoring Services, always ask about the amount and type of training the company provides its monitoring staff and verify that they have experience with the type of system you are using.
Benefits of Central Station Monitoring
Freedom from worry and hassle – Do-it-yourself security systems that are popular with homeowners and many small businesses today often do not provide or require monitoring services. Those that don't use a monitoring service commonly rely on simple alerts sent to the homeowner or business owner via smartphone to indicate that an alarm has been triggered. With a monitoring service, the home or business owner doesn't have to immediately drop what they are doing to investigate the alarm. Instead, the Central Station Monitoring staff will verify the alarm and notify first responders if needed. If the signal cannot be verified remotely, the service will dispatch a runner to investigate.
Fewer false alarms (and associated fines) – Nationwide, 94 to 99 percent of all burglar alarms police respond to are false according to one study, which has led to many jurisdictions imposing fines on home and business owners with systems that trigger false alarms. According to the Urban Institute, these fines typically start at $25-$100 for the first false alarm and can quickly rise to thousands of dollars after several false alarms in a given year. Central Station Monitoring services can eliminate this problem by verifying the alarm before notifying the police.
Human-augmented technology for better security – Central Station Monitoring services also ensure better security from a technology standpoint because they provide the redundancy necessary to ensure that if one type of communication signal is compromised (e.g., a cut phone line or cell phone jammer), the signal will still be received at the Central Station through another signaling pathway.
They can also help reduce false fire alarm notifications to fire departments. According to the National Fire Protection Association (NFPA), three-quarters of all false alarms are nuisance alarms, triggered through a malfunction of the system's automatic detection system. By providing process supervision and condition monitoring, and trained staff to know what these signals mean, Central Station Monitoring services can reduce or eliminate the response (and potential fines) associated with false fire alarms.
Reduced cost of operation – Modern alarm systems can also provide a wide range of notifications to the monitoring station, allowing the home and business owners to proactively maintain their systems. Central Station monitoring staff are trained to interpret all the different trouble signals your system can produce and can take the necessary steps to proactively keep your system functional. They can spot an issue before it causes a failure in the system and, if needed, dispatch a technician directly. By improving your ability to maintain your system, Central Station Monitoring services can help reduce costly repairs.
The Importance of UL Certification
While the term "central station" is commonly used to refer to any type of privately operated monitoring location, the term actually refers to monitoring facilities constructed and operated according to Underwriters Laboratory (UL) standards. Underwriters Laboratories (UL) is a safety certification company, which provides globally recognized standards for the security industry.
To earn UL certification, companies that provide Central Station Monitoring must meet the rigorous requirements in the UL 827 Standard for Central -Station Alarm Services. To maintain their certifications, companies must pass a UL audit each year, which ensures compliance with the UL 827 standard. Thus, with a "UL listed" company, you can expect to receive a higher level of service and reliability because they must meet certain regulations. For example, if the Central Station is automated, the computers and software it uses must meet requirements for processing and storing large data sets and must be integrated with several different alarm protocols.
In addition to (but not to replace) UL certification, many Central Monitoring Stations will also seek other ways to demonstrate additional levels of regulatory compliance and their ability to provide high levels of service and reliability such as FM approval and recognition by The Monitoring Association (TMA), an internationally-recognized non-profit trade association.
Koorsen Has You Covered
If you're looking for the many benefits Central Station Monitoring Services can provide, Koorsen has you covered. Koorsen has been protecting life and property since 1946. We offer multiple locations to provide redundancy, and each location is equipped with sufficient back-up power to operate for at least two weeks – more than enough to handle most power outages.
At Koorsen, we are committed to ensuring our monitoring staff receives ongoing training to stay ahead of new and evolving technologies in the security industry. And, we are committed to the safety and security of our customers to ensure they receive the highest level of service and reliability. Contact Koorsen today to begin enjoying the peace of mind our Central Station Monitoring Services can provide.