Transforming Hospital Rooms into Children's Rooms
Going to a hospital can be a frightening and stressful experience for anyone, but especially for children. The Peyton Manning Children's Hospital at St. Vincent, with the help of donors, are transforming their pediatric patient rooms from the standard sterile spaces to exciting and uplifting child-friendly themed rooms. Some of the themes for the rooms include soccer, music, construction and a beach. With the recent generous donation from the Koorsen family, the newest themed-room is called the Dog Room.
The Peyton Manning Children's Hospital Dog Room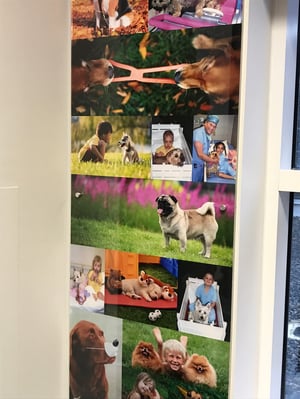 Nothing brings a smile easier to a child than a dog. When a child visits the Peyton Manning Children's Hospital, they might be feeling a little homesick and worried about visiting a hospital. To bring smiles and hope to the pediatric patients, the Koorsen family turned to the dogs to decorate a patient room. Walk into the Dog Room and you'll find pictures of dogs, including the Koorsen family's own dogs, and various dog toys, decorations, and items.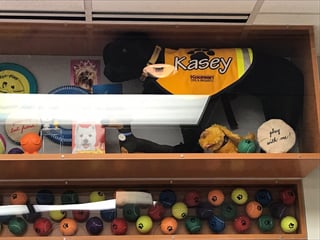 Look up and you'll spot Snoopy, Scooby Doo, and other famous dogs. You'll also find a stuffed animal replica of a real dog named Kasey from Koorsen Fire & Security's Kasey Program. The Kasey Program is a non-profit program that features two black Labradors who visit roughly 400,000 children a year in schools and community events where they teach fire and life safety skills through educational songs and demonstrations.
In Memory of Nancy Waltz, a Great Nurse Loved By All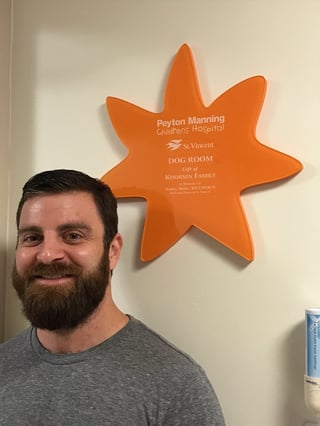 The Dog Room is dedicated in memory of Nancy Waltz, RN CWOCN, a beloved nurse who worked at St. Vincent. Nancy was loved and respected by her fellow nurses, doctors, and staff at St. Vincent including Scott Koorsen. Scott is an RN at St. Vincent who had the honor of working with Nancy. When Nancy passed away unexpectedly, Scott turned to his family to help remember her and her service at St. Vincent.
Along with the Koorsen family's generous donation, Scott also raised money from his fellow coworkers to help theme a patient room dedicated to the memory of Nancy. Nancy had a great love for dogs which is why the dog theme was chosen. The Koorsen family hopes the Dog Room will bring smiles and hope to pediatric patients for years to come.
You Can Support the Kids Too
If you're interested in supporting the Peyton Manning Children's Hospital at St. Vincent, you can do so in a variety of ways. You can volunteer at the hospital, attend one of the many fundraisers throughout the year, purchase gifts through the Toy Store program, or make a donation right now online. Visit peytonmanningch.org to learn more about the many opportunities you can take to help the children at the Peyton Manning Children's Hospital.
To learn more about the Koorsen's non-profit, The Kasey Program, visit here.