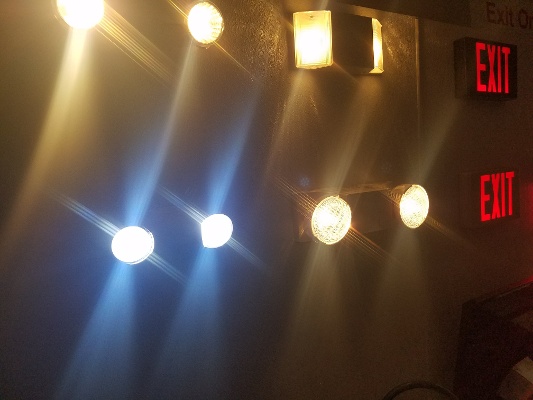 Emergency lighting plays a crucial role in fire safety for your building. It ensures the safety of the building's occupants in case of an emergency when evacuation routes may be visually obstructed, and navigation of the building becomes confusing and even dangerous.
You want to ensure the safety of those inside your building, as well as efficient use of your finances through code compliance and selection of the best emergency lighting system possible for your structure.
Read on to learn more about the basics of emergency lighting systems, the codes that regulate them, and some complications to keep in mind when selecting, updating, and/or maintaining your system.
What is Emergency Lighting and Why it Matters
When planning fire protection for your building, you may be tempted to think of extinguishment methods, such as fire sprinklers, more than anything else. But emergency and exit lighting is a crucial component of any successful fire safety system, and it is required by law in most commercial and public structures.
Emergency lighting is responsible for illuminating the means of egress - the pathway towards exits, the exits themselves, and the point of discharge - in the event of an emergency.

Well-lit and clearly designated pathways are necessary due to the smoke, power outages, and other obstacles that may obscure and obstruct exits and evacuation routes in the event of a fire. Emergency lighting helps those within the structure to safely and quickly find their way out.
Elements of Emergency Lighting Systems
According to NFPA 101, Article 7.10, the elements which compose an emergency lighting system include:
Lighting units which illuminate and designate the means of egress when power failure has occurred
Exit signs and lighting illuminating and designating the exits and discharge points
Essentially, it is all emergency lights and signs that illuminate evacuation routes within the building, including stairwells, and designate all exit and discharge points.
Possible Power Sources
Means of egress emergency lighting are powered by one of two emergency power sources: battery-power or on-site emergency generators.
Battery-Power: battery-powered emergency egress systems are subject to NFPA 111, and they must be compliant with UL 924 standard, which is compatible with both NFPA and IBC (International Building Code) regulations.

The most popular battery-powered emergency lights are self-contained, incorporating both the lamps and a battery source with a charger inside a single enclosure. The most recognizable and common of these lights is often referred to as "frog-eye" or "bug-eye" due to the bulbous nature of its two lights.

Emergency battery-powered lighting is designed to turn on if the general lighting voltage falls to 80% or less of normal. The emergency lighting will remain on until normal power has returned for at least 15 minutes.

The batteries within these units are sealed, lead-acid batteries, which are maintenance-free. Their lifespan is approximately 7-years. Some self-contained battery-powered units are powerful enough to supply power to remote lamp heads and exit lights as well.

Required functional testing: testing can be completed in a few different ways: a handheld remote infrared device that is aimed at the unit; an integral electronic device that initiates code required tests automatically; or an integral test switch. All testing must be well documented for review by the AHJ.


Emergency Generator Power: in the case of a power outage, on-site generators are required to be on within 10 seconds of the outage and must run for a minimum of 2 hours. Note that the required running times will vary depending on the type of building and its use. Codes regulating egress lighting classification requirements, lighting levels, and automatic start and transfer can be found in NFPA 101, NFPA 70 and NFPA 99.

Required functional testing: testing of the generators and their automatic transfer switch (ATS) is regulated by NFPA 110, which dictates monthly testing of diesel generators for 30 minutes and, typically, annual testing for four hours. All testing must be witnessed and documented. For further details regulating monthly and annual testing, refer to NFPA 110.
Emergency Lighting Codes and Regulations
There are a host of codes regulating emergency and exit lighting, which come from numerous sources, such as the NFPA, IBC, OSHA, etc.

Generally speaking, the codes can be grouped into two categories: lighting placement/duration and testing:

General Requirements for Placement and Duration:

The following highlight the essential requirements regarding placement and length of egress emergency lighting:


Means of egress emergency lighting must provide lighting that adheres to the following parameters: a 1.0 fc average, a 0.1 fc minimum, and a 40:1 uniformity ratio.
All areas of egress must provide more than one lamp to service the area.
Exit signs must be either externally illuminated or internally illuminated and cannot be more than 100 ft apart from each other.
All exits that are not the main exterior doors must be marked by approved exit signs, which must be visible from all directions of the exit access.
All egress and exit lighting must provide 90 continuous minutes of illumination.
General Testing Requirements:

NFPA 101, in Article 7.9.3 stipulates that emergency lighting systems must undergo periodic testing:

Functional testing must be performed monthly for a period of 30 seconds.
Annually, a 1.5-hour test is required for the battery-powered back-up systems.
Written documentation must be kept and presented to confirm both monthly and annual functional testing.
Functional testing can be completed by self-testing as long as records are kept, and it is compliant with the mandates.
Some emergency lighting systems provide computer-based self-testing, in which case you can present a computer-generated report documenting the history of the tests to the AHJ for review.
The above is by no means a complete listing or explanation of all the codes which regulate the process of creating, installing, and testing emergency lighting systems. Furthermore, the application of codes is largely dependent upon the classification, size, and use of your building, as well as your jurisdiction. One size does not fit all.

For further details, please reference the IBC, NFPA 70, NFPA 99, NFPA 101, NPA 110, and NFPA 111. The best way to ensure that the system which you are contemplating or currently have is up to code, and the best for your building is by contacting fire safety experts such as Koorsen and/or your local AHJ.
Call the Experts
Whether you need help with monthly and annual maintenance and testing of your current emergency lighting system, require updating and replacement of your system, or are preparing a building for installation of a new system, the experts at Koorsen Fire & Security can help. With over 70 years of business in the industry and their factory trained and NICET certified technicians, Koorsen is a name you can trust.
Call the experts at Koorsen to ensure that your emergency lighting system is compliant but also offers the best protection and cost-effective solution for your building today.