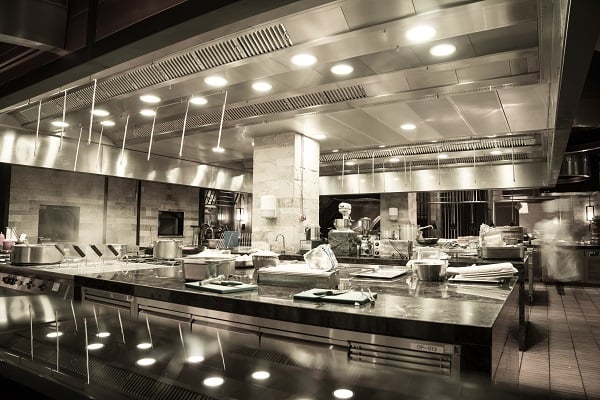 Heat, fuel, oxygen supply:
When combined, the three things lead to combustion and fire, thus making up the "fire triangle." These three things are also present in plenty at all times in every working kitchens.
Fires in kitchens, especially heavily used commercial kitchens, are an inevitability. But the loss of property and life, as a result, does not have to be.
At Koorsen Fire & Security, we have gone above and beyond to contribute to our community's kitchen fire safety, both through the products we provide and maintain, and through the extensive training programs we have worked hard to develop and offer.
Read on to learn how Koorsen is working hard to promote training and education to local AHJs, restaurant professionals, and the community to improve kitchen fire safety and the life of the cities we are proud to call home.
Training Our Team
At Koorsen, we are dedicated to training and developing our technicians. It's who we are, and it's how we're different than all other fire protection providers out there.
Koorsen has developed a unique training center that each of our technicians must pass through in order to work out in the field. For many technicians, even those coming from other fire protection companies, this is the first time they've received such deliberate, thorough training.
Our training center houses hood suppression systems, fire sprinkler systems, clean agent systems, fire extinguishers, and more from a wide variety of manufacturers and types. We have collected as many manufactures and models as possible of each system to provide a diverse hands-on training experience for our technicians.
The goal is that they will get to practice every type of maintenance, testing, repair, and servicing in-house that they may encounter out on the field. They learn how to operate, install, and inspect each of those systems, thus ensuring that our customers receive a much higher level of service because of our thoroughly trained technicians.
Koorsen's corporate trainers are all NICET certified, have 15 plus years in the industry, and are experts in the field. Because Koorsen is an authorized distributor of all major manufactures in the industry, our trainers get to work with every major manufacturer to understand their design and use. They are trained in all safety standards and are OSHA trained. They are experts that our technicians, as well as our customers, can rely on.
Training Our Customers
Koorsen does not stop at training our employees.
We know that the best way to ensure kitchen fire safety is to train those working around the fire hazards and kitchen hood suppression systems. The more educated our customers and their employees are on how their hood suppression systems work and what to do in the event of a kitchen fire, the less damage a fire will do.
To that end, we strive to meet with the kitchen staff and engineers of the systems whenever possible, and we provide both classroom and hands-on training opportunities.
Training includes:
Teaching where the nearest fire extinguisher is
Teaching which fire extinguishers to use on what fires (Class K vs. Class ABC)
Instruction on the PASS method of using a fire extinguisher
Training on location and operation of pull stations
Instruction on the proper maintenance and care of the hood suppression system
Training on the role and importance of keeping the nozzles capped
Thorough explanation and video demonstration of how their suppression system works
Instruction on the importance and method of maintaining hood filters
Instruction on the importance of the exhaust system and keeping it clean
How to react quickly and what to do in the event of a kitchen fire
Hands-on training includes allowing individuals to use a fire extinguisher to put out a Class B fire, among other practical applications. Allowing kitchen employees to have this hands-on experience increases their confidence and knowledge so that in the event of a fire, they are far more empowered to act quickly and correctly.
Training Our Community
After decades of developing our expertise and training methods for our team and customers, Koorsen has been eager to bring our training to our communities to improve kitchen fire safety on a broad scale.
This has led to developing relationships with culinary colleges and schools, and restaurant associations during the past few years. Through these relationships, we have created classes and programs that reach current and future chefs and restaurant professionals to train them in kitchen fire safety from the very start of their careers.
Koorsen has also begun putting on seminars for our AHJs across the states we serve. After working with AHJs for many years, we hosted our first seminars in 2019 across 13 different cities. Attendees included AHJs, fire marshals, fire inspectors, building code officials, and even insurance industry reps and facility managers.
These full-day seminars allowed our corporate trainers to train on NFPA standards across the disciplines – hood suppression systems, fire alarms, sprinklers, CO2, etc. By sharing ideas and expertise between fire protection professionals from diverse perspectives, the attendees learned how services need to change to better adhere to codes and make things safer in commercial kitchens.
We are excited at how these seminars allow us to share our expertise to help improve kitchen fire safety knowledge and methods and allow for a coming together of fire safety professionals, vendors, and end-users to learn from one another.
At Koorsen, we look forward to seeing and growing these seminars' impact to create a safer and better future for our communities. After all, kitchen fire safety doesn't only impact our restaurants – it impacts every hospital, healthcare facility, school, church, hotel, convention center, stadium, charity, and business that houses a working kitchen.
Caring for Our Customers: Designing, Installing, Maintaining & Testing
Finally, Koorsen also contributes to kitchen fire safety by doing what we do best - providing the very best in kitchen and hood suppression system design, installation, maintenance, and testing.
Every six months, most commercials kitchens require an inspection. During these inspections, the technician checks for clogs in hoses and vents, ensures that the extinguishers are where they should be and in working condition, verify that caps are on nozzles, check that the filters are in place and clean, inspects the exhaust system to make sure it's clean and ensures that the hood suppression system is in optimum working condition.
Koorsen takes our efforts to provide the highest quality products, services, and training towards kitchen fire safety extremely seriously, knowing that lives, investments, and livelihoods are on the line.
If you need a fire suppression system for your kitchen, want kitchen fire safety training for your employees, or need maintenance on an existing hood suppression system, give Koorsen a call today. You can rest assured that we will provide the very best care and keep your kitchen and your team safe and working.