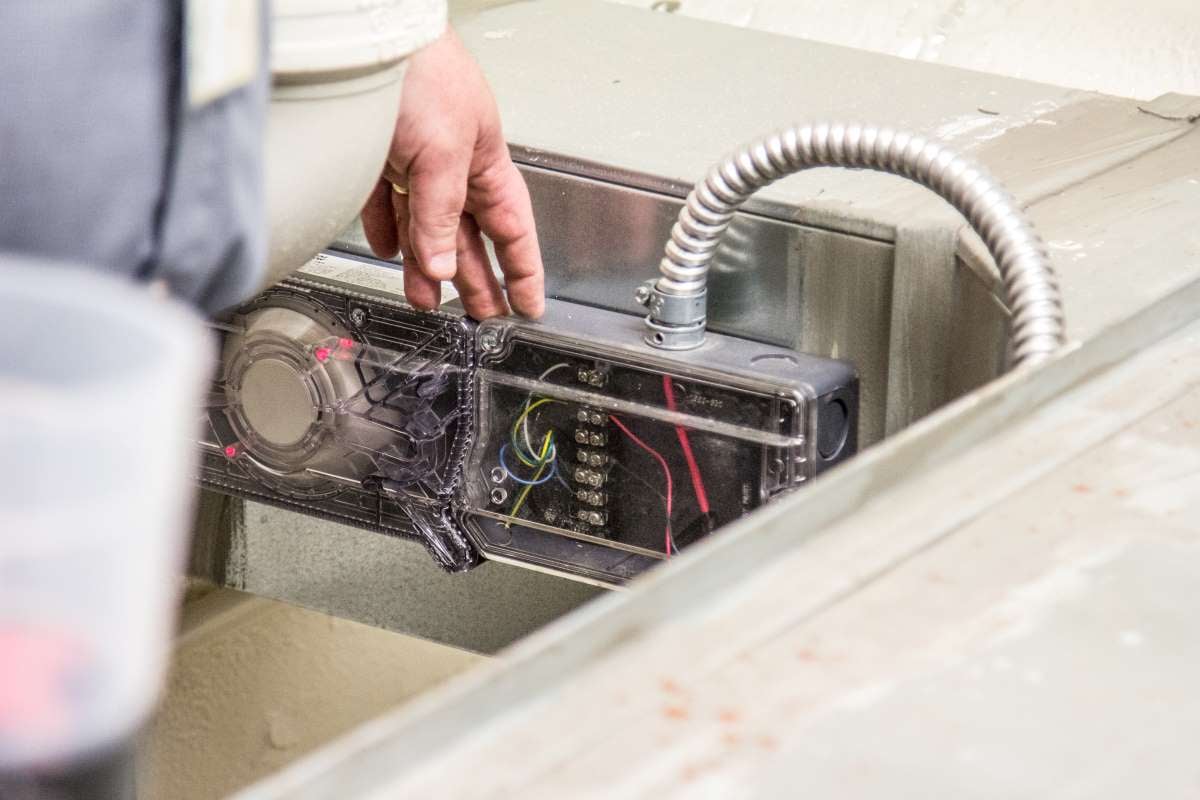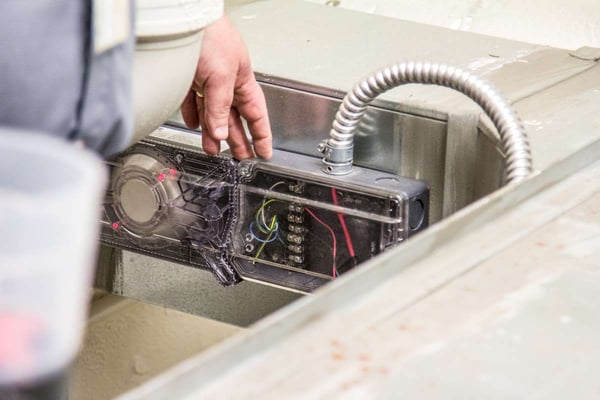 Hidden away inside the HVAC ductwork of commercial buildings and some residential structures, duct smoke detectors serve an important role in fire safety. Fire feeds on oxygen, and the forced airflow through an HVAC system can contribute to a rapid spread of fire and smoke throughout a building. In the event of a fire, duct detectors can shut that down, saving lives in the process.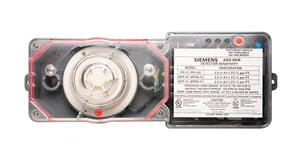 Duct smoke detectors work by sampling air currents in air handling equipment to determine if smoke or fumes are present. When either is detected, the device will close the dampers on the duct, shut down the fans and blowers to eliminate the oxygen source to help prevent the fire's spread, and trigger an audible and visible signal at the fire control panel.
A duct detector is equipped with a perforated sampling tube attached to a smoke detector and extends into the duct. The sampling tube is positioned with the perforations facing the airflow as it passes through the air duct. The tube is plugged on the other end to force the air it captures through the smoke detector and then back out into the duct through a second, non-perforated return tube.
Duct detectors are wired to a circuit board. When smoke is detected, the device sends a signal to the circuit board. Most circuit boards are equipped with several different relays, which are used to send signals to various other systems, including the fire alarm control panel to trigger the alarm and the HVAC control system to close the dampers and shut down the fans. There will also be a relay for signaling the supervisory panel.
Most duct detectors are equipped with two alarms -- a fire condition alarm triggered when smoke is detected and a trouble condition, which is indicated on the supervisory panel. A trouble condition could be triggered when someone has removed the cover from the detector or if the power to the detector is lost or malfunctioning somehow, all of which help reduce the occurrence of false alarms.
Where Are Duct Smoke Detectors Required?
Duct smoke detectors are required for HVAC systems with airflows exceeding 2,000 cubic feet per minute (cfm), including settings where multiple air handling systems share ducts if the combined design capacity is greater than 2,000 cfm.
However, where they are installed depends on the governing code(s) in your jurisdiction. This can be a complicated question because of the two most common codes governing their installation present conflicting requirements:
Both the IMC and NFPA 90A require that detectors are installed in accordance with NFPA 72 National Fire Alarm and Signaling Code, and they must always be connected to a fire alarm system when one is required.
NFPA 90A requires duct detectors to be installed on the supply side of air handler units with airflows of more than 2,000 cubic feet per minute (cfm). The standard also requires a duct detector on the return side of any unit with air flows exceeding 15,000 cfm and which serve more than one floor of a building.
In contrast, the IMC requires smoke detectors to be installed in return air systems of more than 2,000 cfm and upstream of any filters or exhaust or outdoor air connections.
So, while the NFPA 90A requires smoke detectors in the supply ducts, the IMC requires them in the return ducts. This is why if you are having duct smoke detectors installed in your building or are a design engineer working on an air handling system, you should always consult the local Authority Having Jurisdiction (AHJ) with questions regarding the placement of duct smoke detectors.
It is important to note that a duct smoke detector is not intended or allowed to replace an area smoke detector. This makes sense because if the air-handling unit is not running, the duct smoke detector would not detect smoke. You still need area smoke detectors to meet life safety requirements.
Have Your Duct Smoke Alarms Regularly Inspected
Out of sight shouldn't mean out of mind. Even though duct smoke detectors are not highly visible, they must be inspected regularly to remain in compliance like the rest of your fire alarm system. Per NFPA 72, duct smoke detectors should be visually inspected twice a year. These inspections can be performed by staff or fire safety professionals and should include the following components:
The duct smoke detector itself should be rigidly mounted to the duct, unobstructed, and show no signs of damage

The circuit board should also show no signs of damage

Control unit trouble signals should be readily visible

Remote annunciators should show no signs of damage and should operate properly

Any in-line filters should be clean

Sampling system piping and fittings should appear airtight and permanently fixed

The sampling pipe should be conspicuously identified, and sample ports should be unobstructed

There should be no penetrations in the detector's vicinity that could affect the airflow through the duct.
Annual inspections and testing of all fire alarm systems, including duct smoke detectors, are required once a year and must be performed by a qualified professional. You can learn more about the fire alarm system inspection process here. For duct smoke detectors, NFPA 72 requires:
A smoke entry test to ensure smoke can physically enter the sensing chamber of the detector.

A test to verify the correct pressure differential between the inlet and outlet tubes ensures it is within the allowable range specified by the manufacturer.

Testing of the sampling tubes to ensure that they will properly sample the airflow in the duct. This testing must follow the manufacturer's recommendation for the make and model of the detectors being tested.
It is important to notify the proper authorities that the smoke detector system is undergoing maintenance because the system will temporarily be out of service. You also need to disable the zone or system undergoing maintenance to prevent unwanted alarms.
Call on Koorsen
At Koorsen, our certified technicians stay on top of evolving sensor technologies. They can help you determine the types of smoke detectors most appropriate for your needs, as well as the brands of equipment that will be compatible with your current fire protection system. We service and inspect and install all brands of fire alarm systems from a wide range of high-quality manufacturers. Contact us today for expertise and service you can trust!