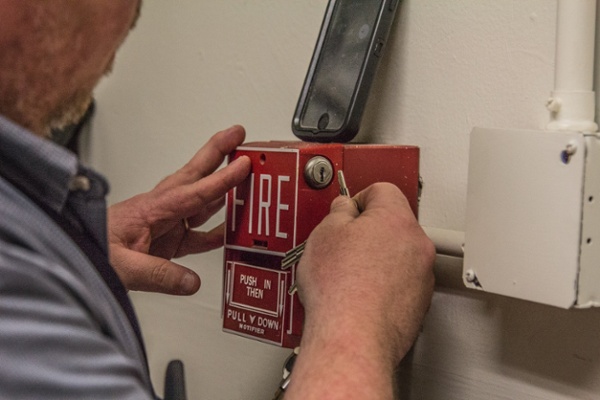 Have questions about your fire alarm system or wanting to educate yourself before purchasing one?
Fire alarm systems can be incredibly complex and sophisticated. Between that and the ever-changing national and local codes, navigating how they work and how to maintain them quickly becomes overwhelming.
In this post, the most common questions regarding fire alarm systems will be addressed. It should help answer some of your biggest questions and point you in the right direction for others that you may have.
Do I Need a Fire Alarm System if I Have a Fire Sprinkler System?
As with many questions in life, the answer is: it depends.
The International Building Code (IBC) and your local AHJ (Authority Having Jurisdiction) define structures and their required safety and life protection systems primarily based on their occupancy.
If your structure's occupancy status requires a system that will notify those within the building of a fire event and the need to evacuate, then yes – you must have an alarm system in place.
Be aware that a fire sprinkler system is implemented to protect the building, not its people. It would not go off or warn occupants in time to get them out before smoke inhalation became a serious hazard.
Not all businesses must have an alarm if the occupancy does not require it. Especially older buildings with traditional fire sprinkler systems and water gongs tend to be grandfathered in.
However, regardless of occupancy status, most new construction is fitted with full fire protection systems, including alarms.
What Fire Alarm Devices are Required for my Building?
Again, this depends and will vary drastically based on the building's occupancy and what your system is protecting.
Is it just a storage facility? Are there any hazardous and/or flammable materials or processes within it? Are there people in it? Will people be sleeping inside of it? How big is the building? How many exits are there? How many people would need to evacuate, and how soon do they need to be alerted, so they have sufficient time to evacuate?
The answers to these and other questions will determine what specific devices (and requirements) your building needs, whether a simple flow switch alerting the authorities of a fire is sufficient, or whether the building needs smoke alarms and pull stations so that occupants have enough time to evacuate.
Typically, most buildings have at least smoke detection, pull stations, horns, and strobes. Some will have more, such as duct detectors (to prevent HVAC systems from spreading smoke), and some may occasionally have less.
Do I Need Monitoring for my Fire Alarm System?
Monitoring is when either through a phone line or internet connection, a central station is notified when an event occurs in your fire alarm system. This central station will then respond according to the event, either by calling you (if it's just a trouble notification with the system) or calling the authorities if it is an actual fire event.
If your building is occupied 24/7, such as in the instance of some hotels or businesses that have someone operating a front desk at all hours of the day and night, then your local AHJ may not require monitoring. But this is rare.
If it is a new system, most are installed with some level of monitoring, whether via cell or IP monitoring over Ethernet connection. New technology has made monitoring very simple and more sophisticated. You can elect to have your monitoring system notify you or some other member of your staff when an event occurs, and emails can be sent out when there is trouble with the system.
Why is My Fire Panel Always Beeping?
If your fire alarm panel is beeping – just beeping, NOT sounding the horns and bells – it means that something somewhere in the entire system is not quite right.
It could be letting you know that one of the smoke alarms is malfunctioning or disconnected from the system. It could indicate that one of the devices is dirty or getting some interference.
Remember, the larger the system, the more devices are involved, and the more things that could be malfunctioning. The beeping is to let you know that something somewhere is malfunctioning.
Do NOT ignore beeping or try to silence it. It means your system needs attention. If you cannot identify and correct the issue, give your Koorsen technician a call, and they can help you resolve the problem or come out to your location.
Remember, too, that the cleaner your environment and the better your regular maintenance, the fewer problems your system will have. By performing regular maintenance and keeping your devices in clean environments, you will catch problems before they interfere with your systems' ability to work and save lives.
How Often do Fire Alarm Systems Need to be Inspected?
The simple answer is: annually.
However, larger facilities, such as sports facilities, large campuses, warehouses, and hospitals, will most likely need to break their system into smaller segments and have quarterly or semi-annual inspections.
With large systems, it becomes difficult to do all at one time, and with so many devices, there is a higher risk that something somewhere in the system will need attention before a year is up.
Insurance companies often may require or incentivize more frequent inspections for large systems.
Can Koorsen Inspect any Fire Alarm Panel?
Yes, Koorsen Fire and Security can inspect any fire alarm system and panel and can service most as well.
Inspections are simply checking and testing that all of the system's components are there and working by physically activating the pull station, testing the smoke detectors, etc. Even on a proprietary system, Koorsen can perform the inspection and order needed parts, and perform essential maintenance.
The only limitations occur with certain proprietary systems, like Simplex, where Koorsen techs are not permitted to actually program the system. However, they can still do the inspections, testing, and necessary ordering and replacing of parts. While Koorsen does not install any of their own proprietary systems, they service most proprietary systems that are out there.
Besides the one or two exceptions, Koorsen can inspect, test, and maintain anything you may have. This is because their state-of-the-art training center provides a working model of every manufacturer's alarm panels and system components so that their technicians can get hands-on training and be prepared to work on your system.
Still, Have Questions About your Fire Alarm System?
Still, have unanswered questions regarding your system? Give Koorsen a call or visit their website today.