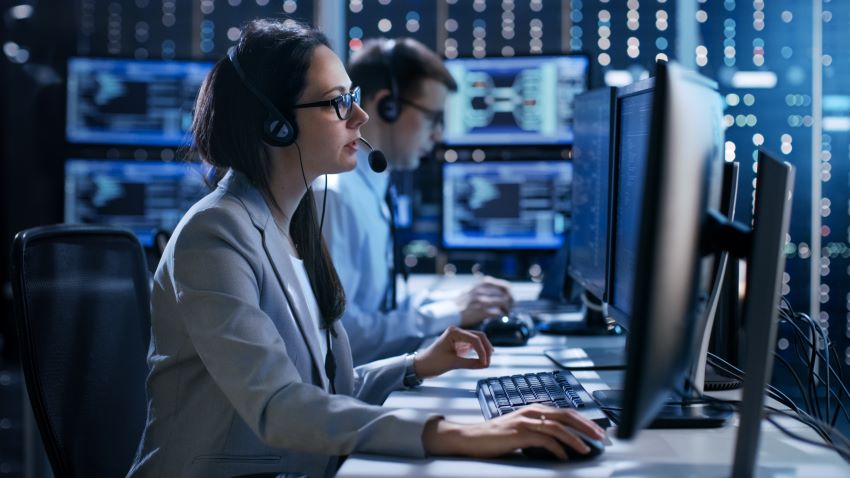 An alarm goes off at your business. And then what?
Central station alarm monitoring is the element that best brings attention—the right attention for the situation—to your business in the timeliest manner possible. It ensures that whenever an alarm goes off, the right signals get to people who can make decisions about the best course of action and make it happen immediately. Because monitoring service can be added to most fire and security systems you have in place, it's essential to have a well-trained decision-maker on the other end of that communication line from your panel to the central monitoring station—someone who can quickly and accurately assess what's happening and respond to it, sending the right emergency personnel to the scene (or shutting down a false alarm).
Monitoring is the human element that takes the signals from an alarm panel and turns them into a real event by dispatching the proper authorities. It's one of the most important things Koorsen does because it combines all of the technology and hardware and brings in the human element so that you get the best response to your alarm, whether it's detecting a fire, a break-in, an environmental hazard, or any other emergency.
Unfortunately, monitoring means different things to different companies, and not all services have the components in place to truly protect you and respond to alarms consistently.
One of the complicated elements of monitoring is that nearly every security company in the land offers it, but it's certainly not the same quality. Technically, you could be operating out of a closet and call what you do monitoring. Koorsen Fire & Security offers UL-listed monitoring. That means what we do meets the standard of the governing body of the security industry.
The first question you want to ask of any security company whose monitoring service you're considering is whether they're UL-listed. If not, look elsewhere.
The critical elements of this essential function are speed, accuracy, dependability, and customer service. Those are the key components that all monitoring services should be judged by.
Of course, monitoring works only if it happens constantly. There are no days off for keeping an eye on your business. Fire doesn't know when Easter comes, and burglars don't take bank holidays. Our central monitoring stations are up and running around the clock—every single day. And we've taken great pains to ensure that they stay running.
Just like any other business, our central monitoring stations are in brick and mortar buildings, and they rely on communication pathways to work. So we have to ensure that there's always an answer, always a backup. We do that by having more than one central station. If for any reason that station gets wiped out, by a natural disaster, say, our customers who are tied into that Florida station will be switched to a different location. Their service will continue seamlessly, and they won't even know there's been a change.
Each of our central stations is prepared to operate for at least two weeks with backup power, as well. So for most power outages, the station will continue operating as usual but on backup power until grid power is restored.
That consistency is great, but even that wouldn't mean a thing if the operators answering the phones weren't ready for anything.
We make sure our operators have been completely safety-trained. They're in the classroom for about a month, and then they sit with experienced operators for 90 days before they answer their first call on their own. Even after they go live, the newest operators deal with the lowest-priority calls—things like low battery alarms and other things that wouldn't be life-safety hazards. In other monitoring stations, operators might answer an ad one day and be on the phone the next week.
Technology makes a difference, and we're ready with the latest and greatest—and have done everything we can to make sure that every single one of our customers has the security of consistent, well-executed monitoring. But that's not what we're proudest of.
No matter how good your equipment is, the value of a central monitoring station depends on its people. We have all the options a customer could want, sure, but we also have extremely well-trained people. That's what gives us the dependability and customer service our customers rely on.
Koorsen Fire & Security was founded in 1946 and is a third-generation, family-owned business. Over the years, Koorsen has become one of the largest and most respected fire and security companies in the United States with over 20 locations throughout the Midwest and South including Nashville, Cincinnati, Cleveland, South Bend, Evansville, and Louisville. Koorsen Fire & Security is well-known for having the best training in the industry and is insured and certified to design, install, program, service, and repair virtually all fire and security products for any size business.