Making the Complex Work Flawlessly
When most people think about a fire alarm system, they think about the smoke detector, which activates the alarm bell, which alerts the people to evacuate the building to a safe area. Sounds simple enough. But when you dive a little deeper, you learn that a fire alarm system involves an intricate system of wires, equipment, and parts designed by expert developers who are following a stringent set of rules, laws and codes to ensure the fire alarm system works flawlessly. A lot of behind the scenes activity and approval processes occur to achieve the ultimate goal; to get people out of the building safely. Sounds simple?
To tackle these impressively complex projects with expert precision, Koorsen Fire & Security turns first to their Corporate Engineering Department, where the industry's top fire alarm system developers work to create the design. Their detailed drawings are then approved by Authorities Having Jurisdiction (AHJs), then used by the technicians and others to ensure that what's being installed meets all of the code requirements and is executed correctly.
From simple projects that are designed in a day to some of the largest systems in the world, the Koorsen Corporate Engineering Department is home to some of the most experienced designers in the industry, who have dedicated their careers to helping to save property and lives. Today, we take a closer look at what Koorsen's designers do and how the Corporate Engineering Department came to be.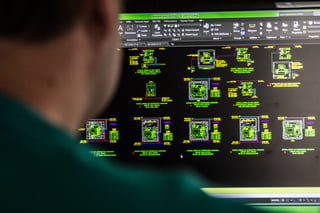 Designs in Hours, Weeks and Sometimes Years
To design and layout a project, a designer can spend as little as eight hours on the smallest of projects up to weeks, months and sometimes even years on the largest. Over the years, the department has worked on thousands of projects, typically taking anywhere from 4 weeks to 3 months to complete. The largest project the team ever completed took 3.5 years. This multimillion dollar project was for the largest automotive battery plant in the U.S., and resulted in one of the world's largest inerting suppression systems ever engineered. The unique design included a total of 5 suppression networkable intelligent control panels, 16 Air Sampling Smoke Detection systems, 72 selector valves and 480 gas inerting cylinders, covering 34 hazards for the suppression system in this 500,000 square feet state-of-the-art facility.
Koorsen designers have worked on a variety of projects over the years. They have worked on designs for some of the tallest skyscrapers to numerous hospitals, nursing homes, apartments, hotels, government projects, and military projects. A lot of time is spent ensuring the system designs are following code and will operate properly when installed. Part of that process includes worse case load performance calculations to ensure a fire alarm system will operate even after a 24-hour power outage and a 5-minute alarm condition.
One of the keys to the successful installation of fire protection systems is Koorsen's designers, who are not only experts on the systems, but also experts on the laws and rules of the numerous jurisdictions in Koorsen's markets. With 28 branches serving 6 states, Koorsen designers are some of the most experienced and knowledgeable in the industry.
Meeting Every Clients' Exact Needs
Since 2011, the designers of Koorsen have instituted into their design inventory over 125 different fire alarm control and suppression systems. There's very few, if any, other companies in the industry that can lay claim to that accomplishment. You may be wondering why Koorsen has so many? In part, to supply the specific life safety needs for our customers and to help them stay within their budgets. Other reasons are a result of the physical size of a building. A high-rise requires a larger size and type of panel, while a smaller office building may require a simple low cost control design.
Another reason why Koorsen Designers and Developers have produced so many different fire alarm and suppression systems is due to Koorsen's large territory. Each territory can have a different manufacturer that services them. Since Koorsen is designing systems throughout different territories and for different sized projects, they must be knowledgeable on each manufacturer.
A lot of training with the various manufacturers is required to ensure Koorsen designers formulate the right system according to the territory, project size, and local codes. The biggest advantage of having over 125 different fire alarm control and suppression systems is the ability to provide each and every customer a fire protection system that fits their exact needs.
More Than Just Design
Over the years, the Corporate Engineering Department has perfected their designs, eliciting praise by AHJs and other professionals for the quality and details of the drawings. With a lawyer's mentality, their drawings are carefully designed following State and Local adopted codes by the National Fire Protection Association (NFPA), International Building Code books, and International Mechanical Code books just to name a few. However, the Corporate Engineering Department does much more than just designs.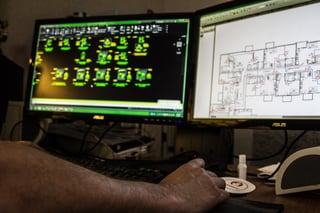 Apart from the dedicated designers, the department also has a group of expert technicians that provides door fan testing, room integrity testing, and site surveying. They also consult with salespeople, providing them support on proposals and challenges they experience in the field.
Recently, the department helped land a fire alarm voice evacuation and emergency alerting system for over a one million square foot plus manufacturing facility in Bowling Green, Kentucky. They consulted with the sales team, helped to determine what was needed on the project, and reviewed the details of the proposal. The sales team then presented the proposal, won the job, and the project is now moving forward.
Corporate Engineering also monitors all installations of Koorsen's CO2 fire suppression systems. While CO2 is part of what we humans normally breath out, it can also become a suffocation (asphyxiate) hazard - if allowed to accumulate to concentrations that reduce oxygen below safe breathing levels. It's critical to ensure that all the installations are done correctly and safely. Highly trained and certified Koorsen Technicians are onsite to make sure the systems go in properly, including all required safety equipment and warning signs. In these situations, the Corporate Engineering Department takes the role of quality control.
Years and Years of Experience
While Koorsen has provided Engineered Systems design for well over 40 years, Koorsen's Corporate Engineering department was established in 2006 to expand their important roles into all Koorsen territories. Their designers have been involved in hundreds of different sizes and types of projects. They've met every challenge they've faced while exceeding their clients' expectations. Many of their designers have been with the Corporate Engineering team since day one, including some who have been in the fire protection profession for over 30 years.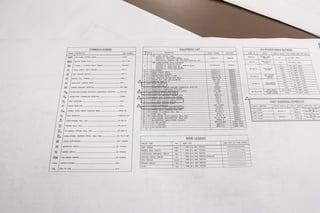 It is the experience and knowledge that not only sets Koorsen's designers apart from their fellow colleagues, but sets Koorsen apart in the life safety industry. Businesses of all sizes and types have come to trust Koorsen for over 70 years to protect and secure their properties and lives.
To learn more about how Koorsen's team of fire and security experts, including their engineering team, can help protect and secure your business, contact a Koorsen Fire & Security associate today.