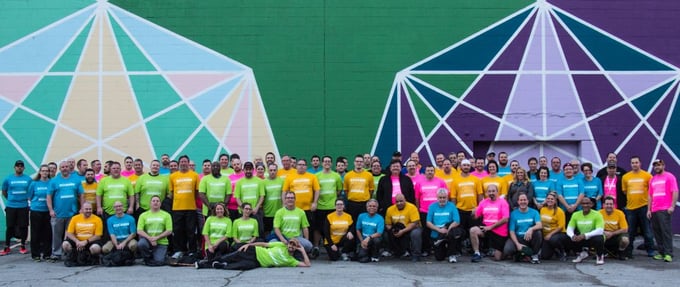 Koorsen Sales Conference 2017 – The Power of Evolution
On February 6, Koorsen kicked off their annual sales conference at the Alexander Hotel in downtown Indianapolis. For two jam-packed days, Koorsen sales representatives from its 28 branches convened to celebrate their accomplishments and build upon their successes. All in all, it was a huge success with attendees walking away energized and excited for what 2017 will bring to them and Koorsen Fire & Security.
This year's sales conference theme was "The Power of Evolution", recognizing that every member of our sales team is a catalyst for the evolution of Koorsen. The conference focused on the power each and every sales member possess to transform their own career, and in-turn, propel Koorsen Fire & Security forward.
Super Bowl Monday
This year's sales conference began on the Monday morning following a historic Super Bowl. While it took an epic fourth quarter for New England to pull out a victory, Koorsen and its sales team led from the beginning until the very end of 2016.
During the opening general sessions, President Jeff Wyatt recounted the many successes that Koorsen Fire & Security had for 2016. Sales and revenue were up across the board thanks to our hard-working and dedicated staff of nearly 1,000 employees, including our industry-leading team of over 100 sales professionals. The best of the best were recognized and honored with 100% Club, Million Dollar Club, and President's Club Awards.
Following the opening sessions, Koorsen sales associates attended breakout sessions throughout the afternoon. Sessions taught associates how to build new business in 2017, how to provide clients with total protection from one source, and how to bring back the human element to their sales process.
To cap off the day, sales associates were able to mingle with over 18 of the leading vendors in the fire and security industry to learn about their innovative new products & services, as well as selling strategies to help them close more sales out in the field.
Championship Tuesday
After a grand first day, the second and final day of the 2017 Sales Conference did not disappoint. The morning was filled with informative vendor breakout sessions by some of our top partners. Attendees learned more about the latest and greatest that our fire & security partners have to offer.
After a delicious lunch, attendees took part in empowering and educational sessions on how to sell more using the advanced mobile CRM, how to evolve your sales process, and how to surpass your goals for 2017. With a wealth of new knowledge, it was time to let off some steam and hit the hardwood.
The 2017 Koorsen Sales Conference concluded with a memorable and exciting team building event at Banker's Life Fieldhouse, home of the NBA Indiana Pacers. Divided into four teams, attendees took center court and battled it out during a night full of fun, challenging and humorous team building activities. It was the perfect way to cap off yet another successful sales conference, celebrating another successful year for Koorsen Fire & Security and its impressive sales team, and preparing for what 2017 has to offer.
Click
here
to view more photos from the conference.