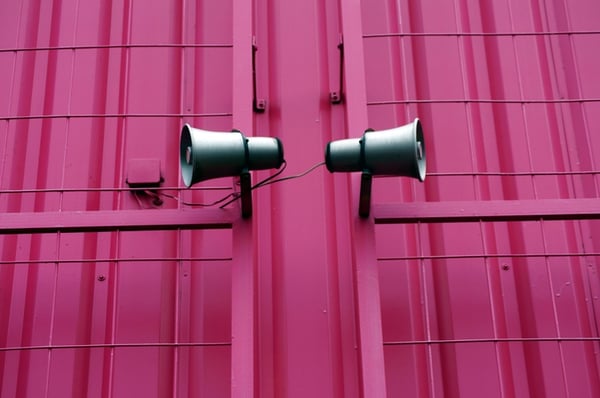 CENTURY OLD TECHNOLOGY
The Public Address (PA) System dates all the way back to 1910. It began with the Automatic Electric Company of Chicago, who developed the first public address system that they called the "Automatic Enunciator". The Automatic Enunciator was installed in hospitals, department stores, factories, and railroad stations. While it was marketed as a way to make general announcements, businesses also used it as an alert system during emergency situations. Over the years more notable companies, like Magnavox and Marconi, also began developing PA Systems as the demand for them grew.
A century later, the PA System is still used as an emergency notification system in many businesses. While the PA System is still an important tool in mass notifications, it is no longer the only tool. With today's technology capabilities, businesses have the ability to provide mass notifications across multiple devices ensuring important messages are received by everyone.
BEYOND THE PA SYSTEM
Today, many businesses rely on an Emergency Communication System (ECS), which uses a multi-channel solution to quickly reach everyone in an emergency situation. This multi-channel solution can include email, text, voice, social media, the web, digital signs, desktop alerts, fire alarms, loudspeakers, and emergency lighting. By utilizing multiple communication channels through an ECS, a business can be sure that their message is delivered. ECSs are often found in corporations, health care facilities, school campuses, and industrial campuses.
EMERGENCY COMMUNICATION VS EMERGENCY NOTIFICATION
With an ECS, a business has two-way communication capabilities with employees during emergency situations. With an Emergency Notification System (ENS), a business only has the ability for one-way communication, much like the standard PA System.
An ECS allows businesses to ensure their employees have evacuated a building safely by having the ability to communicate with them quickly and directly. With an ENS, it could take hours for a business to account for all its employees after an emergency due to the inability to communicate through the system.
THE PRESENT AND FUTURE OF EMERGENCY COMMUNICATION
Two-way communication via a modern Emergency Communication System is the preferred and most effective way for businesses and organizations to send and receive emergency information to people in a building, campus, or multiple buildings. Emergency situations that are usually addressed with an Emergency Communication System can include fire, tornado, active shooter, bomb threat, police event, stolen baby (for hospitals), and code silver (missing patient in a nursing home).
With today's modern systems, the communication channels and the intended audiences can be easily customized based on the message to be sent. For example, a power outage in one location may not need to be communicated to the entire company but only to those affected. With the power outage affecting the land lines and computers, the best way to communicate would be via mobile text and communication over the PA System. With a modern ECS, this can be quickly done.
As software and technology continue to advance, we can expect ECSs to become smarter and quicker at communicating messages with people during emergency situations.
HAVE A QUESTION?
Need immediate service, interested in our Emergency Communication System solutions or need a quote? Just fill out the contact form and we'll get back to you as soon as possible. You can also call us at 888-456-8038.