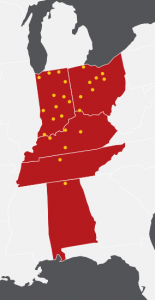 Koorsen Fire & Security is excited to announce the acquisition of S&H Carbonic.
Like Koorsen Fire & Security, S&H Carbonic was a family-owned business. S&H Carbonic had operated out of Mishawaka, Indiana since 1923. In 1951, S&H Carbonic started the fire extinguisher company. S&H Carbonic prided itself on building strong personal relationships with their customers over the years. At Koorsen, we aspire to do the same.
This acquisition brings together decades of experience from both companies to provide customers with the knowledge and expertise to design, install, engineer, service and repair all their fire, security and life safety solutions. This makes us one of only a few companies that can truly offer customers total protection, from one source.
The Koorsen Family welcomes current S&H Carbonic customers, and looks forward to continuing to provide them with excellent customer service. Koorsen Fire & Security is a business made stronger by long term relationships and reoccurring work. We hope all customers will feel welcome and valued under Koorsen's care.
If you're a current customer of S&H Carbonic, or if you simply have questions regarding the acquisition, please call our Goshen location at 574-350-2414.
Koorsen Fire & Security was founded in 1946 and is a third-generation, family owned business. With more than 27 locations in five states and over 900 associates, Koorsen has become one of the largest and most respected fire and security companies in the United States. Koorsen Fire & Security is one of the only companies in the industry to provide clients of all sizes with total protection from one source.