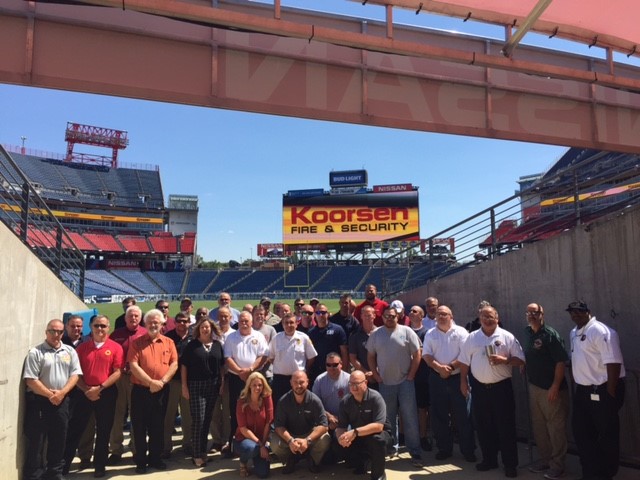 KEEPING THE EXPERTS IN THE KNOW
As the leader in the fire protection and security industry, Koorsen Fire & Security is committed to not only its clients, but to Authorities Having Jurisdiction (AHJs) as well. AHJs include fire marshals, fire inspectors, building inspectors, and insurance carriers. AHJs are responsible for enforcing the fire and life safety codes of the buildings that Koorsen maintains, tests and services.
70 YEARS OF TRAINING EXCELLENCE
Since 1946, Koorsen has provided training and continuing education for AHJs in the communities we live and work in throughout Indiana, Ohio, Kentucky, Tennessee, and Alabama. These training and education seminars are led by leading NICET-certified trainers from Koorsen's nationally acclaimed training center. Every year, Koorsen spends millions to provide the best training in the industry for our associates and the AHJs who keep our communities safe.
OUR CURRENT EDUCATIONAL SEMINARS
Currently, Koorsen has been hosting free educational seminars to keep AHJs up-to-date on the newest technology, emerging trends, and changes to codes. According to Tonya Hardgrove, who has been coordinating the seminars, "Koorsen has hosted 7 seminars with over 250 AHJS to date." During these seminars, AHJs have learned about Amerex's newest COBRA kitchen fire suppression system. They've gotten to see concealed details of life safety systems they wouldn't see in the field. They have also examined a CO2 system case study to learn about the importance of life safety devices for CO2 systems and why, per the case study, these devices could or should be required.
"In all, AHJs have come away satisfied with new found knowledge on kitchen suppression and life safey systems that they can put to good use in the field," notes Hardgrove.
JOIN US AT OUR NEXT SEMINAR
With over 70 years in fire safety and security and over 25 branches throughout 5 states, Koorsen brings a wealth of knowledge and expertise to the seminars that has proven invaluable for AHJs. As an added perk, AHJs have also been able to earn CEUs for attending select seminars.
If you're interested in attending an upcoming seminar in your area, email Tonya Hardgrove at Tonya.Hardgrove@Koorsen.com for more information.