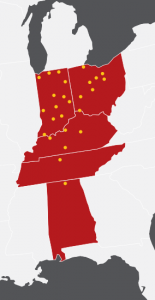 Integrated Electronics in Anderson, Indiana recently went out of business. As a result, their customers' security systems' monitoring service from COPs will be cancelled. This leaves the security systems unable to alert a monitoring station where operators can quickly notify authorities. If you are a customer of Integrated Electronics, Koorsen Home Security can provide you with an affordable monitoring service for your Integrated Electronics' security system.
CALL US TODAY FOR SECURITY MONITORING
To have your business or home security system from Integrated Electronics hooked back up to a security monitoring service, you can call us today at 1-765-351-0016. A Koorsen associate will be happy to assist you in getting your security system back up and running with our professional security monitoring service. We can also provide security monitoring service for other security systems as well. Just give us a call to inquire.
KOORSEN'S MONITORING ADVANTAGE
Every hour of every day, operators in our UL-Listed, FM-approved central monitoring stations are braced to ensure you get the quickest, most appropriate resolution to any emergency. When your system is linked to our monitoring service, we guarantee that a break-in, fire, or any other emergency is handled immediately and tailored to the exact situation with information on file about your property.
UPGRADE TO A SMART HOME SECURITY SYSTEM
If you are interested in upgrading your home security system, we can also help. At Koorsen Home Security, we don't just install home security systems, we install "smart" home security systems featuring home automation for your lights, thermostat, door locks, garage doors, cameras and more. You can quickly access any of these smart home devices from your smart mobile device or laptop. Along with our 24/7/365 monitoring service, a Koorsen Home Security System is a "smart" and easy choice when it comes to choosing a home security system.
Talk to a Koorsen associate today about getting your Integrated Electronics security system hooked back up to a monitoring service. Contact us and we'll help you right away.