Protecting winning goals, encores, and the heartaches of defeat.
On any given day or night, Jordan Enke can be responsible for watching over 40,000 people; making sure that they are safe, secure, and happy. As Director of Stadium Operations at MAPFRE Stadium, Home of Columbus Crew SC, Jordan is responsible for maintaining facility infrastructure, game day operations, concert operations and logistics.
"The most important responsibility of my job is ensuring everyone who comes to MAPFRE Stadium have not only a good time but a safe time."
During matches, concerts, and events, Jordan works with a multitude of agencies. These include the Columbus Police, Columbus Fire, State Departments, Homeland Security, the Franklin County Sheriff, and the paramedics. It's rather extensive, but at the end of the day, it's all about keeping every guest at MAPFRE Stadium safe.
Beyond the outside agencies, Jordan and MAPFRE Stadium also teamed up with Koorsen Fire & Security to provide the very best in fire protection and life safety for the stadium, including a state-of-the-art security system. Koorsen helped alleviate some of the stress of ensuring up to 40,000 people are safe and secure by installing, maintaining and servicing every aspect of MAPFRE stadium's fire and life safety systems including the fire alarms, sprinkler systems, and fire extinguishers. The upgrade Koorsen provided to MAPFRE Stadium's security allowed the system to integrate seamlessly with the other fire and safety systems to provide peace-of-mind to Jordan and his staff.
"It's been great working with Koorsen, they certainly provided that security blanket for us."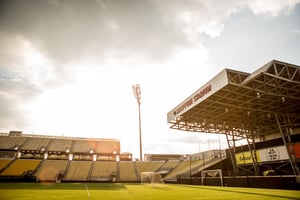 When it came to choosing a fire and security partner, Jordan and MAPFRE Stadium had many choices. They first contacted Koorsen for their fire safety services three years ago. After a presentation of Koorsen's fire protection capabilities and services, they were impressed with Koorsen's knowledge and 70 years of experience. They felt that teaming up with Koorsen would ensure their patrons would always be protected.
As Columbus Crew SC and MAPFRE Stadium continued to grow and host more events, Jordan started looking for a partner to upgrade the stadium's security. After an exhaustive evaluation RFP process, Jordan and his team chose Koorsen yet again.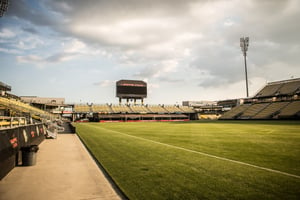 At the heart of the new state-of-the-art security system at MAPFRE Stadium, is the Command Center. On match day, the Center is a bee hive of activity populated by officials from Standard Parking, Columbus Fire , MedCare, and the Columbus Police. You'll also find an onsite meteorologist monitoring for severe weather, as well as stadium operations and front personnel helping everyone out.
As a unified Command Center, every call comes into the Center and is dispatched accordingly creating a clear and precise path of communication between all departments and officials. To keep any eye on all the activity in and around MAPFRE Stadium, Koorsen installed 56 security cameras throughout the stadium. The cameras allow the Command Center to zoom in, zoom out and monitor the gates, the bowl, the hooligan section, the team and more.
Along with the feeds from the 56 security cameras, the Command Center is also able to monitor social media, live play from the broadcast cameras, weather radar, and interstate cameras around the stadium. From the moment fans arrive to the time they leave, the Command Center is able to effectively watch over them ensuring they are safe and secure.
"We did our homework and did our research, and at the end of the day, Koorsen was the best fit for what we were doing."
Koorsen is proud to be part of the team with Jordan, MAPFRE Stadium, and Columbus Crew SC. We understand the importance of a well-built and managed fire and security system. Whether it's protecting a small group of people touring the stadium, 20,000 fans on match day, or 40,000 music lovers at a concert; Jordan and MAPFRE Stadium take safety and security seriously, which is why they chose to partner with Koorsen.
If you are in charge of operations at a stadium or similar venue, Jordan has some advice when it comes to looking for fire protection and security. He recommends that you pull all your records, do your homework, know exactly what you're looking for, talk to a lot of professionals, and involve your local fire & police department. And if you want his recommendation, he'd be happy to tell you.
"I'd absolutely recommend Koorsen to other people in my position. Working with them has been a great experience. Again, it's quick responses, which in my line of business is all-important. Definitely a full recommendation of Koorsen."
If you are looking for design, installation, maintenance, or testing of a fire protection and security system, we'd be happy to help. Whether it's a huge stadium or a small storefront, Koorsen Fire & Security has over 70 years of experience that you can trust for your fire and security needs. Contact a Koorsen Fire & Security associate today!