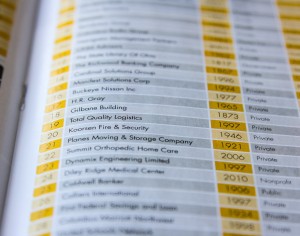 COLUMBUS–June 22, 2016— Koorsen Fire & Security celebrates an exciting victory as their Columbus, Ohio team is recognized among the Seventy Top Workplace's in their community in 2016. The Columbus team is proud to rank among the top 35 small organizations.
In order to determine what businesses qualified as Top Places to Work, CEO Magazine worked with all nominated companies to issue an employee satisfaction survey. This survey identified how individuals responded to 23 different statements involving: direction and value, how the company executes plans, how employees connect with one another, the balance between work and life, pay and benefits, and more. Doug Claffey, CEO of WorkplaceDynamics, notices a particular attitude that employees in top workplaces share, which is a "a strong belief in where the organization is headed, how it's going to get there, and the feeling that everyone is in it together."1
Among those recognized for achievement, Koorsen Sales Manager, Joe Nelson, explains the process that took place to determine each company's ranking. "This was a very thorough process and evaluation. Each associate in the branch participated in an online evaluation. Their responses went directly and anonymously to the evaluating company when the results were compiled and reported back to us. Our branches management team was very pleased to see strong positive feelings on morale, caring, and training. We were thrilled when the aggregate responses put us in the "Top Workplaces" category."
Of course, the entire Koorsen Fire & Security company feels thrilled and proud of this honor. As a trusted source for fire protection and life safety for seven decades, Koorsen prides themselves on going above and beyond to exceed their customers' needs. Receiving this award only further exemplifies Koorsen's dedication and hard work to not only its customers but also its associates.
###
Koorsen Fire & Security was founded in Indianapolis, IN in 1946. Koorsen is a third-generation, family owned business that has become one of the largest and most respected fire and security companies in the United States with over 27 locations and nearly 900 associates. Koorsen Fire & Security is well-known for having the best training in the industry and is insured and certified to design, install, program, service and repair virtually all fire and security products for any size business. Koorsen's training center also doubles as home to NAFED University, where Koorsen trainers provide fire and life safety training to all NAFED members. Learn more at www.koorsen.com.
1http://www.columbusceo.com/content/stories/2016/05/columbus-ceos-2016-top-workplaces-in-columbus.html?platform=hootsuite