Koorsen associates regularly go above and beyond the call to duty for their customers and the communities they serve. This has been engrained in the company's culture since its inception in 1946, and has continued to be an essential part to the business' success over the last nearly seven decades.
The Challenge
While typically these acts of service to the community are praised internally in the company, more often than not, these humble associates keep these stories to themselves, as it is just the "Koorsen way". The recently launched company-wide Koorsen Cares initiative will serve to give a voice to the power of caring in and around our company and the communities we serve, and hopefully inspire even more acts of kindness.
The Stories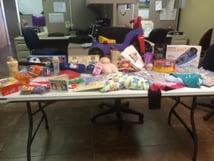 Koorsen kicked off this initiative with a month of caring. See below for some of the amazing ways the Koorsen employees are giving back to the communities they serve. Be sure to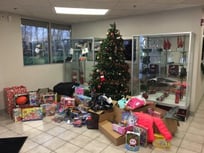 like us on Facebook and search the hashtag "#KoorsenCares" to follow these stories.
This holiday season, several of the Koorsen teams have gone above and beyond to help those in need around their communities. The Mansfield team adopted to families in need this holiday season, and were able to collect an array of donated toys, clothes, gift cards and more to help brighten their holidays. The Koorsen Louisville team also collected toy donations and filled their office tree with gifts they donated to their local Ronald McDonald House.
Most recently, tw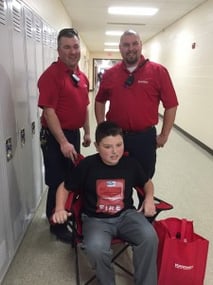 o of Koorsen's employees went above and beyond when they arranged a meeting with a young boy who has Asperger's syndrome and an enthusiasm for fire alarm systems. While they were servicing the boy's school, they arranged to meet with the boy, discuss fire alarm systems, and even brought him some Koorsen gear to cherish forever.
These are just a few examples of the countless acts of selfless heroism that occur in the Koorsen offices on a regular basis. These demonstrate the heart of Koorsen and the many ways that Koorsen Cares.