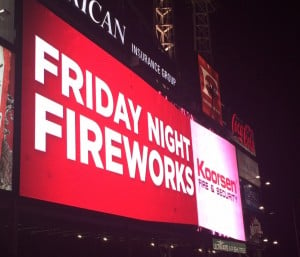 The impressive growth experienced in the six short years Koorsen has been in the Cincinnati market can be attributed, in part, to the successful partnership with the Reds. With a loyal fan base in the city, the Cincinnati Reds draw large crowds each season to the ballpark. Koorsen has been excited and privileged to be a part of that, by sponsoring the hometown favorites for more than three years now. Koorsen's sponsorship isn't just limited to a sign on the backfield fence. Each year, events like Bark in the Park and the Koorsen Fireworks Night give fans even more to enjoy during their visit to the Great American Ball Park.
Reds fans love the fireworks, and they often stop Koorsen employees attending the event, to tell them how much they enjoyed the show. Each year, the beautiful fireworks light up the night sky and reflect off the Ohio river – giving fans even more reason to come out to a Red's game. Even with the rain delays during the game, the fireworks show was one to be remembered. There truly is nothing more American than baseball and fireworks – which is why fans enjoy this event so thoroughly.
The Koorsen Fireworks Night isn't just an enjoyable time for the fans; it also serves as a platform for Koorsen to get its name out to the community. Founded in 1946, Koorsen is a third generation family-owned business with a long history and a corporate culture that emphasizes a family-feel. This makes the company a natural fit with the Cincinnati Reds, who also have a long history (the team was formed 134 years ago) and a fan base who are as loyal as an extended family.
It has been a fruitful partnership, with Koorsen's sales more than doubling during the first two or so years of becoming a Cincinnati Reds sponsor. Koorsen also doubled its office space last year to accommodate the new employees hired to service all of the new business in the area. The goal is to continue getting the message out to potential customers that Koorsen will treat them like one of the family.
Koorsen achieves this goal by handling all aspects of fire service and protection in-house, rather than subcontracting some of this work to other companies (like competitors often do). Koorsen technicians also go through the best formal training program in the business, before they ever visit their first client. All of this adds up to stellar service and long-term relationships with customers - just like the one being forged with the Cincinnati Reds.
Thank you to all who came out to the game on September 11th, and especially those who fought the rain and stayed to watch the wonderful fireworks show with us. We hope that you had a night to remember and had an opportunity to learn more about what Koorsen can do for your business.