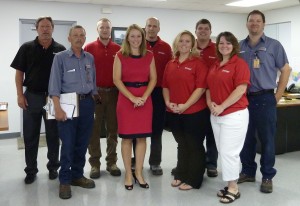 With ongoing success and a growing reach in the area, our Dayton, Ohio, branch office needed an upgrade. Now in a space that's nearly double the square footage of its previous home, the branch is able to hire and to introduce new services.
"We found a location that's just wonderful—convenient to the highways and right in the center of our service area—in a great building that gives us plenty of room to grow," said Branch Manager Steve Alford.
With a bigger and more modern space, we've been able to start adding to our team. Three new employees have started work in the new office, and we plan to hire two additional employees in the coming months.
Located near Dayton International Airport, the new space increases the office area from 3,000 square feet to 3,600, but our greater gain was in the warehouse area, which gives us 7,900 square feet where previously we had 3,000.
"That gives us room to breathe and even to add some new services," Alford said. "Now we can refill CO2 extinguishers, whereas we used to have to drive to our Columbus branch for that. And we'll also be able to do high-pressure testing of tanks. And, of course, all that space gives us some breathing room. We have much easier access to our materials."
As with all of our recent renovations and additions, energy efficiency has been a focus in Dayton. New, energy-efficient bulbs fill the warehouse, and we plan heat sensors for fixtures in the workspace. The temperature is controlled by Z-wave thermostats so that it can be adjusted from anywhere and for any shift in building use or outside temperature.
"Overall, it really is just much more modern," Alford said. "There's no wasted space, it's a nice place to be, and we have plenty of room to grow.
"And, because we're right by the airport, we're already planning a big open house next summer for our customers during the Dayton Air Show. That's kind of an unexpected bonus to this great new location."
###
Koorsen Fire & Security was founded in 1946 and is a third-generation, family owned business. Over the years, Koorsen has become one of the largest and most respected fire and security companies in the United States with over 20 locations and nearly 700 associates. Koorsen Fire & Security is well-known for having the best training in the industry, and is insured and certified to design, install, program, service and repair virtually all fire and security products for any size business. Contact us to schedule your free on-site hazard analysis.