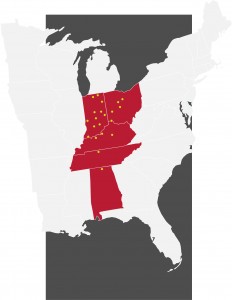 At 2014's halfway mark, we're on track to have one of our best years yet, and some recent acquisitions are setting up the second half of the year to be even bigger than the first.
In 2013, we undertook a plan to keep the business focused closer to our Indianapolis home, and so we sold our two Florida branches and began looking for acquisitions that would extend our reach within the Midwest. In late 2013 and early 2014, we began the acquisitions with Fire Alarm System Testing in Goshen, Indiana, and Auto Tech Systems in Akron, Ohio. And as of June 1, four additional acquisitions have been completed:
"Each of these acquisitions reflects our dedication to finding business with a good reputation and a particular area of expertise, which leaves us a lot of opportunity for growth," said Koorsen's Executive Vice President Jeff Wyatt. "We expect these four acquisitions to bring in a combined $2 million revenue this year." Although that may not seem like a lot for the nearly $90 million business, it represents the start of what will be a very exciting few years of growth for the 68-year-old, family-owned company.
So much growth means we've been doing a lot of hiring so far in 2014—nearly 60 new employees hired, including the 12 we brought on through acquisitions. And at present we're working to fill another 29 positions in various branches.
Meanwhile, we're implementing new technology, including a new CRM system to improve sales and customer service, the FieldOne mobile service management solution that will support our technicians, and a few other back-end systems-all to ensure superior service and improve the customer experience.
"It's a lot to manage at one time, but we're excited about it, and everything's coming together really well," Wyatt said. "Growth and change happen much easier when you have the right people in place, and we have incredible people."
###
Koorsen Fire & Security was founded in 1946 and is a third-generation, family owned business. Over the years, Koorsen has become one of the largest and most respected fire and security companies in the United States with over 20 locations and nearly 700 associates. Koorsen Fire & Security is well-known for having the best training in the industry, and is insured and certified to design, install, program, service and repair virtually all fire and security products for any size business. Contact us to schedule your free on-site hazard analysis.