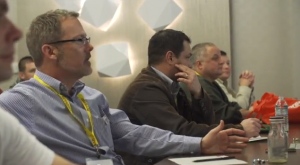 If you've worked with us, you know about the many ways in which we emphasize training, from the extensive certifications our associates achieve to our own state-of-the-art training center.
We bring that same focus to training our sales staff, and so each year we bring all of our sales associates, sales managers, branch managers, and executives together for two days of focused education and networking. We meet offsite, with the input and support of the best vendors in the industry—heavy hitters like Amerex, Ansul, Honeywell, Brooks Equipment, to name just a few.
On February 5 and 6, representatives from each of our branch offices journeyed through challenging weather from Kentucky, Tennessee, Ohio, and Alabama to attend The Art of Koorsen sales conference at The Alexander Hotel in downtown Indianapolis.
The event drew 170 members of the Koorsen team; it covered a range of job-focused topics and introduced our new software system. The art focus of the host hotel inspired the theme for the conference, which was rich with new ideas, refreshed processes, and teambuilding. We hosted not just our team but the vendors we partner with, who gathered for a product galleria that gave them the chance to get to know our reps and to share their new products and technology.
We closed the conference with Art of Celebration—an awards dinner at The Indiana Roof Ballroom. There we celebrated the many achievements of our associates and the contributions or our top vendors. And then we got down.
Check out our video below to get a glimpse of the event—and maybe the Koorsen associate you work with.