The Terre Haute Rex lost 3-2 in ten innings, but July 13 was still a great day at the ballpark. It was Koorsen Fire & Security's sponsorship night—a meeting of corporate and civic pride with baseball on a gorgeous summer evening.
"This is the first year that we've been a full sponsor of the team," said Branch Manager Ryan Hardwick. "They're a community-run baseball team, part of the Prospect League, and the money they raise goes to scholarships.
"For us, sponsoring the team is a great way to get involved with the community on a large scale."
Koorsen Night at Bob Warn Field at Sycamore Stadium meant filling the Rex Deck with Koorsen employees and customers, signage, Koorsen trucks at the entrance, and a between-innings trivia quiz.
"That quiz was a great sign that the sponsorship has really gotten our information into the community," Hardwick said. "We asked three questions about the company and our fire & security products and services. The announcers were prepared to prompt people if they needed help—we wanted them to win—but they didn't have to."
Hardwick has been getting to send a lot of customers to games this year, with four tickets for each game as part of the sponsorship deal.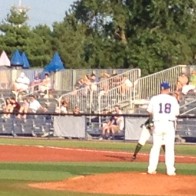 "It's just a really fun experience," he said. "The announcers keep it fun and light, and they have a lot of college-age kids running around hitting water balloons with baseball bats, singing and dancing, firing squirt guns on fans when it's hot."
Koorsen Night gave Hardwick a perfect chance to talk with customers during and after the game, all of whom gave the event a hearty thumbs up.
Hardwick said he hopes to maintain Koorsen's sponsorship relationship with the Rex: "I'd like to stay involved with the team for as long as we can," he said. And not just because he got to throw out the first pitch at the July 13 game—"a strike, by the way."