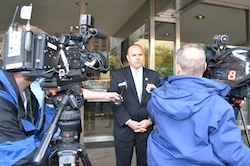 Randy Koorsen and his family, owners of Koorsen Fire & Security and Koorsen Security Technologies in Indianapolis, have donated a state-of-the-art mobile security camera to the city of Indianapolis in an effort to help increase security for upcoming events such as the Indianapolis 500 and the OneAmerica 500 Festival Mini-Marathon, which takes place May 4.
Originally created for military use, the security camera can be moved around the city as needed. It includes a high-definition 360-degree view on a 30-foot telescoping mast to facilitate detailed, long-range surveillance for threat or criminal deterrence. The camera, which can more easily get into tight spaces and requires much less set-up time than the mobile cameras currently in use, comes as an addition to an existing network of cameras across the city through a contract with Koorsen Security Technologies.
The $20,000 donation coincides with a heavy tourism month for Indianapolis, and with increased concerns about security following the recent bombings during the Boston Marathon.
"After the bombings in Boston, I felt a responsibility not only to show support of those in Boston but to help protect the city of Indianapolis," Koorsen said. "This camera offers a new and convenient way to provide extra security for any or all of the events that Indianapolis hosts."
"Although Indianapolis has a substantial number of cameras in place, there is no way to guarantee absolute coverage," said Skip Sampson, President of Koorsen Security Technologies. "This camera is mobile and can be moved quickly and easily from event to event – providing an extra level of protection for the thousands of conferences and events hosted in Indianapolis throughout the year."