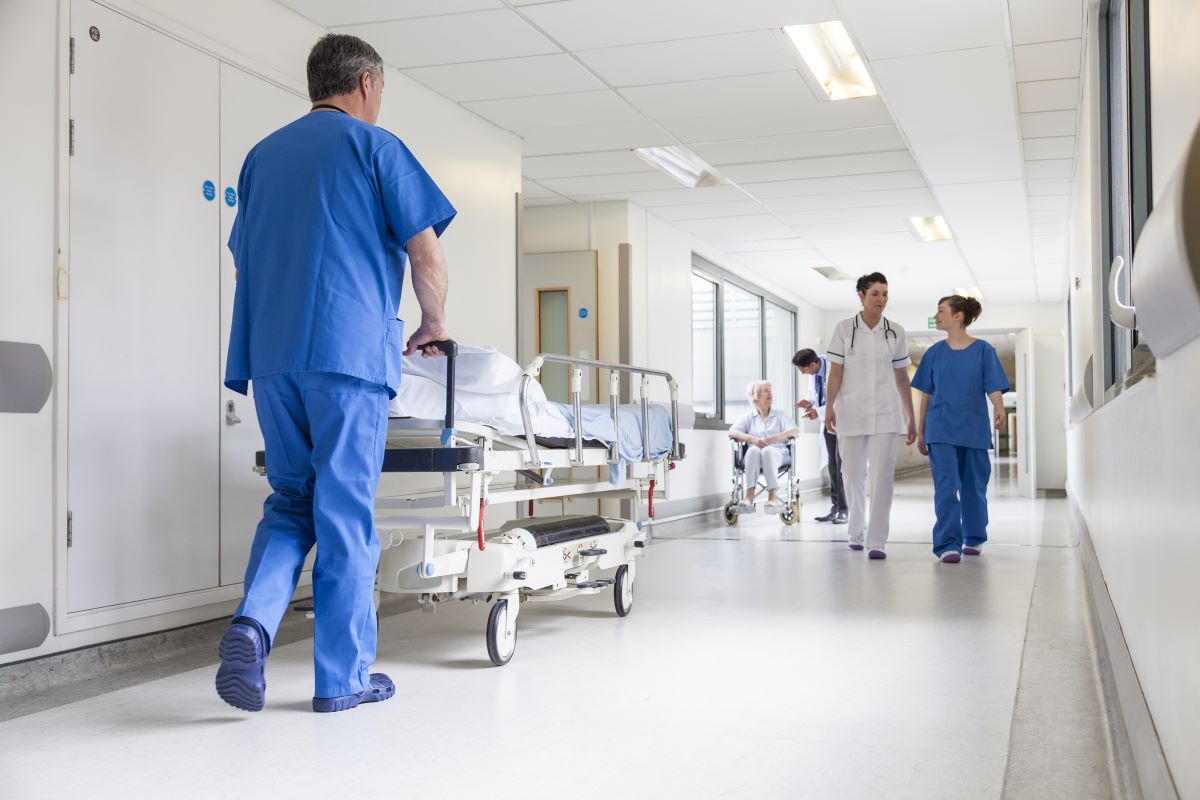 Modern hospitals need advanced nurse call systems. Old nurse call systems that only allow basic communication with nurse call stations are no longer sufficient.
Nurse call systems for newly constructed and upgraded hospitals allow for:
Text-based communication through

messaging devices

Connections to the Hospital Information System (HIS) and Admission-Discharge-Transfer (ADT) System

Mobile alerts

Integration with

room stations

and

hallway communication systems
Continue reading to learn more about what makes a good nurse call system and how Koorsen Fire & Security can help implement state-of-the-art solutions that keep up with current trends.
Text-Based Communications
Today's reality is that most hospital patients–especially younger patients–primarily communicate through text messages and apps such as iMessage, WhatsApp, and Signal. Accordingly, a nurse call system that only allows for voice communication is not enough. Nurse call systems now need to incorporate convenient messaging devices.
With a state-of-the-art nurse call system, nurses can use smartphones and tablets to engage in text-based communications with patients.
Interfacing with Hospital Information Systems (HIS) and Admission-Discharge-Transfer (ADT) Systems
Patients are safer and receive better care when nurses can access HIS and ADT systems without needing to be at a central console. If a nurse receives an emergency call, they can promptly use the nurse call system to pull up vital patient information from the HIS and ADT systems used by the hospital.
Mobile Alerts
Nurse call systems with advanced features are able to deliver mobile alerts so that nurses do not have to rely solely on outdated corridor station lights. Mobile alerts provide nurses with detailed information such as:
Fall management

sensors being triggered

Infusion pumps experiencing occlusions and other serious problems

Disconnection or removal of pulse oximeters and other monitoring devices
Room Station and Hallway Communication System Integration
Nurse call systems should integrate with room station and hallway communication systems. This way, nurses do not have to use multiple devices to contact other hospital staff and update information concerning patients.
Current Trends for Nurse Call Systems
One trend emerging in the nurse call system market is the ability to collect various metrics to improve patient care and safety. For example, the latest-generation nurse call systems can track the time taken to respond to patient concerns. By tracking this time, hospitals can know whether or not patients are receiving the attention they need.
Another trend in the nurse call system market is integrating hospital staff locators. Nurse call systems that include this feature have nurses and other hospital staff wear or carry devices with IR (infrared) or RF (radio frequency) transmitters. These transmitters communicate with locator detectors distributed throughout the hospital, allowing nurses and other hospital staff to quickly be located no matter where they are.
Yet another trend in the nurse call system market is the ability to remotely provide real-time information to nurses. Hospitals that have installed nurse call systems with this ability help relieve nurses from alarm fatigue. Nurses complain of alarm fatigue when they constantly have to respond to false alarms or alarms that do not require an urgent response. When a nurse call system can provide real-time information, alarms can be prioritized and routed to ensure nurse capacity is being efficiently utilized.
How Koorsen Fire & Security Can Help You Implement a State-of-the-Art Nurse Call System
If your hospital or long-term-care facility is looking to install or upgrade a nurse call system, Koorsen Fire & Security is here to help.
The experts at Koorsen have extensive training and years of experience installing and maintaining the latest, most advanced nurse call systems. Our team is made up of both industry professionals specializing in life safety and licensed clinical personnel.
Koorsen is a certified distributor for all major safety brands. In addition, the solutions Koorsen implements are UL-certified for safety and comply with all national and local codes and regulations.
In addition to nurse call systems, Koorsen provides a wide variety of products and services, such as:
Fire suppression systems

Small business and commercial security

Vehicle camera systems
Let Koorsen Fire & Security be your one-stop shop for all your hospital or long-term-care facility needs. Contact our experts today.