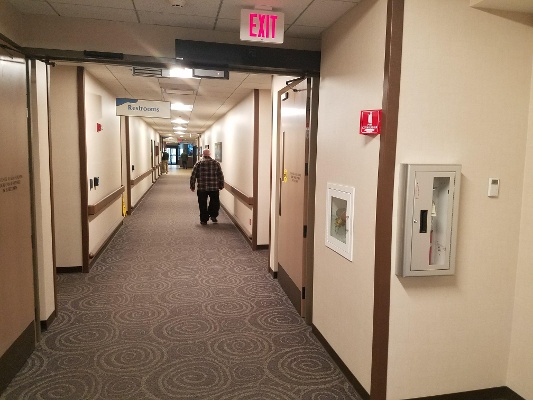 There are many ways to house fire extinguishers. If you have been even a little observant, you have probably seen extinguishers resting in brackets on a pole, placed inside protective cabinets sometimes recessed into the wall, or maybe even resting on the floor.
For many business owners who supply fire extinguishers for their property, a natural question is what the requirements actually are, and specifically whether a fire extinguisher cabinet is required and when.
Following is some helpful information to address those questions:
Is a Fire Extinguisher Cabinet Required?
Technically, no – neither OSHA nor the NFPA requires that you place your fire extinguishers inside of a cabinet, though OSHA does suggest that they should be mounted on brackets or placed in a wall cabinet to prevent damage or theft.
However, certain regulations from the ADA (Americans with Disabilities Act), as well as other circumstances, may make a cabinet necessary in order to be compliant or to keep your fire extinguisher effective.
Situations that Make Cabinets Necessary
The following situations are the main two that would make a fire extinguisher cabinet either necessary or at the very least ideal:
ADA Compliance: For properties or areas of a building that must be ADA compliant, the ADA regulations dictate that fire extinguishers that project out from walls at the height of 27-80 inches above the floor must not protrude more than 4 inches from the wall into a walk-way or entryway.
Naturally, what this means is that the fire extinguisher will need to be placed into a recess in the wall, which requires a recessed or semi-recessed fire extinguisher cabinet.
So, while the use of a fire extinguisher cabinet may not be technically required, it may be necessary in order to satisfy requirements such as those from the ADA.

Also, be aware that your local jurisdiction for fire and building codes may incorporate ADA codes into their regulations. So, even if your building would not normally need to be ADA compliant, your local codes may require that you incorporate those standards.
NOTE: Another option that is new to the market is to replace the standard fire extinguishers with Oval Brand fire extinguishers. These fire extinguishers are oval in shape so that they do not protrude more than 4 inches from the wall and do not require recessed cabinets. Contact a Koorsen representative to learn more.
Outdoor Fire Extinguishers: If you have a fire extinguisher on the exterior of your property, a cabinet is a necessity in order to protect your investment and ensure a functioning extinguisher in an emergency.

Rain, salty air on the coastlines, snow, ice, and condensation all lead to corrosion on the metal parts of your extinguisher. Debris from nearby trees, lawn debris from mowers, and even insects and small animals can block up the hose. Sunshine and heat can cause fading on the label and directions.

All of the above could render the fire extinguisher useless in an emergency situation, and/or could cause it to need expensive repairs or premature replacement. It would be far easier, safer, and more cost effective to keep an outdoor extinguisher in a cabinet to protect it from these elements.
Benefits of Fire Extinguisher Cabinets
Besides the above situations, there are many reasons why housing a fire extinguisher in an approved cabinet would be beneficial. Fire extinguisher cabinets:
Protect extinguishers from weather damage
Keep extinguishers from being moved around
Decrease incidents of tampering and theft
Protect extinguishers from accidental damage
Protect small children from accessing an extinguisher and getting injured
Contact Koorsen for All Your Fire Extinguisher Needs
OSHA, the NFPA, the ADA, and your local jurisdiction will all dictate the placement of your fire extinguishers, as well as to how they must be mounted or housed. While a fire extinguisher cabinet may not be wholly required in the strictest sense, it may still be the best way to adhere to codes and protect your extinguishers.
To ensure that you meet all codes and that your fire extinguisher remains in quality condition, call the experts at Koorsen Fire & Security. One of their highly trained techs can answer your questions and even visit your location to help identify your fire extinguisher needs and install appropriate wall mounts or fire extinguisher cabinets.