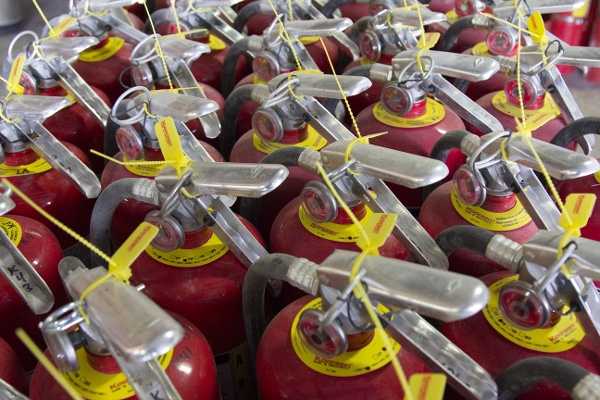 We all see them and know they're there – the fire extinguishers placed in our buildings in case a fire should strike.
But do you have enough to ensure that your building is up to code and are they strategically placed to increase the safety of those inside who may have to use them?
It Depends
The ultimate answer to "how many fire extinguishers does my building need" is: it depends.
Many factors play a role in determining the number, type, size and location of portable fire extinguishers you need to place to keep your building, employees, and customers safe and stay up to code.
The NFPA, local codes, and OSHA have all prescribed requirements for the specific number of fire extinguishers that must be present in public buildings.
Factors that determine the requirements include:
Size and layout of the room: a basic NFPA rule is that there should be no more than 75 feet between fire extinguishers and that they should be accessible. Naturally, then, the square footage contained in a building and its layout will determine the number needed.
Fire hazard level of the building: public buildings are evaluated and assigned a fire hazard level based on their purpose and what they contain:

Light fire hazard
Ordinary fire hazard I & II
Extra fire hazard I & II
Commercial kitchens

Presence of flammable liquids: according to OSHA standards, if flammable liquids or gas are stored in quantities of 5 or more gallons, there must be a fire extinguisher of at least a 10B rating kept within 50 feet of the container.
Stair wells: in multistory structures, a minimum of one fire extinguisher must be placed adjacent to the stairway.
These are just some of the considerations. For a full explanation, you should study NFPA 10 and OSHA Safety and Health Regulations for Construction 1926.150: Fire Protection.
The Bottom Line
Bottom line: the number of fire extinguishers your building needs to be both safe and up to code will depend on many details about your building, what it contains, and its primary function.
At minimum, NFPA dictates that a person should have to walk no more than 75 feet to reach a fire extinguisher.
If you have questions, talk with a professional fire protection agency. Koorsen Fire and Security has been in the fire protection service for over 70 years. Their experts can walk through your property and advise you on both code and ideal safety, and guide you through the number, type, and placement of your extinguishers.
Give Koorsen a call today or contact them online.