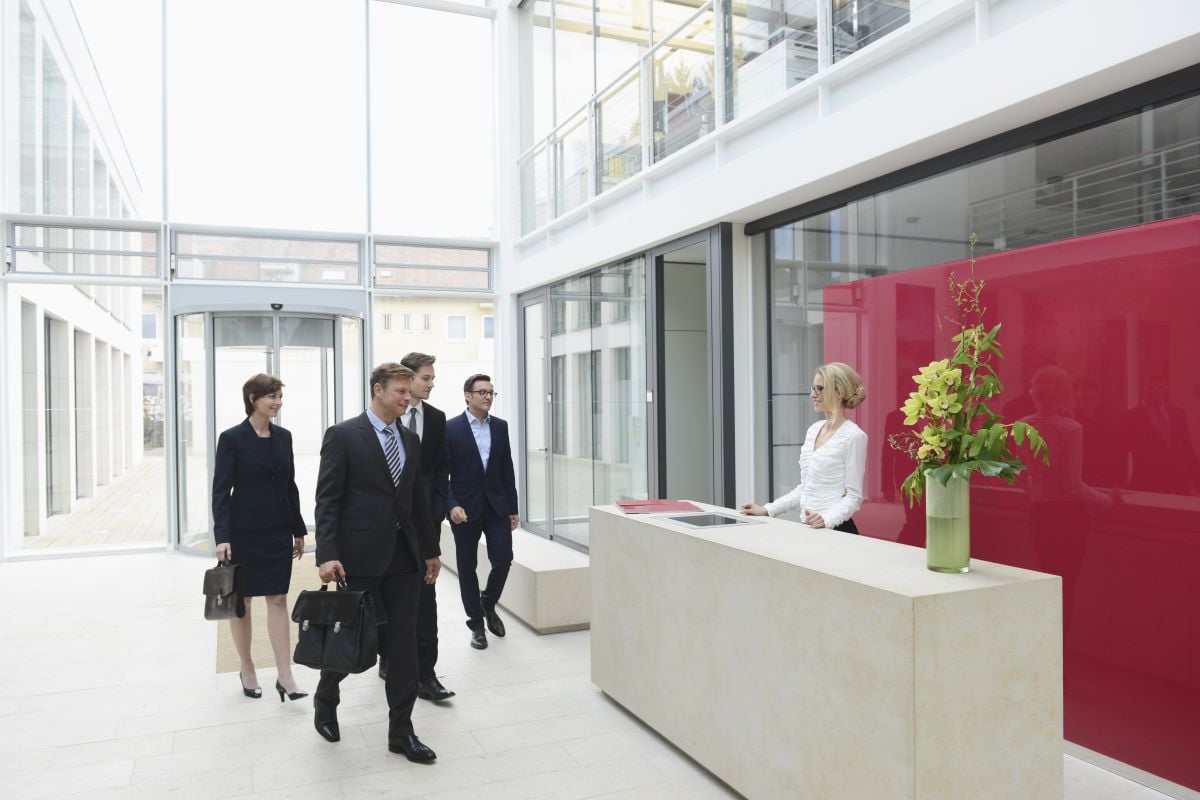 What Are Visitor Management Systems?
Visitor management systems help companies enhance the physical security and safety of their buildings by enabling control over visitor access.
Once a visitor management system has been implemented, companies are able to:
Control access to and within their buildings

Monitor the movements of visitors throughout company premises

Save profiles of visitors
What Are the Different Types of Visitor Management Systems?
Visitor management systems generally fall within two categories:
Locally installed, meaning the visitor management system is hosted on company premises. Locally installed systems are typically maintained by designated employees, such as a security or IT team, or by contracted technicians such as the installers of the system.



Cloud-based

, meaning the visitor management system is hosted in the Cloud and accessible over the Internet. One key benefit of Cloud-based visitor management systems is mobile connectivity, allowing the system to be configured and managed remotely.
Key Features of Visitor Management Systems
Limit Visitor Access to Only Authorized Places
With a visitor management system implemented, companies can use badging so that authorized visitors are visibly identified by their names and pictures. Someone not wearing a badge is quickly noticed by security and other personnel.
Along with a badge, a visitor can temporarily be given a keycard or fob. These devices, in combination with a visitor management system, prevent the visitor from going (intentionally or unintentionally) to somewhere they do not belong. Exactly where a visitor is allowed to go is programmed into the visitor management system. For example, the visitor can be restricted to only certain floors or rooms in a building, and only during certain times.
Companies that already have access control systems, such as Identity and Access Management (IAM) to control employee access, can take advantage of multi-tech cards, which function with both contactless smart card readers and magnetic stripe readers.
Some companies choose to implement biometrics readers, such as hand scanners and fingerprint scanners. This means visitors do not have to carry around anything physical which can end up lost or stolen.
Visitor management systems can be used alongside traditional access control hardware, such as intercom systems, in case a company wants to manually allow building access to a visitor or wants to identify a visitor by voice.
Limit the Entrance and Exit of Vehicles
Visitor management systems can limit the access of cars, trucks, and vans onto company property by using vehicle tagging. Special vehicle tags are issued to visiting vehicles upon arrival. These tags are read by special readers linked to a visitor management system, allowing gate access for visiting vehicles to enter and exit company premises.
Control Access for Multiple Buildings
With a visitor management system, access control for multiple buildings can be centralized. If, for example, a visitor is visiting multiple company buildings, the visitor can be issued a single keycard that grants them access to the different buildings. Or, if a delivery or service vehicle needs gate access at different locations, the vehicle can be issued a single tag so that multiple check-ins are not necessary.
Pre-Registration and Identity Verification
For convenience, visitors can be registered into a visitor management system ahead of time. Before the visitor arrives, identification can already be verified and credentials set up, saving time and helping to ensure that data is input accurately.
Once a visitor has been registered, their profile can be saved into the visitor management system. Information does not need to be collected each visit.
The profiles of important visitors can be flagged so that they can receive preferential treatment. Conversely, the profiles of troublesome visitors can be flagged so that they are denied access and handled appropriately.
Benefits of Visitor Management Systems
In addition to enhancing the security and safety of company buildings, visitor management systems help companies to:
Make a Good First Impression on Visitors
Companies that have abandoned old-school paper sign-in sheets in favor of a state-of-the-art visitor management system demonstrate that security is taken seriously. Moreover, the company shows that it keeps up with technological improvements.
Provide Visitors With Useful Information
During the check-in process, a visitor management system can let the guest know interesting facts about the company and the person or department being visited. Further, the visitor management system can employ facility mapping functionality that can aid visitors to navigate the premises.
Real-Time Reporting of Visitor Status
In case of emergencies, it is imperative that companies know exactly how many visitors are inside of a building and, ideally, where the visitors are inside the building. This way, first responders such as paramedics and firefighters can be assured that everyone has been evacuated and accounted for.
Consult with the Experts
Koorsen Fire & Security is a leader in the design, engineering, installation, and maintenance of Visitor Management Solutions. Whether your business needs a simple intrusion alarm or a fully integrated intrusion, camera, and access control system, our security professionals will work with you to develop a customized and comprehensive security system to help keep your building, property, and people safe.
Contact the security solutions experts at Koorsen Fire & Security today to get started.