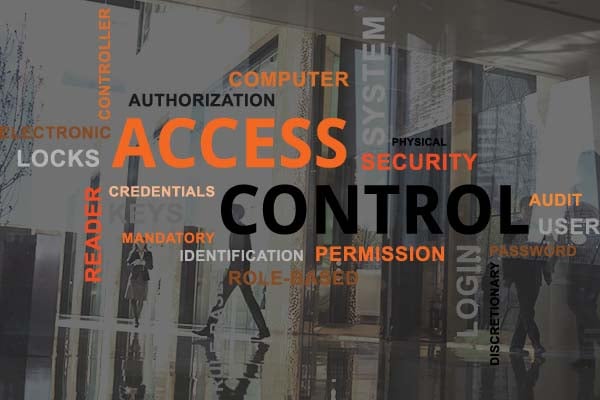 If your business manages information or resources that require limited and/or secured access, you need an access control system.
In short, access control systems are how you control who can enter your facility's protected areas and when. They are the current day's far more sophisticated lock and key.
Facilities containing highly protected information, resources, or individuals – health records, patens, credit card information, infants in a NICU, children in a school, computers, specialized equipment, controlled substances, etc. – require better security than locks and keys. Controlling who has access via a key is not enough. Limits on that access, such as the time or duration of access, as well as the ability to monitor and manage those granted access, are also necessary.
Access control systems meet these needs.
Access Control System Basics
Access control systems empower you to limit who has access to your facility or specific assets, when they can have that access, and to monitor their access behavior – how frequently and how long they gain access.
If you have ever seen a nurse or banker swipe a key card or punch in a code to gain access to a room or restricted area, you have seen an access control system at work.
The components which make up these systems are:
Credentials: Access control system credentials can be physical, biometric, or digital (via mobile device). Some of the most common are electronic key cards or key fobs, key codes, or biometric credentials such as fingerprint, face, or voice recognition. Digital credentials contained on phones and mobile devices are quickly gaining popularity as well.
Scanners, Readers, Keypads: For each type of credential, there is a matching "reader" or scanner.

Card readers are typically mounted outside of the door they protect. They will electronically "read" electronic key cards either by having a swipe or insertion point, though some work by proximity. Biometric scanners are used for fingerprint or facial recognition. Keypads are used for codes or PIN numbers.
Software: Behind the scenes, but at the heart of each access control system is the software that allows the administration to manage the system, grant permissions, set restrictions, perform audits, etc.
Hardware: Access control panels, electronic door locks, turnstiles, gates, and access control servers are all hardware necessary to make the access control system operational.
Some access control systems also utilize personnel in the form of receptionists or security guards who are responsible for processing visitors and vendors and providing the appropriate credentials and authorization in tandem with the system.
How does it Work?
The best access control system for a given facility will depend on:
Type of access control methodology needed (i.e., do they need role-based access, where access is granted to employees based on predefined roles, or rule-based access where specific rules about times of day and lengths of time are set, or some other model).
Number of doors/points of entry that need to be protected.
Simplicity or complexity of the level of security required; and other factors.
Once a system is selected, however, the process will work as follows:
Authorize: The first step to any access control system requires the entity in charge to create their security policy and define who may have access and what they can do. Once that is determined, they can provide authorization to their employees (or visitors and vendors) based on these policies and assign credentials that will enable access according to their authorization.
Authenticate: Employees, visitors, vendors, and other entities present their credentials to the reader or scanner. The system reviews the credentials to determine validation and whether or not to unlock the door/gate. Some systems require multifactor authentication, in which case more than one credential is required, such as an ID card and a PIN, or biometric scan.
Access: Once authenticated, the restricted area will unlock, and the individual will be able to access the contents.
Restrict: Depending on the type of access control and the parameters set on the individual, the system also restricts the individual's access based on their credentials. For instance, if a role-based system has been applied, the user's credentials will indicate his role, which may be granted access to a certain floor of a building, but perhaps not to every room on that floor.
Monitor and Report: The system monitors all who pass through, or attempt to pass through, keeping a record of the number of accesses or attempts, the date, and duration.
Manage: Administrators of the system will have the capability to grant and remove authorizations and change permissions and rules of access. They can also receive real-time alerts when an attempted breach or irregularity occurs.
What are the Benefits of an Access Control System?
Access control systems put the security of your people and assets in your hands. By not only controlling who may have access to protected areas but also by monitoring those who do have that privilege, you significantly minimize threats to your people and property from both external and internal entities.

Other benefits of utilizing physical access control systems include:
Customizability: While not all systems are customizable, there are many to choose from, and you will find a system that fits your unique needs. Furthermore, some systems do have the complexity and sophistication necessary to provide a customized product. Talk to a Koorsen security specialist to learn which system best meets your needs.
Simple or Complex: An access control system can be as simple or complex as you need it to be.
Controlled Remotely: With the advancements of cloud-based applications and mobile connectivity, you can monitor and manage your system from just about anywhere. If you're away when a plumbing issue arises and a contractor needs to be given access, it can be done without you needing to return to the office.
Easier Handling of Tough Situations: Similarly, if a vendor or a terminated employee fails to return their credentials, you can go into the system and remove the permissions to that specific credential, whether it is a key card or mobile device. You can even place an individual on a "watch list."
More Secure: Traditional locks and keys can be easily broken, stolen, or copied versus the hardware and technology at work behind access control systems. Furthermore, should an employee lose a key card, it can be deactivated immediately. If two-step authentication is required (for instance, a key-card swipe and a PIN or bio-scan), the security becomes even more difficult to break.
Create Safer Environment: Since you can create a system which processes not only your employees but visitors and vendors as well, you can ensure that all who have entered your facility are safe and protected.
Identify Threats Early: With monitoring and auditing elements available, you can identify and halt suspicious activity and threats before they become serious problems.
Automatic, Real-Time Responses in Emergency Situations: Your system can be programmed to respond to emergency events, such as a breach, by locking the facility down. Or, in the event of a fire, it can automatically unlock all doors.
Compliance: If your business handles sensitive, protected data, such as financial reports, patient healthcare records, credit card payments, etc., you will have to demonstrate compliance to PCI, HIPAA, or SOC2 regulations regarding access. The audits provided by access control systems can put together all of the proper data required for compliance reports.
Things to Consider When Choosing the Right Access Control System for You
There are many access control systems out there with vastly varying degrees of complexity.
To help you in the selection process, there are a few steps you should complete first, prior to purchasing an access control system:
Count the number of doors and/or gates that need to be secured. Remember to consider the interior, not just exterior doors as well.
Determine whether your needs are simple – limiting access to all employees with the same privileges granted across the board – or whether they are more complex – requiring different levels of access according to roles or attributes, etc.
Put together a team assigned to researching access control systems and vendors.
Requests quotes from a few different vendors. Know that a quality vendor should perform a site visit to review your facility in order to provide both an accurate quote and quality recommendations regarding what access control system you are considering.
While each facility's needs are unique, in general, you will want to find a system that can:
Integrate with your existing hardware to reduce your costs
Integrate with other security and surveillance systems
Support modern technologies and modes of communication such as Bluetooth, RFID, mobile and cloud access, etc.
Support a variety of authentication methods/credentials such as cards, biometrics, PIN numbers, passwords, two-factor authentication, etc.
Meet local standards and regulations
Need Help?
There is an overwhelming number of factors to consider when selecting an access control system. If you need help deciding which system would be best for your facility's needs, call the security experts at Koorsen. With over 70 years in the security industry, they can help you find the best solution for your access control needs.
Give Koorsen a call today to schedule a site visit and request a quote.