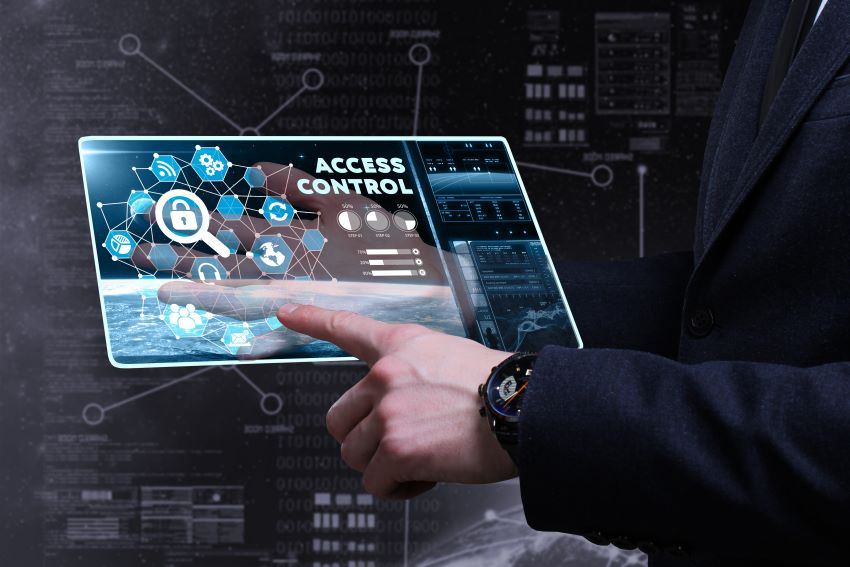 If you are looking to upgrade security in your building or move away from a key entry system, access control systems are a great solution. Access control systems offer simple management and the flexibility to allow access to the right people at the right time, facility-wide.
What Is Access Control?
Access control is a system that restricts gate access, access to a room, a specific area, or an entire building. Modern systems are often cloud-based, and users of the system are required to present their credentials to access an area.
Credentials can be a keycard, a fob, an app on a mobile device (if the facility has mobile connectivity), or even biometrics. In some systems, users can also present credentials or request access through intercom systems.
What Are the Key Features of an Access Control System?
There are several types of access control systems on the market, but most of them have core key features in common, including:
Automated door management

Reporting and audits

Alarm notifications

Third-party integrations

Back office accessibility

Scheduled backups

Vehicle tagging

Badging

Facility mapping

Multi-tech cards
All these elements work in concert to provide a complete access control system.
What Are the Key Advantages of Installing an Access Control System?
Access control systems offer great benefits for both security and convenience. The top 6 key advantages of installing an access control system include:
1. No Hassle with Traditional Keys
Traditional keys require extra work and can pose several security threats. For example, if a key holder loses their key, you may have to change all of the locks to maintain the security of the building.
Unlike key systems, access control systems allow you to deactivate an access card and assign a new one. No need to change locks or issue new keys to everyone.
2. Keeping Unwanted Visitors Out
Access control systems make it less likely that an unwanted visitor will enter your facility. With access control systems, every door requires credentials before it unlocks, so you know everyone in the building is authorized to be there.
3. Allowing Employees Freedom to Come and Go
With keyed systems, sometimes security staff will have to unlock doors or stay late to lock up. With access control systems, it is easier to give everyone a programmed card, offering employees more flexibility in their schedules without the need for additional staff to allow access.
4. Keeping Track of Who Enters the Facility
Another benefit of access control systems is that you can keep track of who is coming and going. In case of a security incident, you will be able to see who swiped their card to access a specific area.
5. Setting Specialized Access Parameters
Unlike keyed systems, access control systems allow you to grant access to certain people on specific days and at particular times. You can program any door and any card depending on your needs.
6. Increased Security for Sensitive Areas
Access control systems allow you to require credentials for entry into sensitive areas, such as data centers or records rooms. This vigilance ensures your facility's safety and security requirements are met without the hassle of traditional security systems.
Contact the Access Control System Experts!
Access control systems are a great way to implement security in a way that offers flexibility and convenience. If you're interested in seeing how an access control system could work in your building or campus, contact Koorsen Fire & Security today!
Founded in Indianapolis in 1946, Koorsen Fire & Security is one of the leading commercial security companies in the nation. You'll find us in South Bend, Evansville, Louisville, Nashville, Huntsville, Cincinnati, Cleveland, and everywhere in between. Our commercial security pros have years of experience building and installing customized security solutions for businesses in all industries.