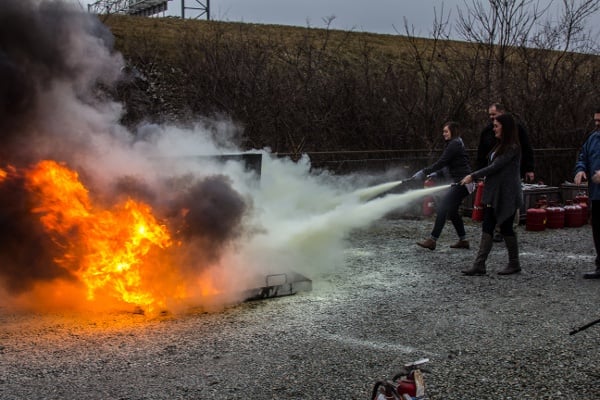 Many employers are unsure as to whether they are required to provide fire extinguisher training to their employees or not, or what the benefits of doing so are.
So, here are the top 4 reasons why you should provide training as well as some additional details about who needs it, when, and what type to consider.
4 Reasons Why
1. It May Be Required by OSHA
Unless you have clearly stated in an emergency plan that in the instance of a fire, all employees must evacuate the building immediately, employees that are comfortable are permitted to use fire extinguishers in the event of a small fire.
In these instances, the employer is required to provide some form of educational program for employees to inform them about the basic use of fire extinguishers and fighting incipient fires. This training can be as simple as watching a video, providing a handout, or giving a quick yearly talk to your employees.
However, if you specifically assign some or all employees to use an extinguisher in case of a fire, then OSHA requires a more specific level of training. For all employees officially designated to use fire extinguishers, hands-on practice and training must be provided by the employer so that the employee is proficient in the use of the equipment.
2. Helps Ensure the Correct Extinguisher is Used
Furthermore, providing proper fire extinguisher training, especially hands-on training, will ensure that employees can correctly use the fire extinguisher and choose the right one to use. As with all things, only reading or talking about it rarely helps a person remember what to do, or know what it feels like to actually perform a task. This is especially true in an emergency situation when adrenaline kicks in.
If employees have been regularly trained, have learned the basics about fires and types of extinguishers, and have actually received hands-on practice using an extinguisher and the PASS method, the likelihood that they will use a fire extinguisher correctly and effectively will significantly increase.
3. It Can Help Prevent Injury
As can be imagined, when employees can properly handle a fire extinguisher, it seriously reduces the likelihood of physical injuries.
Training will mean employees will be less likely to use an extinguisher incorrectly, something which could put them at risk of burns and smoke inhalation. It also means they would be less likely to use the wrong fire extinguisher, a mistake which could result in a false sense of security until the fire grew too large to escape unscathed.
Proper training will also help employees recognize when they need to flee the situation before it is too late.
4. Can Help Prevent Loss and Damages
As indicated above, regular hands-on training promotes the confident and effective use of fire extinguishers by employees. This will mean incipient fires have a higher likelihood of being stopped before they really get started and cause any real property loss or damages.
Who Needs It & When?
So, now that it is evident that hands-on fire extinguisher training is a good idea, who needs it and how often?
Who?
As indicated above, if you provide fire extinguishers, OSHA requires that all employees should receive some form of training unless your emergency plan clearly states that certain or all employees must immediately evacuate the premises in case of a fire.
Furthermore, if you have designated any individuals as specifically responsible for using the extinguisher, then they must receive hands-on training.
When?
According to OSHA, if fire extinguisher training is required, it must be provided upon initial employment of qualifying employees and repeated annually for everyone.
Why You Need Training from a Professional
Many employers wonder if it is really necessary to hire a professional to cover the basic annual fire extinguisher training for their employees, especially when there are so many handouts or videos available.
However, there are many good reasons why you should consider hiring a professional fire protection agency, like Koorsen Fire & Security, to come in and provide the training:
More engaging and responsive training: as with most things, a good and knowledgeable instructor is more likely to present information in a way that will be understood and retained.
Hands-on training: hands-on training, including practice discharging an extinguisher on a virtual or real fire, can only be provided by professionals. This practice solidifies the information in employees' memories and enables confidence.
Questions: It also provides employees the opportunity to ask questions and interact.
Need Training?
If your employees need annual fire extinguisher training, call the experts at Koorsen Fire & Security, who have been providing the best, most engaging and interactive hands-on training available for decades.