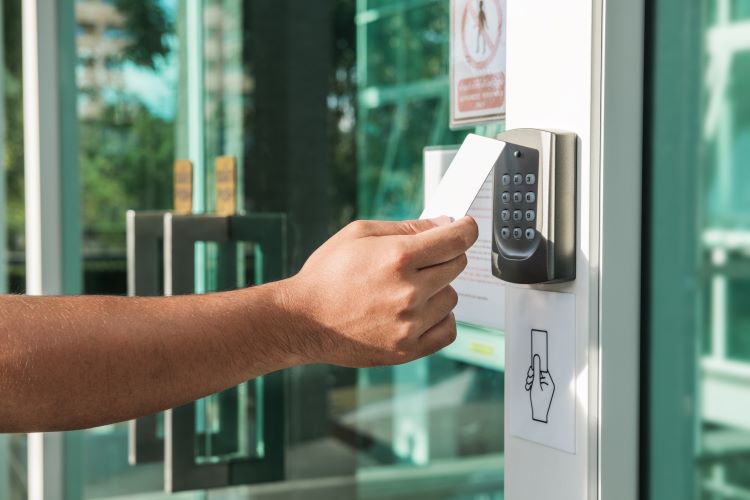 The many benefits of access control systems make them a must for many businesses today. They help businesses control who has access and when to their buildings and facilities and monitor the behavior of people with access (e.g., how frequently they enter and how long they stay).
Businesses looking for new or better access control systems have three main options regarding where the system resides and how it is managed - self-hosted, hosted, and managed systems. This post will explore each in more detail to help you make an informed decision on the best access control system for your business.
On-Premise, Hosted and Managed Access Control Systems
All modern access control systems include the same basic components:
Credentials, which are assigned to people to give them the required access

Scanners, readers, keypads (i.e., how credentials are entered to gain access)

Hardware components including the physical components designed to prevent unwanted access (e.g., access control panels, electronic door locks, gates, turnstiles, etc.) and the technology required to make them function (e.g., access control panels and computer servers).

Software to enable the hardware to function properly and manage the system and grant permissions, etc.)
All of these components work together in basically the same way to control access to the protected areas. The "infrastructure" of the system -- the scanners and hardware components are located on-premise, and the same types of credentials used to provide access control can be used with any of these systems. Credentials can include access cards, access fobs, Bluetooth devices, retinal scan, and/or biometric scan.
The primary difference between self-hosted, hosted and managed access control systems is where the software for controlling that access and storing the resulting data is installed and managed.
With an on-premise system, the access control software is installed and maintained on a local computer or server, along with the data it generates. Every aspect of the system management and administration is managed by someone onsite, often by an IT person/department or security staff.
In contrast, with a hosted access system, the software needed to run the system and the data reside on a third-party remote server connected to the onsite system via the Internet. Users with administrative privileges can log into the system any time they want to make changes, such as granting access to new employees or revoking access for former employees, changing the times an area can be accessed, etc. The critical thing here is that while the system and data are maintained remotely by a third-party provider, the system owner is still responsible for the day-to-day management of the system.
Like a hosted system, a managed access control system is also a remote system maintained by a third party. However, with this type of system, the third party manages everything, including the day-to-day operation of the system on behalf of the system's owner.
The Benefits and Potential Drawbacks of Each System
All three approaches to managing your access control system offer different benefits and potential drawbacks depending on your specific needs. No two businesses have the same needs. For example, some businesses need building-wide access control while others need to limit access to specific rooms or areas containing sensitive equipment or files. Let's take a look at some of the factors you need to consider when deciding how to manage your access control system.
Data Security
All three types of access control systems generate a lot of data. This data is essential for understanding who is coming and going in your building and protected areas. Keeping your data secure requires redundant systems and regular backups.
An important consideration (and a common problem) with self-hosted systems is the failure to perform regularly scheduled backups of the data. In this scenario, if the system goes down, the business is stuck with the time-consuming and costly job of reconstructing all the access permissions and access control properties for different areas -- and figuring out how to control access in the meantime (e.g., hiring temporary security guards to monitor and control access).
Remote systems, including hosted systems and managed access systems, allow you to avoid these issues entirely. This is because the servers are maintained by a third party who provides the redundancy needed to ensure your system is always available and that your data is safely stored in the cloud.
Maintenance
Self-hosted systems require that you have staff onsite with the necessary technical expertise to administer the system entirely, including managing access permissions, performing software updates, managing software licensing, diagnosing issues, backing up the data, and querying the database when you need to review access data. Ideally, you would have at least two people with these skills to ensure that you are not left scrambling to find someone to manage your system if one leaves.
The same is somewhat true with a hosted system. However, the company providing your hosted access will take care of the following for you remotely at its location:
Maintaining the computer hardware and purchasing hardware upgrades when needed

Installing software updates and troubleshooting

Keeping antivirus software in place to protect your data

Performing routine backups of your data to a secure cloud server
All you have to do is log into your account online to manage your access control system. However, with a hosted access control system, you will still need to have staff trained in administering the system on a day-to-day basis, managing access privileges, and querying the data when you need it.
With a managed access control system, in addition to housing and maintaining the necessary hardware and software, your service provider will handle the administration of your system as well with its own staff who are well-trained in the security industry's best practices. With this option, the entire system is managed for you, including the day-to-day administration and monitoring. Your provider will also ensure that it is always up-to-date and configured correctly. And like a hosted service, you can be confident that your data is always secure.
Convenience
On-premises access control systems have relatively little to offer in terms of convenience because the entire burden of daily administration of the system and maintaining it over time (as well as the risks associated with system failures) falls on the owner.
Hosted services provide the convenience of self-service, meaning the system owner can use a remote application to make changes anytime they are needed. However, you will still be responsible for the system's administration, including removing authorized names from the database, scheduling the times for doors to be automatically armed or disarmed, and managing cards or reports generated by the system. Some clients like having this level of control. It can all be accomplished by logging into the system with a web browser, which is particularly useful when managing multiple sites.
Managed systems, however, provide the most convenience. You still have the same level of control as you would with a hosted system ‑ you can add new staff to your database, lock or unlock doors on demand, set up a new automated schedule for doors to be armed or disarmed, print new badges, etc. but they require only a phone call to implement. The managed access service provider does the rest. The provider will also monitor and maintain the system on a daily basis for you, and you'll never have to worry about learning how to use any software.
Cost
Costs for access control systems can vary widely depending on how complex your needs are and what features you want your system to have. However, we can offer some general observations about the relative costs between on-premises, hosted, and managed access control systems.
With all three systems, there will be an upfront cost for the scanners and access control hardware (the components installed onsite to physically control access).
With an on-premise access control system, the business will also pay for the costs for the IT infrastructure, including computers/servers, replacement and/or upgrades as needed, data storage, and the ongoing costs of software licenses. There will also be salary costs for staff with the expertise to maintain and administer the system.
With both hosted and managed systems, the service provider absorbs the upfront costs of IT infrastructure and the ongoing costs associated with software licenses, cloud services for data storage, and trained staff necessary to manage the system remotely. While both of these systems relieve the business owner of potentially high upfront costs, both will come with a monthly fee.
The decision about which is better for your business depends on whom you want to perform the day-to-day administration of the system. A managed access system will typically cost more than a hosted system. However, staff salaries (especially in IT-related fields) can represent a significant cost for businesses, making a managed access control system more attractive.
Choosing the Right System
More and more businesses are moving to hosted and managed access control systems than ever to take advantage of the lower upfront costs and all the convenience they have to offer. However, choosing between these two types of services can still be overwhelming due to all the different factors you need to consider and the many new technologies and features available on the market. And they are constantly evolving.
With more than 75 years in the security business and certified technicians and engineers that stay on top of new and emerging access control technologies, Koorsen can help. No matter how complex your access control requirements are, we can design a system with the right technology to meet your needs now and long into the future. Contact us today to learn more!