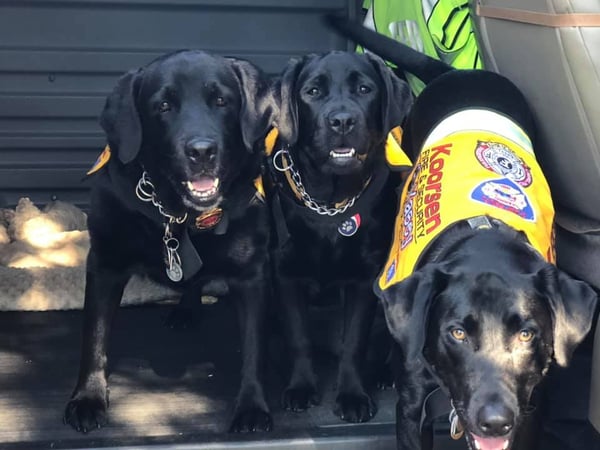 We've all learned stop, drop, and roll, and that you should check a doorknob before opening the door when evacuating a building due to a fire.
But have you ever seen a dog do fire safety? Mr. Jeff Owens and his pups in the Kasey Program have.
At Koorsen, they believe that it is never too early to learn fire safety. That's why, when they came across firefighter Jeff Owens and his clever dog Kasey teaching elementary school children about fire safety, they jumped in to give support and grow the program.
What is the Kasey Program?
The Kasey Program teaches children, pre-school aged through high school students, and the general public about fire and life safety through well-trained, engaging pooches.
Mr. Jeff Owens, a retired Indianapolis firefighter of 31 years, and his two black Labrador dogs, Kasey (age 7 years) and Callie (age 3.5 years) travel all across the Midwest, and even up and down the eastern states, performing their shows at schools, fairs, summer camps, VBSs and more.
Throughout the year, Mr. Owens and his dogs perform an average of two to three shows a day, totaling well over 400 shows a year and reaching over 400,000 children yearly.
The shows are performed free of charge to the schools and organizations requesting them. Mr. Koorsen, who hired Jeff and supported the program's further development, believes that a school's financial abilities should not determine whether children learn about fire safety or not.
The results are a thriving program that has taught over 6 million children over the last 25 years!
What do the Children Learn?
During a show, Kasey and Callie teach the children, through example and song, a large set of life and fire safety skills that every person should know. Every skill the dogs teach, they demonstrate themselves.
These skills include:
Stop, drop and roll

Checking a doorknob to see if it is hot or cold

Identifying two exits from a room

Evacuating out the window if the doorknob is hot, but out the door, if the doorknob is cold

Crawling under smoke

Telling an adult when they find matches or a lighter

Checking smoke detectors monthly and changing their batteries twice a year
In addition to these fire safety skills, the dogs also help teach the children safety around dogs, such as:
How to properly approach a dog they don't know (ask permission first, then slowly approach with hand extended so the dog can see and smell them)

How to read basic dog body language

How to know when not to approach a dog

Where to pet a dog
To help reinforce what the children learn throughout the demonstration, Kasey and Callie join with their owner, Jeff, and his guitar to sing silly songs that reinforce the skills they just saw demonstrated.
By the end of the show, the children will have seen each skill memorably demonstrated at least twice by the dogs and will have learned a song to help remember them too.
To date, the Kasey Program has taught over 6 million children these important fire-safety skills and has been credited directly for at least 17 saved lives.
How Did the Kasey Program Start?
The Kasey Program started quite by accident approximately 25 years ago, when Jeff was asked to speak for his son's kindergarten class.
They had a female black Labrador puppy, which they had named Kasey, not long before, and Jeff was teaching her basic obedience commands such as "sit," "lay down," and "roll over." As he prepared to present to his son's class, he realized that Kasey essentially knew stop, drop, and roll.
He astutely recognized that an adorable dog would likely hold the children's attention better than he could and decided to take Kasey along to be the presenter.
Needless to say, it was a great success. Over the next three years, Jeff began taking Kasey to deliver presentations to schools on his days off, and the program began to grow.
Around that time, Koorsen hired Jeff to do their fire extinguisher training on his off days. It didn't take long, however, for them to learn about Jeff's Kasey Program. They were so excited by his effective way of teaching young children fire and life safety that it wasn't long before they changed Jeff's roll from fire extinguisher trainer to full-time Kasey Program educator.
From One Dog to Two
As the program continued to run and grow, the original Kasey grew and aged as well. When she was around six years old, Jeff realized that if the program were to continue, they would have to start a second dog in training to perpetuate it.
In the early 2000s, Jeff acquired another female black lab puppy and began the intensive training required to teach fire safety to young children.
The program is always taught by two dogs, with Kasey as the lead and the second dog as support. Both dogs perform all of the skills and help make the information much more engaging and memorable to young children.
Now, in 2020, the Kasey Program is celebrating its 25th anniversary with the 5th generation Kasey, her counterpart, Callie, and a puppy in training named Karmel.
All About the Dogs
Jeff insists that it is the dogs, not he, that teach the classes and that they are the best teachers for young children.
But he does admit that he puts in a lot of work and training to get these awesome pups ready for their big jobs.
From the moment he brings a puppy home at eight weeks of age, training begins. In the beginning, due to incredibly short attention spans, the puppy training sessions only last about a minute, but they have about 30 such trainings a day.
As the puppies get older, their training sessions increase in length and decrease in number. For the first three-and-a-half years of their lives, they will train every day.
Then, it's showtime.
However, even once they join the performing team, training isn't over yet. Jeff pays close attention to their performances, and when the day is over, they will have a training session or two to touch on any weaknesses they demonstrated during the shows.
Jeff notes how important patience and positive reinforcement is to training his dogs. He needs them to enjoy performing, and that means training must be a positive and fun experience. He also pays close attention to each dog's strengths and preferences to help encourage and reward them with the tasks they enjoy most.
The results of Jeff's patient efforts are dogs who love to work and show off.
Even though he retires the older dog in the working pair at around age seven, when crawling starts to become harder on their old hips, he says they often refuse to be left behind and continue to travel with the younger, working dogs.
According to Jeff, the 4th generation Kasey would get so upset if he tried to leave her at home that she continued to travel with them in the van until she was 14. She never quit wanting to be a part of the action.
They love the work so much that breaks, such as during the winter holidays when school is out, and they have a little over two weeks off in the schedule, often leave the dogs stir-crazy. Jeff finds himself having to work much harder to exercise the dogs and keep them content.
Fortunately, they have plenty of fairs, festivals, summer camps, and VBSs to keep them busy during the summers. And in addition to teaching fire safety, these talented pups also help save lives on their occasional days off, as they are certified search and rescue dogs and nationally certified therapy dogs.
Want the Kasey Program to Visit Your School?
If you are interested in having Kasey, Callie, and Jeff teach your students about fire and life safety in a fun and memorable way, all you have to do is go to www.koorsen.com to learn more and book a show. You can also learn more at kaseyprogram.org.
Please be aware that Kasey is a busy pup! You will get the best booking for your schedule by booking in advance.