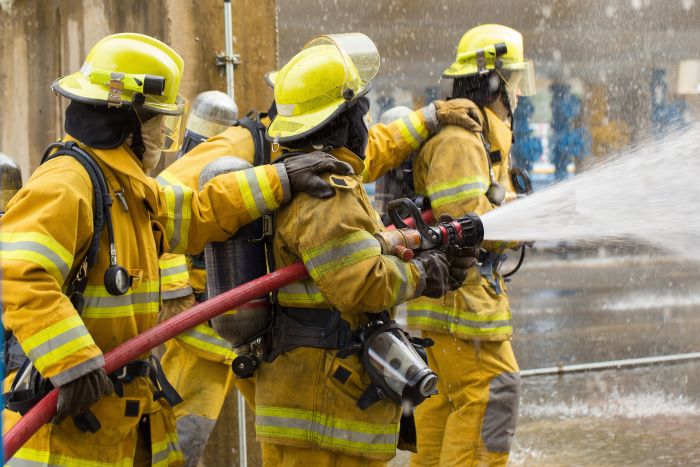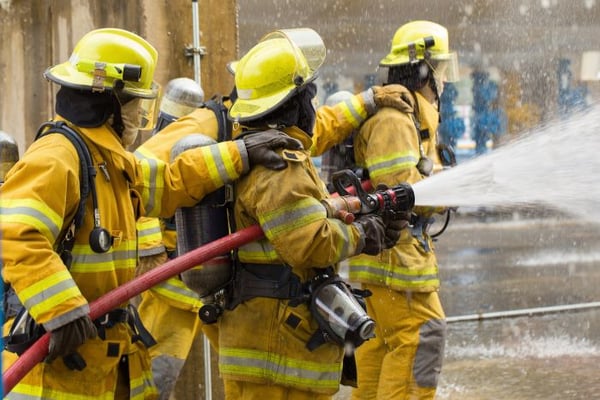 Volunteer fire departments and combination fire departments play a critical role in providing first response throughout the country, particularly in rural and remote areas. According to the National Fire Protection Association (NFPA), as of 2018, volunteer fire departments comprised 82% of the more than 29,000 fire departments nationally and protected more than 32% of the U.S. population. Almost half of all volunteer fire departments (49%) protect small, rural communities of less than 2,500 people. And, these numbers do not count those volunteers serving in combination fire departments where volunteer firefighters work shoulder-to-shoulder with professional firefighters.
Volunteer and combination fire departments are funded by local government units at various levels such as cities, counties, towns, and townships. While all of them provide firefighting services, many also provide a critical first response in emergency medical situations, hazardous materials releases such as a chemical spill from a truck or train accident, and other special operations.
The National Fire Protection Association (NFPA) provides the minimum requirements that volunteer and combination fire departments must meet, including their organizational structure and how they operate. These requirements are found in the NFPA 1720 Standard for the Organization and Deployment of Fire Suppression Operations, Emergency Medical Operations, and Special Operations to the Public by Volunteer Fire Departments. This post will take a closer look at these requirements and how they regulate and contribute to the continuous improvement of volunteer fire departments and combination fire departments everywhere.
What Kind of Training do Volunteer Firefighters Receive?
NFPA 1720 requires that volunteer fire departments and combination fire departments have a training program and policy in place to ensure that all volunteer firefighters have the skills needed to safely and successfully execute all operations they may be asked to perform.
Volunteers must complete 110 hours of training to become a firefighter. This training includes a combination of in-class instruction and practical application of what they are learning. Volunteer trainees are trained in how to handle rescue tools like fire extinguishers, axes, and ladders. They are taught standard fire fighting techniques, fire prevention, handling hazardous materials, and performing emergency medical procedures. Once they complete their training and begin working in their departments, volunteers are subject to a probationary period and continue their training on the job.
Many volunteers work as apprentices under the supervision of professional firefighters. Such apprenticeship programs can last up to four years and provide volunteers with valuable hands-on experience and knowledge.
Volunteers who want to serve their communities as emergency medical technicians (EMTs) must take additional training to become certified. According to the NFPA 1720, EMTs may provide basic life support and advanced life support depending on their certifications. For people living in rural and remote areas, these volunteers can make the difference between life and death in the event of a serious accident or life-threatening health emergency.
Operation and Deployment
According to NFPA 1720, volunteer fire departments should have the capability to safely begin attacking the fire within two minutes once firefighters arrive at the scene with all the equipment they need to fight it, at least 90% of the time. Why not 100% of the time?
The NFPA recognizes the many difficulties volunteer departments face, including lack of trained firefighters who are available and can be summoned in the event of a fire, and budget issues that can hamper their ability to repair or replace equipment needed quickly.
Personnel should be organized, so all teams have the apparatus and equipment needed for the fires or other emergencies they are responding to. These requirements vary based on the type of area the department must cover (also called the "demand zone") and the number of people per square mile within each area (Table 1).
Table 1: Minimum requirements for volunteer fire department response capabilities (modified from NFPA 1720 Table 4.3.2).
| | | | |
| --- | --- | --- | --- |
| Demand Zone | Demographics | Mininum Staff to Respond | Response Time in Minutes |
| Urban area | More than 1,000 people per square mile | 15 | 9 |
| Suburban area | Between 500-1,000 people per square mile | 10 | 10 |
| Rural area | Less than 500 people per square mile | 6 | 14 |
| Remote area | Travel distance of 8 miles or more | 4 | Depends on travel distance |
| Special Risks | Determined by the AHJ | Determined by AHJ based on risk | Determined by the AHJ |
*Minimum staffing includes the members responding from the volunteer department and and any other fire departments (volunteer or otherwise) that have agreed to work together for immediate joint response on first alarms (known as "automatic aid"). **Response time begins from the minute the dispatch notification is delivered.
Reporting Requirements
Volunteer fire departments must have internal written standard operating procedures to guide their operation and deployment procedures and delineate a clear succession of command responsibility. They are also required to maintain a standardized reporting system for incident reports, which include information such as the location and nature of each incident, the operations that were performed, and by whom.
Incident reporting is a key part of the continuous improvement efforts of volunteer and combination fire departments. While the requirements expect them to have the ability to start attacking a fire within two minutes of arriving at the scene 90% of the time, volunteer firefighters are highly committed people vested in the safety of their community. If you ask a group of them what their goals are, most will tell you they want to arrive at the scene fully prepared to fight every fire 100% of the time. And they know the only way to achieve that is to critically assess their operations on a regular basis to find new ways to improve.
The NFPA knows this, too, and requires that volunteer fire departments and combination fire departments conduct annual evaluations of their level of service, how well they deployed when dispatched (whether they dispatched enough people with the right equipment), and response times. Every four years, they must combine all the annual evaluations conducted during that period into a more comprehensive written report for the authority having jurisdiction (AHJ), which is usually the local-level unit of government that provides its funding. In addition to the annual reports, this report also provides a plan to address any deficiencies identified.
Who Responds to What?
The clarity in roles at the community level is critical to ensuring a fast and adequate response to emergencies -- confusion over who should be dispatched and who has authority at the emergency scene can cost lives. This is why NFPA 1720 requires a written plan for volunteer fire departments that includes standard response procedures (who will respond to what) that are predetermined based on the reported incident's location and nature. This plan must include any mutual aid agreements between the volunteer fire department and all the potential first responders in the community and surrounding areas, such as law enforcement, hospital ambulances, and private companies providing hazmat services.
Volunteer fire departments also collaborate with their community partners to develop a community risk management plan to identify and prioritize risks and the potential need for fire and emergency medical services, determine the resources necessary to address those risks and reduce those risks to the extent possible. These plans also include the risks associated with the storage use and transportation of hazardous materials. However, responding to emergencies of this type may or may not fall to the volunteer fire department.
Volunteer Fire Departments – Providing Peace of Mind in Their Communities
In appreciation for firefighters everywhere, we here at Koorsen wanted to provide our readers with this post, a better understanding of volunteer fire departments and combination fire departments. Today, more than 745,000 trained and highly committed volunteer firefighters protect their communities every day in this country. With the firm foundation provided by the NFPA standards for their operation and continuous improvement combined with the training volunteers receive and the passion they bring to the job, volunteer fire departments are making their communities safer.